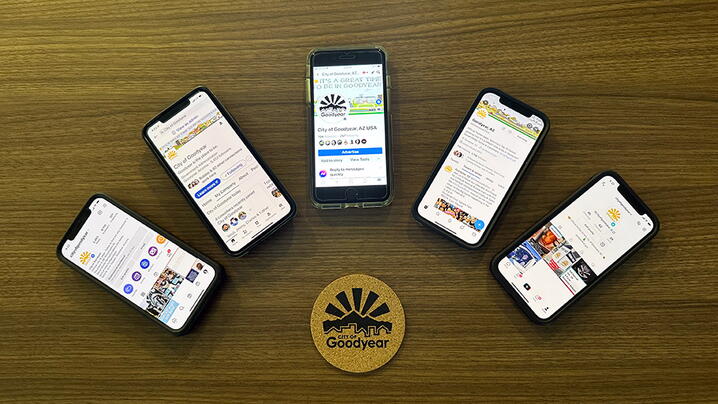 Have you ever tried to have a conversation with someone who wasn't paying attention or who refused to engage in the dialogue? It's frustrating and annoying, because you feel you aren't being heard. Conversations on social media are no different. I sometimes hear of local governments that reject social media as a valuable tool for informing, educating, and most importantly, engaging with their residents. Yes, admittedly it takes work. A lot of work. But as public servants, it's our responsibility to make sure our residents feel they are heard in a timely manner. It's a disservice to the public if you don't, and it's a disservice to your organization. You'd be surprised at how much you learn about how people are feeling by simply engaging with them on social.
It wasn't always this way in Goodyear. The city's digital communications department has undergone an incredible transformation in the past four years. When I joined the city in October 2018 as the department's first director, the department had been a division within the city manager's office. There were five staff members, and only one person managed social media. At that time, typical city communications were limited to news releases, a monthly magazine, occasional social media posts, and a weekly internal email to city staff. There wasn't a whole lot of direct interaction between department staff and our residents. Boy has that changed.
Customer Service One Comment at a Time
It's important to be progressive and embrace change, especially when it comes to serving the public. Our team wants to meet people where they are, and fewer people are picking up the phone to call with questions or comments–or even sending emails for that matter. They're increasingly using social media to connect, offering an incredible opportunity to interact with our residents in real-time. Not only do we share important city news and updates as they happen, we reply as quickly as possible to resident comments and questions–so our residents feel they are being heard. They aren't shouting into a void.
According to Sprout Social, a social media management and intelligence tool, there was a 110% increase in consumers who said that social messaging is their preferred way to ask questions and resolve customer service issues between 2020 and 2021, and businesses agree that social is the primary way to connect with their customers (1Sprout Social, n.d.). Goodyear believes that this applies to local governments, too, and our own data supports this. In fiscal year 2022 (July 1, 2021–June 30, 2022), we saw a 60.8 percent increase in the number of comments and direct messages that we received on the city's social media accounts compared to fiscal year 2021, up from 12,130 to 19,510. This number continues to increase: in Q1 of this fiscal year (fiscal year 2023), our number of comments and direct messages is up 2.7 percent compared to Q4 of fiscal year 2022.
It's a Two-Way Dialogue
In today's digital always-connected world, people expect instant, meaningful interaction via social media. Goodyear's digital communications team has transformed into a customer service powerhouse, thanks to support from the Goodyear City Council and city leadership. Today, digital communications is its own department with a team of nine employees. We have broadened our social media efforts, and everyone on the team is expected to contribute timely, engaging, and relevant content on a weekly basis. We touch base daily to formulate our game plan, and plan out our social media posts by the day–down to the hour–to ensure our content is reaching our followers at optimal times.
We also pay close attention to the comments and direct messages we receive on social media. Everyone is responsible for responding to all comments, whether good or bad, within 24 hours, although our goal is to respond as quickly as possible. Since we recently started tracking our responses, we discovered that our average response rate is 99 percent. Through social media tracking software, each team member is able to filter through thousands of comments per month via a tagging system, ensuring that no comment falls through the cracks as the continuous flow of responses come in.
It's been a shift in expectations for staff and involves more work on their part–they often have to contact other departments to research answers. It takes time. It takes effort. But it's worth it, and at the end of each day, we each learn a little bit more about any given subject at hand through the process. And people like being heard, which is evident through our continued growth. Between fiscal year 2018 and fiscal year 2022, our number of social media followers has increased 321 percent and our engagement rate has more than doubled, increasing from 3.4 to 7.9 percent, which is extremely positive, according to industry experts (2Hootsuite, 2022). In addition, our number of comments and direct messages has increased 418 percent, and our number of responses has increased 201 percent.
Conclusion
Our adoption of social media as an effective and progressive communications tool didn't happen overnight. We've leaned on technology to help us develop workflows and track data to meet our goals. This lets us know if we're doing it right. We've pushed for funding and resources to handle the increased workload realizing that this truly is a team effort.
Here are the basics for a successful social strategy:
Getting support from your council/board and leadership is a must.
Encourage employees to be active ambassadors of your organization's social pages.
Have a strategy for your social media content. What does your community need to know? How often can you post and what's your plan for responding to comments and direct messages?
Dive into the data. Subscribe to a social media tracking platform that delivers reports to let you know what content is working and if you're responding to comments from followers effectively
The way people get their information is ever changing. The way they communicate has changed over time, too. To be successful, we as communicators must change to find ways to reach them where they are. And it must be a conversation, which is a two-way street.
---
References
1Sprout Social. (n.d.). Why Social Messaging is the Future of Customer Experience. Sprout Blog.
https://sproutsocial.com/insights/guides/social-messaging-customer-experience/
2Sehl, K., and Tien, S. (June 14, 2022). How to Calculate Engagement Rate (Calculator). Hootsuite Blog. https://blog.hootsuite.com/calculate-engagement-rate/
New, Reduced Membership Dues
A new, reduced dues rate is available for CAOs/ACAOs, along with additional discounts for those in smaller communities, has been implemented. Learn more and be sure to join or renew today!