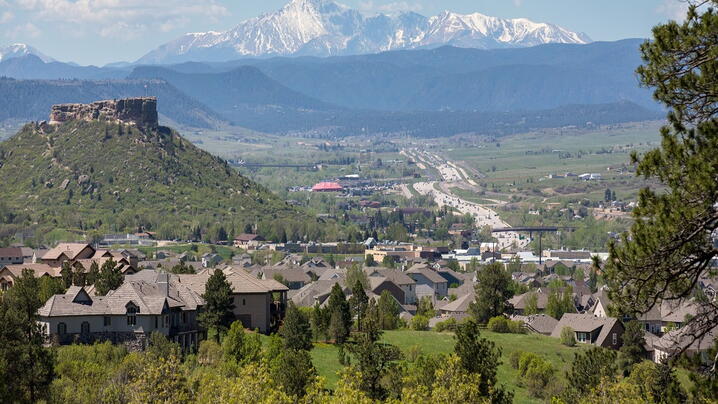 How well and how long you live are shaped by where you live, according to a recent ranking issued by U.S. News & World Report. Factors such as a community's economic performance, the quality of its educational system, and the availability of affordable housing have a major impact on health and overall quality of life for residents.
U.S. News & World Report, 2019 in collaboration with the Aetna Foundation, published its annual list of Healthiest Communities Rankings 2019 in March, and all of the top six and 70 percent of the top 10 jurisdictions recognized are directed by a professional local government manager*/ICMA member. The top 10 Healthiest Communities for 2019 are
Douglas County, Colorado—Douglas J. DeBord, county manager
Los Alamos County, New Mexico—Arthur (Harry) Burgess, county manager
Falls Church, Virginia—Wyatt Shields, city manager (Note: Falls Church is an independent city with county-level governance status)
Loudoun County, Virginia—Tim Hemstreet, county administrator
Broomfield City & County, Colorado—Charles Ozaki, city & county manager
Teton County, Wyoming—Alyssa Watkins, board of county commissioners administrator
Hamilton County, Indiana
Carver County, Minnesota—David (Dave) J. Hemze, county administrator
Delaware County, Ohio
Howard County, Maryland
These findings support the notion that professional local government management—which combines strong political leadership and effective management capacity—makes an important difference in the quality of life for residents in those communities that employ it.
The Healthiest Communities rankings measure crucial health-related components of society with the goal of empowering citizens, healthcare leaders, and officials to make decisions about policies and practices that can improve health outcomes for all.
Guided by a pioneering framework developed by a committee appointed to advise the U.S. Department of Health and Human Services, the Healthiest Communities 2019 project scores nearly 3,000 counties on 81 indicators across 10 categories that drive overall community health. The 10 categories are
Population health
Equity
Education
Economy
Housing
Food and nutrition
Environment
Public safety
Community vitality
Infrastructure
Population health and equity are the most heavily weighted categories, based on the assessments of more than a dozen leading experts on what matters most to a community's health.
For more information concerning the U.S. News & World Report 2019 Healthiest Communities, visit the website. 
---
*ICMA defines a professional local government manager as a chief appointed officer who, at a minimum:
Has direct responsibility for policy formulation on overall problems.
Has major responsibility for the preparation and administration of a jurisdiction's operating and capital improvements budgets.
Exercises significant influence in the appointment of key administrative personnel.
Has an ongoing, direct relationship with the operating department heads on the implementation and administration of the programs.
Was hired as a result of her/his educational & administrative background and qualifications.
Is a member of ICMA and, therefore, must adhere to the ICMA Code of Ethics, which was adopted by ICMA in 1924 and which governs each member's professional and personal conduct.
New, Reduced Membership Dues
A new, reduced dues rate is available for CAOs/ACAOs, along with additional discounts for those in smaller communities, has been implemented. Learn more and be sure to join or renew today!