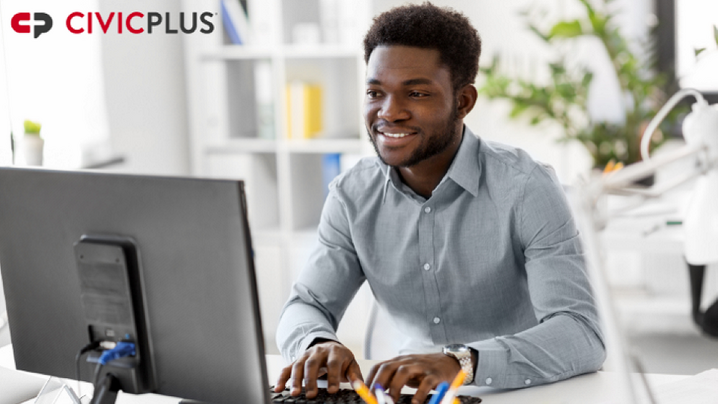 Sponsored content powered by CivicPlus®
The difficulties of the COVID-19 pandemic highlighted the importance of local governments and their services being accessible to the public digitally. CivicPlus® has been in the government digital space for over 20 years, creating websites that are simple to navigate and full of resident self-service functionality. In our quest to help make government work better, our website experts have compiled a list of residents' must-have features and functionality that you need to add to your online presence this year. 
Quick and Accurate Information 
Community members expect to have information for everything, from permit deadlines to office hours, readily available and up to date. Chatbots have taken up a massive portion of online interactions, with 69% of customers preferring AI chatbots for speedy resolves to simple inquiries. Government websites are often jam-packed with community news, job resources, and other helpful information. Chatbots allow residents to quickly bypass any navigation hurdles for their answers. The pandemic showed governments all over the globe the pressing need for 24/7, online self-service functionality, and chatbots are a big part of a successful digital experience. 
Chatbots can answer questions and direct users to helpful pages without interacting with a staff member. Some other noteworthy benefits: 
Self-service functionality boosts resident satisfaction and mitigates time staff spend on customer service interactions.
Additional revenue-generating opportunities as chatbots make it easier for residents to conduct business with their government via quick links to registration, licensing, and memberships.
Providing personalized recommendations to residents for upcoming community events or services based on their portal preferences and page view history.
Accessible Content 
Digital compliance is not only the law but also incredibly valuable in building trust with residents when every digital interaction with your administration is Americans with Disabilities Act (ADA) compliant. Fifteen percent of the global population has a disability that might prevent it from obtaining equal access to digital services and content. Multiple assistive technology tools on the market offer text magnification, voice recognition, screen reading tools, and more. 
Your digital presence must be consistently monitored to verify ADA regulation adherence. Government websites typically include hundreds of pages of content. They are updated as frequently as daily with news, information, videos, and photos, often by a team of staff members in different departments with various levels of technical training. Such consistent content publishing can create web governance challenges and shows how important it is to incorporate automated accessibility remediation software into your website. Not only will your community appreciate your attention to compliance, but your government will also avoid costly penalties and fines for violating ADA guidelines. 
Cybersecurity 
Protecting your website from hackers and cyberattacks is vital as the number of threats grows online. Across industries, in June 2021 alone, the total ransomware attack attempts (78.4 million) exceeded three out of four quarters in 2020. Each year, such attacks plague governments with software and hardware replacements, lost revenue, missing data, financial theft, and loss of resident trust. Moreover, with the loss of data and information, governments become liable for falsified or abused stolen information. 
One example of a growing risk is a DDoS attack. A DDoS attack is where criminals essentially take out a website by overwhelming the server with traffic using multiple devices and IP addresses. Without prevention or a recovery plan, the website becomes unavailable, and its data becomes compromised.  
Choosing a Website Partner 
Your website is one of your most valuable tools for interacting with and supporting your residents. There are many factors to consider when creating a positive civic experience for your community. Thankfully, you don't have to plan and manage a website redesign alone. Check out the industry's leading municipal website solution provider by taking a self-guided tour of our software. 
New, Reduced Membership Dues
A new, reduced dues rate is available for CAOs/ACAOs, along with additional discounts for those in smaller communities, has been implemented. Learn more and be sure to join or renew today!