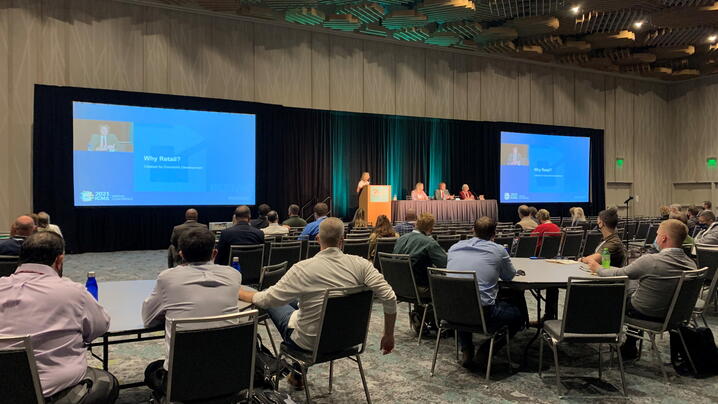 Finding different ways to breathe new life into your community is something that every municipality needs, regardless of how large or small it is. Actively seizing new opportunities for growth and economic development can shape an entirely new future for your community and its residents. During A Tale of Two Cities: Attracting Retail in Small and Rural Communities, Sarah Beth Thornton, vice president of Retail Strategies, fielded questions and called on the experience of two local government leaders who are utilizing the retail space to transform their small communities. Alan Flora, city manager of Clearlake, California, and Brandie Shaeffer, town manager of Warrenton, Virginia, came with firsthand knowledge of just how much retail can change a small community for the better.
Why retail?
Retail is a catalyst for economic development, especially in small communities. For Alan Flora, retail was naturally the best course of action for further developing his small community that lacks the skilled workforce to support other industries like tech. Expanding into the retail space has a twofold impact that directly benefits his community: increased tax dollars and jobs for community residents.
This two-fold impact is not exclusive to Clearlake. One in every four jobs in the United States is in the retail space, with full-time retail worker salaries averaging the same amount as full-time workers in other industries. In addition, the opportunity to collect on sales tax, meals tax, income tax, and property tax creates an entirely new revenue stream for your organization to pump right back into the community.
What role does data play?
Going in blind is never the way to begin a new venture, especially when bringing retail into your community. Gathering data will help guide your decision making in developing a retail strategy and optimizing it to be tailored to your community's goals. In the cases of both Clearlake and Warrenton, the data collected on their behalf yielded surprising insights that their trade areas far exceed the number of residents in their respective communities. In addition, the demographics of both trade areas greatly differed from their residents. Knowing such data helps these communities cater to the needs of everyone they serve, rather than their residents alone.
How can you make it happen?
Municipal leaders have the greatest ability to foster an environment for retail to flourish in their communities, especially if those communities are on the smaller side. While knowing the data lays a good foundation to move into this space, the next step is being familiar with the real estate assets you have to work with and creating relationships with the local market. For Alan Flora, his experience shows that just being available to developers can make a world of difference. Clearlake has been able to take advantage of multiple retail development opportunities over other nearby communities, just for being willing and able to speak to the retail developers when they are ready to talk business. Because of Flora's tenacity in spearheading his community's retail development initiatives, Clearlake is currently looking at upwards of 40 acres of newly acquired land that is ready for retail, and developers want in.
Once your community becomes open to retail development and speaking with developers, the next step is to target the right retailers. Learning what particular retailers are looking for in a location is critical to ensuring that your community is the right fit. Familiarizing yourself with selection processes of different retailers from the start will save time so you only explore opportunities with retailers who will be mutually beneficial, aligning with community goals. Most importantly, do not be afraid of the "no's." If you find that a desired retailer turns down the opportunity to setup shop in your community, explore the reasoning behind the "no." Brandie Shaeffer has even used past "no's" to help amend the zoning code in Warrenton to be more accommodating to future retail spaces.
Lasting Thoughts
Attracting new retail and restaurant brands to small and rural communities is a long, complicated process. When moving forward into this space, lead with data, partner with firms that are well-versed in all things retail, partner with retail brands that align with your community goals, and keep an open mind as you transition into this unique new facet of economic development.
New, Reduced Membership Dues
A new, reduced dues rate is available for CAOs/ACAOs, along with additional discounts for those in smaller communities, has been implemented. Learn more and be sure to join or renew today!