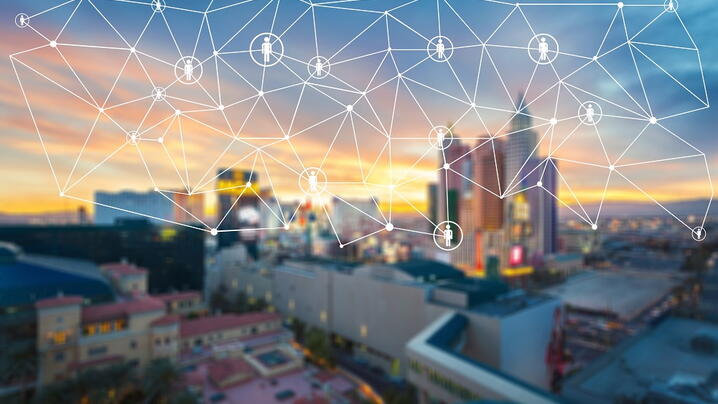 By Michael Huling, graduate assistant, Davenport Institute
The technological revolution has paved the way for the data revolution, as both forces combine to reshape nearly every facet of our lives. These developments have not been unique to individuals and corporations, as local governments have also sought ways to incorporate new tools and resources.
The benefits of data and technology are abundant, as they give us access to things that were previously unimaginable, from planes and space travel to modern medicine and the internet. On the other hand, technology can create a digital divide between those who are proficient and those who may be skeptical or inexperienced in using it. This challenge has led to the creation of a new position in local governments across the nation: chief innovation officer.
From San Francisco and Miami to Woburn and Spokane, cities have hired chief innovation officers in an attempt to ensure that technology-based tools are being used effectively to serve their residents. New Jersey has even hired a statewide chief innovation officer, showing the emphasis on using technology to serve communities in a way that is both innovative and responsive.
Differences
Local governments are tasked with finding ways to use data and technology to bring communities together, rather than pushing them apart. This is no easy task, as factors like age, income, and access affect how effectively different groups can use technology.
A 2020 Abell Foundation study of the city of Baltimore found that 96,000 households, which is over 40 percent of the city's population, lacks broadband connectivity. One in three households also lack a desktop or laptop computer, which is an enormous issue given the shift to online learning during the COVID-19 pandemic. This reality has led Baltimore to embrace a sort of paradox that other cities have found, which is that local leaders can use data to discern which communities are struggling to adapt technology.
Intervention may not always be desirable, however, as the needs and preferences of different communities must be considered and respected. In response to the lack of technological access, Baltimore Mayor Brandon Scott appointed a chief data officer and a director of broadband and digital equity. "My administration remains focused on modernizing the processes and practices of city government through a framework of equity and transparency," Scott explained.
Intervention may not always be desirable, however, as the needs and preferences of different communities must be considered and respected. By developing an understanding of the experience of community members—through public engagement—cities can evaluate what individuals, families, and businesses need. In practice, this means helping them get to where they want to be, rather than forcing them to change.
First Level
On one level, cities can take a fairly passive approach that focuses on data collection without embracing more rigorous methods. This can provide useful information about residents and be built into a contact database for various engagement efforts. This narrow embrace of data may be more fitting for small, rural communities that may have limited resources for the most advanced technologies and corresponding practices.
Mid-Tier
On another level, local governments can collect more substantial data on activities ranging from spending and transportation to education and exercise. This information may be analyzed and used for informational or persuasive purposes. This "mid-tier" approach embraces the tools provided by modern technology, but does not necessarily force community members to do so.
Interventionist
Finally, a highly interventionist approach does not just collect data of various kinds and share it with the community, but seeks to use and expand this information for policy changes. This may entail creating technology-based standards for schools, neighborhoods, and businesses. It may also require residents to provide data and rely on technology to a greater degree than in the more restrained approaches. Needless to say, this more heavy-handed approach is best suited for cities that have already embraced technology and whose residents are comfortable with it.
Growing Pains
For cities that would like to increase their use of data and technology, there can certainly be some growing pains. When David Graham was named chief innovation officer of Carlsbad, he quickly found that the city was not quite ready to embrace a technological makeover. "The first thing when I arrived, I recognized there was a disconnect between many of the departments and divisions," he explained.
"There were lots of good ideas in using technology but the interconnection between them and the people aspect of working together, like in many organizations, [needed] improvement."
Some residents may also be concerned about the unfamiliar developments happening around them, so it's vital that local leaders remain transparent, engaged, and patient—which pays dividends in the form of a stronger and more adaptive community.
For local governments, advanced data provides profound opportunities to connect and engage with residents. Whether it's simply learning more about those they serve, helping community members navigate technology to find resources (health, education, transportation, etc.), or using data to influence policy, local leaders should tailor their efforts to community needs. Though technology can create barriers and inequities, it can also build bridges and close disparities if implemented correctly. "Smart cities" require smart leaders, who not only understand new technologies, but can leverage these tools for the benefit of community members.
New, Reduced Membership Dues
A new, reduced dues rate is available for CAOs/ACAOs, along with additional discounts for those in smaller communities, has been implemented. Learn more and be sure to join or renew today!