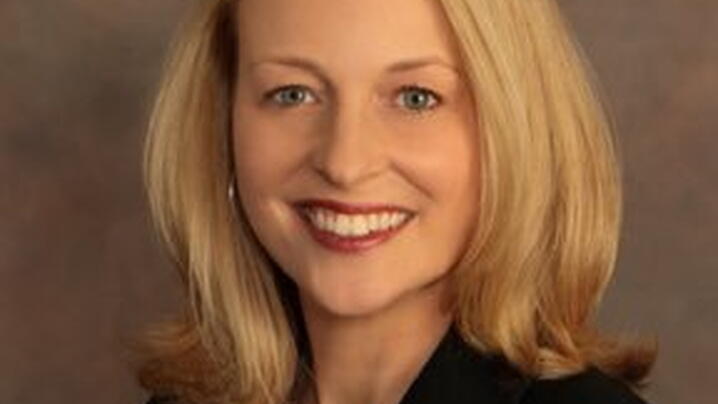 ICMA has a new president-elect and she's well known by both ICMA colleagues and the local government profession. But for those who don't know Karen Pinkos, the assistant city manager for the city of El Cerrito, here's what you need to know.
How she chose the local government career path.
KP: Local government is a bit of a family business...my mom is a retired Deputy City Clerk from Royal Oak, Michigan, and growing up I was surrounded by family and friends that were city employees and volunteers. I always knew I would be a part of the public sector, briefly considering law and politics, but it became clear to me during my first undergrad Public Administration class that local government management was the career for me. It blends what I love (local government) with what I'm good at (managing people).  Once I started in my first local government job in Oak Park, Michigan, I knew that not only had I found my career, but I had found my calling. I love what I do and I can't imagine doing anything else.
Her biggest challenge professionally.
KP: Unfortunately, even in our tight knit community, I'm noticing a growing skepticism, lack of trust, and a tendency toward incivility in some community engagements.  It's easy to blame social media, or the current political climate, or reality television…but regardless of the various reasons behind how people view government, I believe we now need to work harder than ever to bring our communities together.  It is a shame that recent national events have seemed to give some people permission to be nasty and mean in their communications with our agencies as well as with each other. As municipal leaders, we know that local government is closest to the people and can more easily build trust directly with our constituents.  What we do to foster good governance will help create a better sense of community. We must listen and try to understand, and then we can help educate, communicate, and include our residents in the policies and operations of their government.
About her community.
KP: El Cerrito is located near the eastern shore of the San Francisco Bay. We are a small, 3.9 square mile town of 24,000 residents in the heart of one of the most densely populated areas in the country. We are a community of progressive, highly educated, and engaged residents located near major universities and technology hubs, and our hillside areas provide breathtaking views of San Francisco Bay and the Golden Gate Bridge.  One of our biggest challenges, as with most cities, is how to accomplish the long list of strategic goals and objectives that our City Council, residents, and staff have envisioned with a limited amount of resources. We do our best to be creative and effective, work in partnership with the community, and provide exemplary service in all that we do.
Who she'd like to sit down and chat with in the local government profession.
KP: Since I talk to my colleagues all the time, I would rather talk to students...of all ages! I love to talk with them about local government and why it is so important to their lives, along with what amazing jobs there are in this field. I tell them about what I do and why I do it, and help spread the good word about professional local government management and what an attractive career option it is.
The six things she can't live without in the workplace.
I can't pick just one thing…I have a list of requirements:
1. Coffee
2. A fun office space…mine is filled with sports memorabilia, Wonder Woman items, tchotchkes and souvenirs from my travels, pictures, plants, books, and a candy dish always full of chocolate and Jolly Ranchers 3. Rubik's Cube—better than a stress ball!
3. Coffee
4. Headset for my many conference calls
5. Did I mention coffee?
6. People—I would not be very successful working from home for too long!
New, Reduced Membership Dues
A new, reduced dues rate is available for CAOs/ACAOs, along with additional discounts for those in smaller communities, has been implemented. Learn more and be sure to join or renew today!