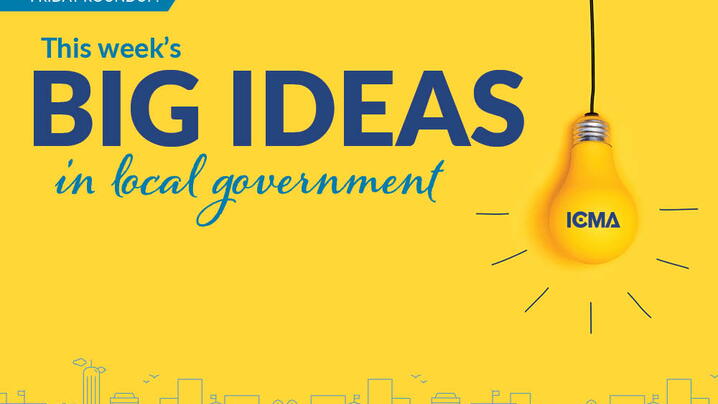 Local government is a busy place, with new innovations working to build stronger communities making news every week. Here are a few of the best ideas from local governments this week to keep you up-to-date on the latest in city and county management!
Neighborhood College in Las Vegas, Nevada
The city of Las Vegas is hosting its third session of the Neighborhood College, a topic-driven, classroom style program that offers residents the opportunity to learn about different city departments, programs, and services. The classes for this third session are held once a week during the months of September and October and expose residents to topics such as public safety, downtown revitalization, and neighborhood associations. >> Read more
Want to learn more about educating residents about how their local government operates? Check out all the resources ICMA has in civic education.
Program to Reduce Nutrient Loss in Champaign County, Illinois
Now in its second year, the Saving Tomorrow's Agricultural Resources (STAR) program recognizes farmers for their nutrient and soil loss management practices. The program aims to encourage farmers to adopt practices that reduce the loss of nutrients in the soil in light of the Illinois Nutrient Loss Reduction Strategy released in 2015. As part of the program, points are assigned for each cropping, tillage, nutrient application, and soil conservation activity used on individual fields. Scientists and researchers, including some farmers, assign the points to farms. >> Read more
Building Positive Relationships with Police in Hopewell, Virginia
For the 7th year in a row, children in Hopewell, Virginia, had the opportunity to attend the Hopewell Police Department Summer Camp. Working with the Department of Recreation and Parks, the Bureau of Fire, and the public schools, this free, four-day camp aims to build a postive image of police officers among local children. "In today's society, it's important to encourage children to make up their own minds. Positive interactions with police officers at summer camp encourages children to form their own opinions about law enforcement," says Sgt. Shea Richardson, who serves as the camp coordinator. >> Read more
Want to stay in the know about all things local government? Subscribe to the ICMA blog!
New, Reduced Membership Dues
A new, reduced dues rate is available for CAOs/ACAOs, along with additional discounts for those in smaller communities, has been implemented. Learn more and be sure to join or renew today!