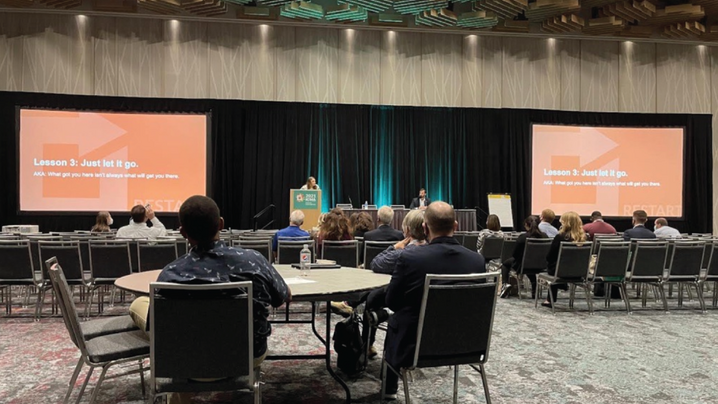 How do you approach your first role as deputy or assistant chief administrative officer (ACAO)? What are some of the first tasks that you can accomplish to jump start your way on a path to success in your new role?
In this 2021 ICMA Annual Conference session, two recently appointed assistants—Jeff Weckbach, assistant administrator, Colerain Township, Ohio; and Kristen Gorham, assistant city manager, Chamblee, Georgia—provided their own unique insights, stories, and lessons they learned while tackling their first ACAO role.
Here are five lessons that Jeff and Kristen learned during their transition into their current ACAO roles:
People respect the person, not the title. Jeff and Kristen explained how they quickly learned the need to focus on building internal relationships with their colleagues to gain their trust and respect.

Develop strong external relationships. They stated that the public may have expectations based on a predecessor, and it is up to new ACAOs to actively listen and learn the best way they can serve their constituents and community.

Just let it go; what got you here isn't always what will get you there. For this lesson, Jeff and Kristen explained that sometimes accepting a role as an ACAO means that you may have to delegate projects in which you might be a subject matter expert to other people on your team. Learning how to let go and delegate tasks will go a long way in anyone's success as an ACAO.

Confidence is key. Someone had to believe in you to get you into this role and that person was you!

Keep evolving. You don't always get it right the first time. Jeff and Kristen closed with this lesson demonstrating that it is very important to learn where your blind spots are, and always challenge yourself to keep evolving in your role.
Register for the ICMA Annual Conference
Join us September 17-21 in Columbus/Franklin County, Ohio for the 2022 ICMA Annual Conference.
JOIN ICMA TODAY!
ICMA provides the tools, resources and connections to help you become part of the international network of 13,000+ local government management professionals.