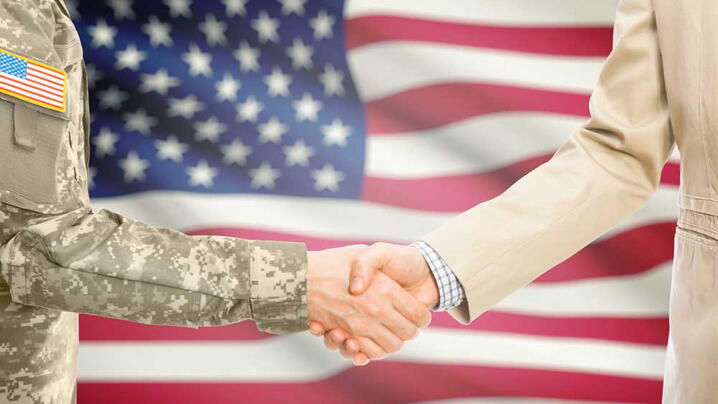 by Darrin Tangeman, district manager, Pueblo West Metropolitan District, Colorado Springs, Colorado; and Don Davis, county manager, Jefferson County, Colorado
Veterans can help fill the void of the upcoming tsunami of baby boomers who will leave the workforce. According to the US Census Bureau, nearly 40 million baby boomers will retire over the next decade, representing 31 percent of the approximately 127 million full-time workers in the United States. If our ICMA workforce reflects society, then we can expect this to impact our communities in a similar fashion.
Senior military retirees, often in their mid-to-late 40s, enter the workforce with a plethora of experience and talent that has been tested and tempered under some of the most arduous conditions. They bring a lot of wisdom and leadership to the table. Many of them have dealt with the same leadership challenges that face CEOs and city and county managers: Increasing operational requirements amid shrinking budgets and manpower.
Many have more than one master's degree, have been students of history, and see all too clearly what happens when local governments fail whether overseas or locally. They understand the meaning of service and commitment and understand that good leadership is humble and selfless.
The future of our profession will be under immense pressure in the next decade due to the forecasted retirements of baby boomers. If we take advantage of our military veterans and retirees who have spent their lives defending democracy, we have a good chance of filling the void with qualified and experienced professionals who would love to continue their service to country at the local government level.
In addition to veteran retirees leaving the service, there are many early and mid-career veterans also entering the civilian workforce that have the same strong work ethic, servant-leadership style, loyalty, and selfless sense of service to their country and community.
Since 2003, nearly 250,000 veterans have left military service every year. Unique to the military, these early and mid-career veterans have been given immense responsibility in austere and politically sensitive environments at a young age. Often these responsibilities include managing multimillion-dollar budgets and cross-functional teams that are larger than an entire local government staff. These cross-functional teams often include human resources, fleet and facilities maintenance, budget and procurement, logistics, operations management, information technology, and civil affairs. Experiential learning under intense pressure and responsibility prepares veterans to rarely be intimidated by complex problems or issues. When given clear intent, task, and purpose, veterans will find a way to succeed.
Lastly, the military's nearly decade-and-a-half involvement in perpetual overseas conflict has given veterans the critical skills and experience to conduct effective community engagement in nearly any culture or environment. This experience has made early and mid-career veterans wise and mature beyond their years, and incredible assets for conflict management with a demonstrated ability to solve complex local government problems.
ICMA is a partner in the Veterans Local Government Management Fellowship, a program for the active-duty military on or approaching terminal leave or end-of-service date. Visit vlgmf.org to learn how to get involved.
Resources