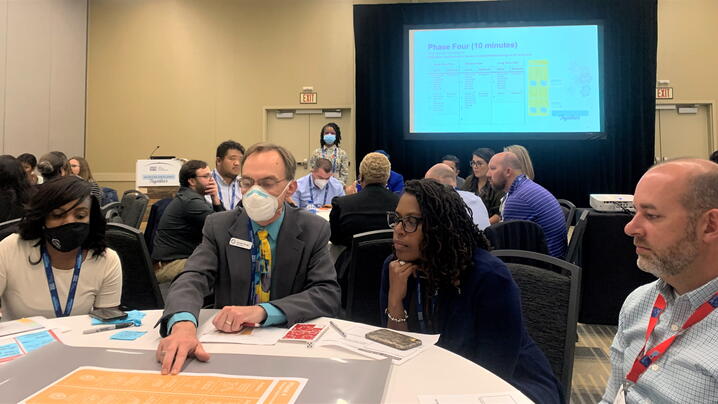 Attendees of the ICMA Annual Conference in Columbus, Ohio, got the unique, hands-on opportunity to navigate local government policies and practices by using gameful design in equity-based civic engagement. This newly developed framework was beta-tested locally and on-site at the ICMA Annual Conference. Dionne Hines, assistant to the county manager in Durham, North Carolina, in tandem with Valerie Lemmie, director of exploratory research at the Kettering Foundation, dove into the ins and outs of the game and how it was thoughtfully designed to help local government leaders tackle real issues in their communities.
Session participants turned game players were broken up into teams, and facilitators guided each team through four phases of gameplay. Phase one helped team members develop a shared understanding of the user experience within a specified policy environment that was presented as an evolving scenario. Phase two required team members to translate the insights determined from phase one into design criteria, as well as a set of action items and potential drawbacks. Phase three presented team members with a set of challenges that encouraged them to refine their action plans through deliberative dialogue. The fourth and final phase focused on developing an implementation strategy for the refined action plans.
Phase One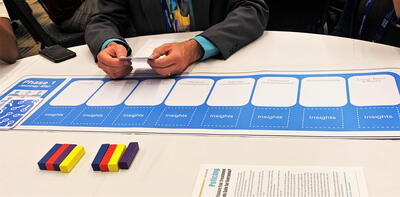 The object of the game in this instance was police reform and how to foster an environment that yields anti bias in policing. Phase one laid out a journey map of a community and resident's experiences in policing. As more information was laid out and the scenario evolved, participants gained a shared understanding of the scenario and were able to discuss the journey, developing some insights. Furthermore, participants even discussed their own experiences with policing that maybe went too far or could have been handled better, and dove into how identity (race, gender, age, etc.) made each of those experiences very different for each participant.
Phase Two
Phase two took the insights developed in phase one and translated them into design criteria with a list of action steps and potential drawbacks for how to tackle police reform. Each group fleshed out their design criteria, identified parameters, determined what pros and cons existed, came to a consensus after further discussion, and drafted their action steps. Many groups suggested ways to help young people understand how to interact with police, along with different approaches to bring police more proactive mental health support and both increased and improved training.
Phase Three
Phase three entailed responding to questions posed as related to the action items and potential drawbacks established in phase two. This was done by "riding" through the color-coded bike course game board, responding to each equity-based question from one of the six-card decks. Which card deck the questions came from was based on what number the player rolled and where the bicycle game piece landed as a result. Responses to each question posed addressed each action and drawback, and the action items were refined as a result of these critical thinking questions. With these refined action items in place, short-, mid-, and long-term plans for police reform were established by each team.
Phase Four
The final phase was all about strategy and managing the implementation of each group's established plans. First, a proposed implementation strategy was developed for each plan. Then, action items and drawbacks for the short-, mid-, and long-term plans were fleshed out for each team to present to their peers and take back to their communities.
---
This game brought attention to issues that every community faces, but instead of having a general conversation about the topic, this intentionally thought-provoking game allowed participants to engage in critical thinking, compelling conversation, and effective collaboration, uncovering ways to make impactful change. Participants walked away with unique action plans and ways to make a difference, ready to open the door to real change in their communities.
---
You can purchase 2022 ICMA Digital for on-demand access to the keynotes and over 140 educational sessions until December 31, 2022. Access is complimentary to attendees of the in-person event at Columbus.
New, Reduced Membership Dues
A new, reduced dues rate is available for CAOs/ACAOs, along with additional discounts for those in smaller communities, has been implemented. Learn more and be sure to join or renew today!