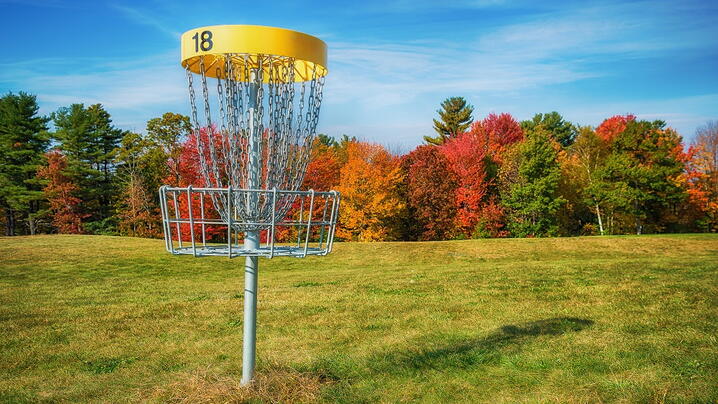 The popularity of disc golf is on the rise. Throughout the 2010s, the number of disc golf courses, players, and fans grew consistently. As the pandemic took hold in 2020 and people increasingly looked for social-distance friendly activities, interest in disc golf expanded. The rate of development has led some observers to ask the question, will disc golf be as popular as traditional golf someday?
Given the mounting demand, parks departments, city managers, and other administrators will increasingly face decisions about existing and future disc golf courses. Based on an interview with professional course designer Dana Vicich as well as five years of academic research on disc golf, here are five questions and answers to consider before moving forward with a new project.
Does the plan fit the land?
For the uninitiated: Disc golf is an outdoor sport and recreational activity that is played by throwing streamlined plastic discs into metal baskets from varying distances. It has a unique relationship with public parks. Roughly 90 percent of U.S. disc golf courses are located on public land, and many are in municipal parks.
When considering a new course, the first question involves the availability of land area. Disc golf is more flexible in this respect than traditional golf. Dana Vicich, a touring professional player and course designer with the company DiscGolfPark, said that "approximately 10 acres are needed for a 9-hole course and twice that are required for an 18-hole course." As a reference point, he suggested that an 18-hole, championship-level disc golf course would likely fit on a typical 9-hole traditional golf course.
Will the course be safe and sustainable?
Building traditional golf courses often involves clearcutting trees to make room for fairways. To keep the greens green, courses rely heavily on synthetic fertilizers and need to be watered. The water needs of traditional courses vary across seasons, but, according to the Alliance for Water Efficiency, the average course requires as much as 1,000,000 gallons in the summer months.
The overall impact of disc golf courses is smaller: Chemicals are rarely used, and water demands are low or nonexistent. If a city is looking for an amenity that is more environmentally friendly than a traditional golf course, disc golf may be the answer.
But disc golf courses aren't great for the environment, either – trees might need to be selectively cut or trimmed. Heavily used disc golf courses can have problems with soil compaction, erosion, and vegetation loss. The development of a sustainable disc golf course requires effective preventive measures, which can be found here.
Disc golf courses installed in multiuse parks also present safety concerns. Although some research has reduced worries about significant head injuries from flying discs, courses should not be installed close to walking paths, playgrounds, ball fields, or other park amenities.
"First and foremost," Vicich said, "you want the park to be safe for players and other park users."
Are all the stakeholders on board?
Most cities have a process in place to inform citizens about construction plans, new amenities, or changes in their parks. While conflicts are rare, there have been cases where groups objected to new course proposals. Vicich suggested that always being ready to work toward consensus with all community stakeholders can be important for a successful project.
In some situations, Vicich noted, going beyond basic information-sharing requirements and implementing "an education campaign" may help avoid miscommunication between the interested parties and encourage fruitful compromises when conflicts do arise.
Is the aim to increase revenue?
Ultimately, the success of a new disc golf course depends on the goals of its creators. With shrinking budgets, many public parks are looking for ways to become financially sustainable. While disc golf has boosted revenue through pay-to-play and parking fees at some courses, Vicich said that the potential for charging green fees usually depends on the type of players in an area and the availability of alternatives.
A high-quality, pay-to-play course is more viable in places where competitive disc golf is growing quickly, and courses are becoming congested with players. "To charge a fee," Vicich said, "you have to go above and beyond and differentiate your course from the free course the next town over."
While the viability of the pay-to-play option depends on regional characteristics, countless public disc golf courses have increased park utilization, brought people together, and nurtured community spirit, volunteerism, and fun.
Will everyone benefit?
Making recreation accessible to everyone should be a goal of public parks at all levels. While disc golf has been championed by many as a highly accessible activity, the layout and landscapes of most disc golf courses are not universally accessible and present limitations to players based on age, skill level, and physical ability.
Foresight and planning are needed to design a course that meets the needs of the given community. In some cases, an optimal project has involved the construction of both an advanced-level, 18-hole course, as well as a more accessible 3-to-6-hole beginner course in the same complex.
Ethnic and racial minority groups are underrepresented in the disc golf population. This and other forms of underrepresentation are likely related to the locations of disc golf courses. Research has shown that predominantly white communities are more likely to have a disc golf course than communities with higher percentages of people of color. Working to reverse the racial inequality in access is essential to the sport's continued growth and to its potential for strengthening community ties.
The Takeaway
As someone who both studies disc golf and loves to play, I can highly recommend building a new disc golf course and investing more resources in existing ones. But, given the current problems with the public disc golf infrastructure, the need for careful planning is evident. Before breaking ground, park administrators should determine whether their plan fits the land, whether the design is safe and sustainable, and whether it meets the needs of the park and its visitors.
In most cases, the success of a project requires support from a professional course designer. If you have questions, you can reach out to Dana Vicich at DiscGolfPark, and search the course design resources of the Professional Disc Golf Association.
---
Josh Woods is editor at Parked, a sociology professor at West Virginia University and author of Emerging Sports as Social Movements: Disc Golf and the Rise of an Unknown Sport.
New, Reduced Membership Dues
A new, reduced dues rate is available for CAOs/ACAOs, along with additional discounts for those in smaller communities, has been implemented. Learn more and be sure to join or renew today!