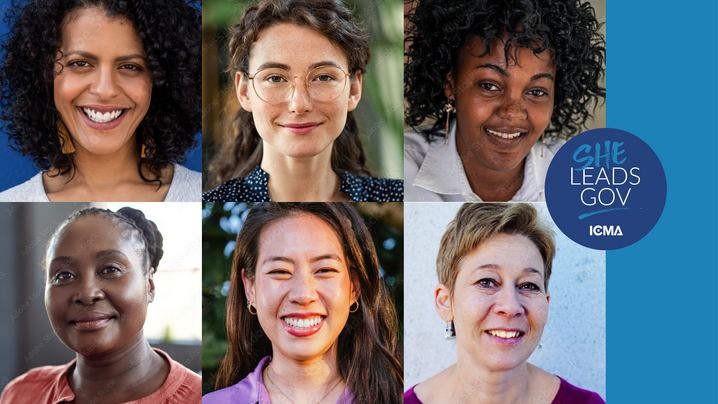 On International Women's Day, the third annual SheLeadsGov Virtual Forum on Balancing the Blur: Be a Leader in Your Personal and Professional Life provided more than 560 women and men an inspirational professional development opportunity to gain control over the whirlwinds in their work and home life. This day of encouragement presented by ICMA and the League of Women in Government, and sponsored by Cigna, provided a platform for attendees to gain actionable insight from thought-provoking and motivational speakers, connect with advice from panelists, and learn new tools and approaches to boost their vitality and balance the blur of daily life.
The virtual forum kicked off with an insightful panel of local government women on Be a Leader in your Personal and Professional Life. Kim Funderburk, president, Government, Education, and Health Systems with Cigna moderated the panel that featured four local government women who discussed how they navigate work/life balance post-pandemic: Tricia Johnson, deputy county manager, Seminole County, Florida; Jennifer A. May, deputy city manager, Sugar Land, Texas; Stacy Rodgers, county administrative officer, Baltimore County, Maryland; and Natasha Colebrook-Williams, assistant city manager, Miami, Florida. The panelists shared tips and tricks on saying 'no' and explored how boundaries can provide structure and flexibility to manage stress, not only for themselves, but also for their team, staff, and elected officials.
 
Nicole Lance, certified life coach and CEO, Lance Strategies, inspired attendees to stop letting everyone else call the shots and stop achieving someone else's version of success. She provided specific strategies to help attendees courageously build a life and career they love through her keynote on Ditch the Doubt.
In the session Vitality: The Next Generation of Health, Haley Hughes, licensed mental health clinician with Cigna, explained how experiences of the past few years significantly impacted health and well-being at home, at work, and in our communities, yet the opportunity exists to reset and pursue a more dynamic, substantive approach to whole-person health–one that focuses on vitality.
Following the event, we asked three attendees to share their insights and takeaways from the day:
How did the SheLeadsGov event inspire you to control the whirlwinds in your work and home life?
Sunny Bryant, deputy county administrator, El Paso County, Colorado: The SheLeadsGov event did a tremendous job of reminding me of the importance of slowing down, living a happy and healthy life, and being able to prioritize what is important.  It is imperative to know when to say "no," to not take on more than you can effectively manage and set boundaries in both your personal and professional life.  Like many others that attended the event, I am a mother, wife, daughter, and in a county leadership role.  I wear many different hats and oftentimes it is hard to keep up with my responsibilities.  It was so refreshing to hear that there are many women in the same situation, and I appreciated hearing tips on how to manage things and still make time for self-care.  In my prior role I didn't say no, kept the weight of the entire organization on my shoulders, and to my family it felt like I was putting them last.  I am in a new position now and am very thankful that the culture of the organization is much different and prioritizes a work/life balance. 
Elaine Wang, city manager, Winooski, Vermont: I appreciated the permission from the keynote to eliminate "shoulding" myself–a good reminder. And it was inspiring to hear from so many women leaders, especially women of color.
Dorian Russell, program manager, American Rescue Plan Act, Washington County, Oregon: My lived experience has led me to see "whirlwinds" as entirely normal–human beings navigate love, care of others, loss, grief, and other natural cycles alongside careers. As a queer, disabled, woman from a low-income background, I do not see whirlwinds as something to be controlled–they are a reality in existing as my true self in environments that were not built to support my needs. I was heartened to hear some women push back and question a long-debated binary: the "work-life-balance" concept. I am inspired by the evolving criticism of the work-life balance concept, which continues to place blame and burdensome expectations on individuals–disproportionately women–to achieve a fantastical lifestyle standard. I strongly believe that our core problem is a lack of supportive systems, not individual failings. I am glad to join other marginalized people in calling for "work-life-integration" instead: this shift is underscoring the need for policies, technologies, and practices that allow a broader diversity of people to participate in the workforce by acknowledging our whole selves, including our work and life needs. Opportunity for integration shows up largely in policy: from leave flexibility, supportive child and elder care programs, remote work options, and a focus on work outcomes over schedules. To stop pitting our health and well-being against work, there is real opportunity to advance integration policies.
What advice did you gain from the event that others need to know?
Bryant: Lance's presentation on Ditch the Doubt was a great reminder of the fact that we are our own biggest critics.  Lance pointed out that we "should" on ourselves, often pointing out what we should be doing, should have done, where we should be, etc.  Lance presented eight strategies to Ditch the Doubt.  1. Reduce the guilt factor.  2. Reframe your focus.  3. Leave the gremlins on the table.  4.  Tame those thoughts.  5. Handle your "have-tos."  6.  Align with authenticity.  7.  Be intentional.  8.  Give yourself credit.  Lance emphasized that we all have the ability to change our perspective and change how we feel about ourselves and our situation.  Keeping this in mind truly helps me to adjust my attitude and have more positive days. 
Wang: Finally, a concept provided by a participant–roundly agreed with by multiple other participants–has sent me on a useful journey: work/life integration (vs. work/life balance).
Russell: Stop telling people they have imposter syndrome. This advice from keynote speaker Nicole Lance was timely for me personally both as a mentor and a mentee. I have only begun to unpack for myself as a scientist and as a public policy professional that I have inaccurately relied on the term "imposter syndrome" to encompass a broad umbrella of emotions and experiences–including fear and doubt. For longer than I have been alive, the concept of imposter syndrome has been characterized as a phenomenon wherein a high-achieving person doubts the validity of their accomplishments, and wonders if they have fooled those around them into thinking they're competent. While marginalized people may more frequently experience fear and doubt in the workplace, characterizing these experiences as imposter syndrome–and identifying solutions through this lens–does us all a disservice. Akin to the discussion above on work-like-integration, a focus on characterizing the problem as imposter syndrome puts the burdensome onus on individuals and ignores broader, systemic problems where real change is possible. As a queer, disabled, woman from a low-income background, the systems, policies, and procedures that define the workplace were not built with me in mind: this is not my fault, and characterizing me as an imposter doesn't create impactful change.
Instead of aiming to fix individuals, we need to fix systems. With this in mind, I pledge to retire my use of the term imposter syndrome. When speaking about individual experience, I aim to more accurately use Dr. Lance's shorthand definitions of two key emotions: fear and doubt. When we experience fear, we may think "I don't know if I should do this," which is directly connected to inequities in how our behavior is regulated by norms based on gender, race, and other factors. For example, Chad speaking up at a meeting may be perceived as bold and innovative, while Keisha may be perceived as out of line. When we experience doubt, we may think, "I don't know if I can do this," and experience uncertainty; while doubt is a normal part of professional growth, systems of oppression make these experiences far more common for marginalized groups. Mark and his many mentors and role models in leadership may make him confident to apply for the promotion; Maya may not immediately jump at the opportunity. Neither Keisha nor Maya is at fault for the broad-sweeping marginalization they face–they also aren't "imposters" for not fitting the mold their work systems were built to serve. We can and should reimagine the workplace instead of othering individuals.
Why is it important for colleagues and organizations to recognize vitality and keep women in local government?
Bryant: The statistics were alarming regarding vitality.  Cigna reported that overall, less than one in five U.S. adults have high levels of vitality.   What is even more concerning is that Cigna also reported working women are significantly more likely to have clinical depression/anxiety and working women experience lower vitality, resilience, and greater loneliness than working men.  Unfortunately, there have been various times throughout my career that I have struggled with my vitality.  I am thankful that in my current leadership position I have the ability to influence this throughout the organization.  Women play key roles in local government, and it is critical for us to ensure we recognize the importance of vitality and create a positive, compassionate, and supportive working environment.  It also starts with those in leadership positions to be models of vitality.  We have to demonstrate self-care, compassion, prioritizing family, and supporting others.  We play a critical role in developing a culture of high vitality in our teams.  
Wang: If one needs the business case for vitality (i.e., other than 'it's the right thing to do'), our organizations will be more productive, more innovative, and more humane in our support of our community members by fostering the vitality of everyone in our organizations, especially those who are underrepresented in our leadership, such as women.
Russell: The most important word in this question is organizations. If your organization is not centering employees holistically as whole people–with priorities in physical, emotional, spiritual, and environmental health–it is responsible for negatively impacting employees' lifelong outcomes. I have no interest in working for employers that fail to recognize the importance of social determinants of health and the specific needs of marginalized people. It is my hope that within my lifetime we get to a point where a person's gender, race, sexuality, or other identity factor cannot be used to predict whether they experience negative long-term health outcomes. Employers have a role to play in this vision for equity and are responsible for setting health outcome goals that are well-resourced.
Continue the Conversation
Opportunities to connect and engage with women in local government extend beyond International Women's Day. Women Leading Government chapters and initiatives provide professional development and engage in networking events in states and regions to meet and support women. Additionally, the upcoming ICMA Annual Conference in Austin/Travis County, Texas, includes planned events for women in local government to connect at the SheLeadsGov luncheon, women-focused sessions, and roundtables.
New, Reduced Membership Dues
A new, reduced dues rate is available for CAOs/ACAOs, along with additional discounts for those in smaller communities, has been implemented. Learn more and be sure to join or renew today!