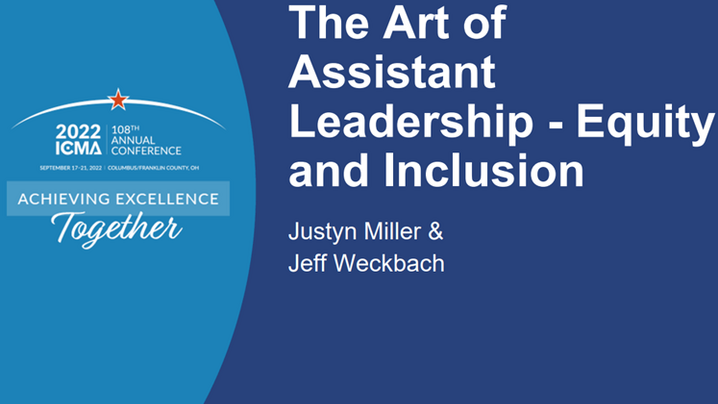 By Jeff Weckbach, township administrator, Colerain, Ohio, and Justyn Miller, assistant village administrator, Berkeley, Illinois.
Diversity, equity, and inclusion, DEI. These terms are often cited by our colleagues as critically important areas that we need to work on, but we sometimes lose focus on these issues as we move forward with our work plans and strategies for future years. You may find yourself in a community that is politically opposed to this type of work, your residents may be opposed to the idea of DEI, you may not have the support of key decision makers inside the organization, or you may simply find yourself without time or resources to engage in a full-scale DEI plan. While these challenges certainly exist and are not always easy to overcome, there are still things that we all can do to make progress on DEI in our communities. 
At the 2022 ICMA Annual Conference in Columbus, our hope was to take some time during the Art of Assistant Leadership series to unpack some of these challenges and develop a list of solutions that all of us can work on in the short term in order to place an emphasis on correcting systemic DEI issues in our communities and organizations.
Identifying Blind Spots
Before any of us can get started in DEI work, it is important to take a snapshot of the structure of your organization to determine where your blind spots might be. In assessing where you are, you may want to ask yourself:
What is the demographic profile of your community?
Is your leadership team reflective of the community?
Is your overall workforce reflective of the community?
Who shows up to your meetings or interacts with you? Are they reflective of the community profile?
Do you have neighborhoods that are better off than others? 
Is pay equal across genders?
Where are your elected officials on this topic?
Do you have the financial resources to be able to support these efforts?
Focus and Small Steps
You are not going to be able to tackle all of these issues at one time, so focus on one area and become the best you can be in that area. Whether you want to focus on recruiting, staff development, or external gaps in your community, a strong emphasis in one area will likely lead to positive externalities and natural progress on all facets of DEI for your community. 
While this work may seem like a tall task, each step we take toward implementation of a new project or program is a step in the right direction. Our profession is also uniquely situated to serve as a giant test kitchen with tens of thousands of chefs all trying out their own recipes in order to see which combination of work will lead to the desired outcome. With that in mind, we asked participants at the ICMA conference to share ideas on how they have made progress on DEI in their communities. In total, over 50 unique ideas were shared, including:
Offer materials in various languages and consider alternative methods of communication. 
Form an equity action team of internal and/or external stakeholders.
Consider and create policy decisions with more of a focus on inclusion. 
Incentivize what skills you are trying to attract/recruit, i.e., bilingual skills, and emphasize them in your job ads and pay a premium for those skills.
Consider new shifts to employee work schedules such as accommodating remote work, 10-hour shifts, and others.
Place advertisements in such nontraditional sources as radio stations or newspapers that have a diverse audience.
Adopt a statement on Diversity, Equity, and Inclusion that highlights the importance of the issue for your community.
Develop a mentorship program to connect rising stars in your organization with others like them who are in leadership roles in your region.
Collaborate with other organizations, including local higher education institutions and consider tapping into/creating a regional recruiting/hiring initiative to increase exposure to different pools of potential talent.
Welcome uncomfortable conversations to outline, learn, and grow about what is important to others. 
We hope that sharing this list will help all of us to find new ways to advance our communities and want to thank everyone who participated in the Art of Assistant Leadership at the ICMA Annual Conference in Columbus, Ohio.
---
The Art of Assistant Leadership - Equity and Inclusion on-demand and slide deck.
ICMA Annual Conference in-person and digital attendees can view on-demand content through December 31.
New, Reduced Membership Dues
A new, reduced dues rate is available for CAOs/ACAOs, along with additional discounts for those in smaller communities, has been implemented. Learn more and be sure to join or renew today!