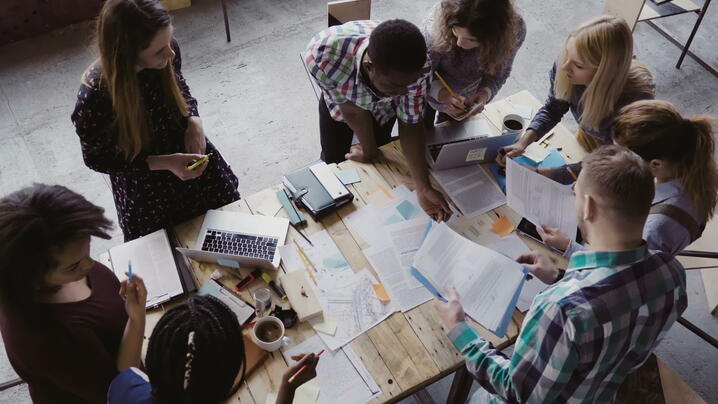 by Michelle Thomas, MPA Candidate, Old Dominion University
After identifying a substantial lack in engagement among young people, Arlington County, Virginia, in collaboration with the Ballston Business Improvement District (BID) and County Board Vice Chair Katie Cristol, developed a unique approach to get young professionals in the area involved in civic life. Arlington County, which was named the "Best City for Millennials" in early 2017 by the Washington Post, is home to a population that is 30 to 40 percent millennial.
In spring 2017, more than 60 young adults attended a meet-and-greet at the BID office to connect, engage, and share ideas on topics that included affordable housing, creative outreach tools, inclusivity, and transportation. The county also provided them with valuable resources and directed them to the new Engage Arlington forum, a resource-sharing hub for constituents to discuss what matters the most to them. Many attendees used the forum, which provided a wealth of information to Arlington County on critical issues to the demographic. The county later shared the millennial-specific data gathered with area civic associations and advisory groups.
In addition to the Engage Arlington forum, Arlington also provides content for the Engage Arlington website, which highlights new initiatives, including open budget roundtable meetings, car sharing programs, virtual county board meetings, and calls for civic association and advisory group volunteers. Since the collaboration with Katie Cristol and the Ballston BID was organized, Arlington County's millennial engagement listserv increased to 485 members.
Arlington County's efforts to involve millennials do not stop there. One more of its many efforts provides opportunities for young professionals and high school students to volunteer and assist with in-person voting at the Voting and Elections Office through the Concierge and High School Page Program. On election days, volunteers ensure voters present valid identification and successfully cast electronic and paper ballots. Since the program was launched, volunteerism among young adults in the area has increased by 85 percent.
With these and plans for future initiatives, Arlington County strives to remain accessible, informed, and responsive to meet the public's needs and welcomes feedback from all demographic groups on how to enhance the living experience of its residents.
New, Reduced Membership Dues
A new, reduced dues rate is available for CAOs/ACAOs, along with additional discounts for those in smaller communities, has been implemented. Learn more and be sure to join or renew today!