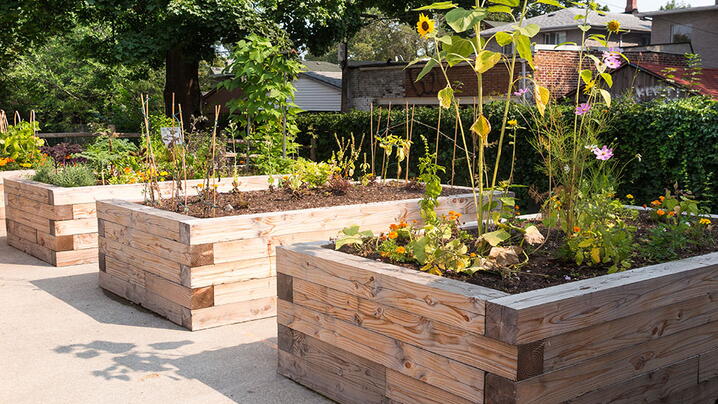 by Niles Anderegg, research and content development associate, ICMA 
This week is National Gardening Week, and at first glance, you might think gardening has little to do with local government. There are initiatives like community gardens. However, that can serve an important culture and economic role for local governments. Here are five reasons why community gardens can be a benefit to your residents. 
1. Low-cost redevelopment. 
Community gardens can be a great way to reuse or redevelop abandoned or neglected properties. In 2010, Lenior, North Carolina, worked with resident gardeners and the local hospital to create a new green space in a neighborhood that had been adversely affected by the decline in the furniture manufacturing industry. This type of redevelopment was relatively low cost in an area of the city that needed redevelopment, and it allowed the city to develop new relationships with community stakeholders, including the resident gardener and the hospital. 
2. Community Gardens can help social services programs.
The initial idea for the Lenior community garden was to provide food for the local food pantry. Similarly, in Denville, New Jersey, the local food panty partnered with the township's community garden following a flood that led to an increase in those who needed to use the pantry. Within the first year (2012), this partnership produced enough fresh food to cover the increased usage of the pantry. This partnership also had the added benefit of reducing the financial burden on the pantry and the residents who used it by about $2 per pound because of the produce that was given to the pantry. 
3. Educational opportunities. 
Community gardens give students a convenient way to learn about sustainable agriculture as well as healthy living and nutrition. In San Diego, California, one elementary school took it a step further and created a community garden on school grounds, giving students that hands-on learning that community gardens provide. Students could also to directly benefit from the garden by eating what they made with their own hands. 
4.  Community gardens help build healthy communities. 
Community gardens are a great way to get people to make healthier decisions about the food they eat. As Designing Healthy Communities puts it, "The availability of fresh produce means that a more nutritious diet is available – both cheaply and conveniently. " It also provides residents with an outdoor physical activity that is easy to learn and can help combat issues like obesity. These are positives for community gardens that are located in disadvantaged neighborhoods.
5. They bring people together.
An important part of community gardens is the sense of community that they bring to residents - both for those who work in the garden and for those who benefit from the gardens. These gardens can lead to greater community engagement and pride. When Pride magazine did a feature article on Lenior, the tagline was "How a community garden helped a struggling small town in North Carolina reclaim its pride." Through community gardens, local governments across the country have forged new partnerships and connected residents to their communities. 
Related Content 
Support for Gardening and Wildlife Management. This document from 2006 details a Colorado program that was done in conjunction with the U.S. Department of Agriculture, which provided programs on gardening and wildlife management.   
"A Farm and a Park in the Middle of it All." This 2014 article details how one community went beyond a community garden and created a community farm. 
Saving Energy Costs thru Solar Gardens. In a 2015 blog post, the focus was on a different type of garden - a Solar garden - and how it helps reduce energy costs.  
New, Reduced Membership Dues
Beginning October 1, 2022: For memberships expiring on December 31 and for new members, a new, reduced dues rate is available. Learn more and be sure to join or renew today!