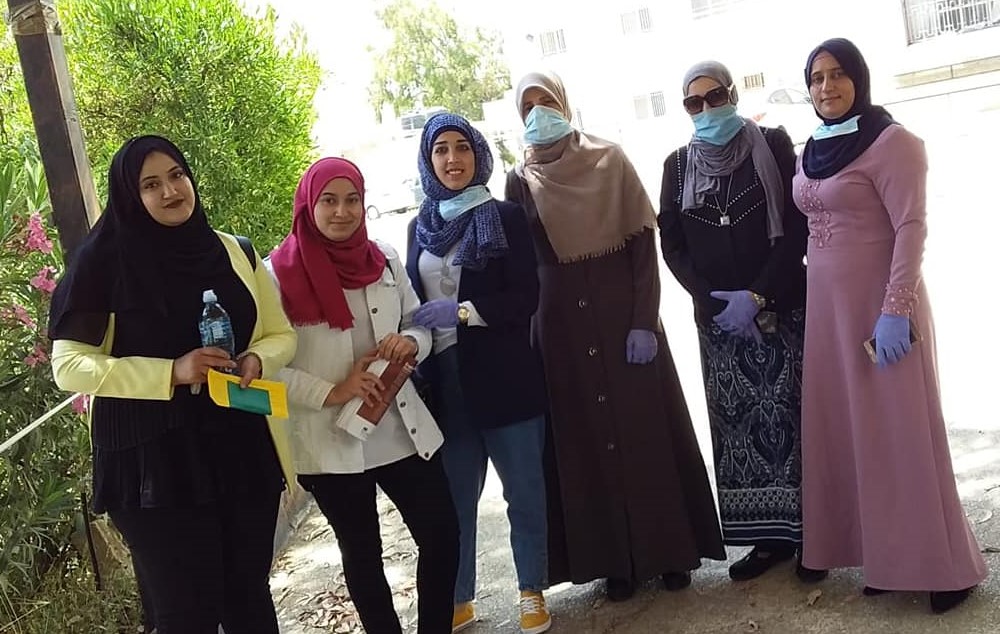 The State of Palestine, located in the Middle East, continues to be a beautiful and thriving sovereign nation despite its ongoing geopolitical challenges, now compounded with the COVID-19 pandemic. Like many local governments globally, Palestinian local authorities (more than 400 municipalities and village councils) lack the appropriate resources to respond to the pandemic. Notwithstanding, local authorities and the Palestinian people remain resilient under these circumstances.
Palestine is home to about five million people, including three million located in the West Bank (including East Jerusalem) and two million in the Gaza Strip. Forty percent of the population living in Palestine are refugees, including 70 percent in the Gaza Strip alone. Furthermore, an additional eight million Palestinians live outside of the respective borders.
The Palestinian Authority has full civil and security control over only 18 percent of the West Bank (Area A) and manages civil affairs in around 21 percent of the West Bank (Area B), with security under Israeli control. The remaining 61 percent of the West Bank is under full Israeli military administration (Area C). The situation in Palestine remains fragile and is subject to a range of political, security, social, and economic threats.
Understanding Local Authorities
Local authorities in Palestine remain the cornerstone to a sovereign and democratic nation. As one of the oldest existing levels of government, local authorities in Palestine form the backbone of the Public Administration Sector and the national government (Palestinian Authority) relies on local authorities to provide a diversity of public services. For example, local authorities are statutorily required to deliver at least 27 public services including, but not limited to, the management of water, sanitation, electricity, street maintenance, and urban planning. Local authorities are also playing an essential role during the establishment of the Palestinian State, serving as a channel to communicate national policies.
Furthermore, local authorities have the power to take all necessary precautions and measures to improve public health and prevent the spread of diseases. While geopolitical factors affect Palestine daily, local authorities must remain diligent in providing a high level of service to improve the quality of life for all Palestinians.
As a nonprofit organization, the Association of Palestinian Local Authorities (APLA) represents the interests of all local authorities in Palestine. In September 2018, APLA and ICMA signed an affiliate agreement, which proudly signifies APLA as the first Arab affiliate of ICMA. The affiliate agreement details how the two associations are committed to strengthening their relationship and partnership.
Declaring a State of Emergency
On March 5, 2020, the Palestinian Authority declared a state of emergency following its first registered cases of the coronavirus (COVID-19) at a hotel in Bethlehem. The Palestinian Authority's leadership was decisive and unwavering to protect the lives of Palestinians. Consequently, like many countries and local governments globally, the declaration resulted in substantial reductions and disruptions for most of the public and private institutions. Although there are compounding impacts to Palestinians due to lack of resources even prior to the coronavirus pandemic. Notwithstanding, the local authorities are appreciative for their substantial network of supportive governments and agencies.
Beyond Service Delivery
A beloved Palestinian poet and author, Mahmoud Darwish, once wrote, "And I say to myself, a moon will rise from my darkness." This quote embraces internal optimism even in the darkest of days. Regardless of challenges, Palestinians have always remained dedicated to helping one another throughout our historical struggles and in times of crisis.
While still providing public services, local authorities and partnering governments and agencies quickly mobilized to coordinate a response. They immediately began reviewing existing contingency plans and activities to contain the pandemic. These efforts have saved Palestinian lives and ensured service delivery at the local level, as well as helped facilitate stability at the national level by collectively ensuring that basic needs are met.
Furthermore, local authorities have been fulfilling additional roles and responsibilities to assist other Palestinian governmental agencies. Various levels of government (e.g., national government, governors, and competent ministries) have approached local authorities to assist them with implementing the national policies and procedures. For example, many Palestinians work inside Israel, and since the Palestinian government has no control over the borders, to mitigate the spread of the coronavirus, local authorities have been assisting with health screenings between borders. Municipalities of Turqumia, Ithna, and Beit Oula established a support committee in coordination with the emergency committees in neighboring municipalities in order to deal with workers returning from Israel. A tent was established next to the border crossing to perform a number of services:
• Register the data of returned workers and perform the necessary health check-ups to ensure their safety and the safety of their families.
• Provide them with advice.
• Deliver them to home quarantine.
• Follow up with them in cooperation with medical teams, providing the necessary needed awareness and support.
Local authorities have stepped up to provide an additional level of social services for the most vulnerable populations in Palestine. Services include providing emergency aid kits and various medical supplies, assisting medic teams with mobilizing equipment, and identifying and implementing innovative responses stemming from open lines of communication between stakeholders. In fact, this public health crisis has shed more light on the importance of solidarity and community cohesion among stakeholders, especially in the areas of data gathering and needs mapping.
Equitable Service Delivery
Since almost half of the residents of Palestine are refugees, equality and inclusive service delivery is culturally important across all levels of government. Many refugee camps are located in the heart of Palestinian cities, and delivering basic services to the respective camps are typically the responsibility of the United Nations Relief and Works Agency (UNRWA). Some of these refugee camps have some of the highest population densities in the world.
Local authorities have played a major role in supporting these communities and complementing UNRWA activities. Concerning refugee camps, local authorities have allocated their staff, vehicles, and equipment to support such efforts as collecting solid waste, continuously sterilizing public spaces, and assisting in various medical and emergency services to ensure service accessibility to this highly marginalized population.
The Al-Jalazoun Refugees Camp, located in the north of Ramallah and Al-Bireh governorate, recorded a rapid spread of coronavirus infections due to its population density. The municipality of Ramallah conducted a sterilization and cleaning campaign in the camp using its staff, machines, and materials to support the efforts of the emergency committee in the camp in implementing safety and prevention measures. Meanwhile, the municipality of Bethlehem had carried out cleaning and sterilization campaigns in the Dehaisha, Al Azza, and Aida camps located within the borders of Bethlehem governorate.
In a fragile context like Palestine, and due to the geopolitical fragmentation and the central government not having control over more than 61 percent (Area C), the local authorities have many responsibilities to their residents as the only form of government and service delivery actors in these areas. During the pandemic, the local authorities have stepped in to handle extra duties. In addition to their regular duties, they are required to act more as unifying entities, especially in the rural areas and the areas out of the control of the central government.
Large efforts have been undertaken for inclusive service delivery for youth, women, elderly, and other vulnerable populations, especially in the planning process. Beit Ijza village council formed a special all-female committee to support and activate the role of women in the village. During the pandemic, the women's guidance and counseling committee carried out special activities for people with sensitive needs. The committee targeted women working in the village institutions to provide them with food packages, as well as prevention and sterilization packages, especially for the families in need. The committee conducted medical check-ups for the elderly in the village. The committee also provided psychological support and guidance to the village's female students. Overall, the committee played a very important role in supporting all other efforts in the village.
In light of school closures and the inability of students to continue their studies, local authorities worked to provide educational support for students. The municipality of Kober formed a special operations room to assist students, especially in electronic activities and exams. The Qaryout village council prepared a special hall inside the council building for university students with all the necessary equipment and materials to help university students complete their studies via electronic means.
Despite these efforts, more attention must be given to these marginalized communities in times of greatest need. Today, citizen participation in the planning and policy development process is even more critical to ensure inclusive services.
In conclusion, to all those affected by this public health crisis globally, remember the words of the poet Mahmoud Darwish: someday a moon will rise from our darkness.

 ABDALLAH ANATI is executive director of the Association of Palestinian Local Authorities (a.anati@apla.ps).
New, Reduced Membership Dues
A new, reduced dues rate is available for CAOs/ACAOs, along with additional discounts for those in smaller communities, has been implemented. Learn more and be sure to join or renew today!