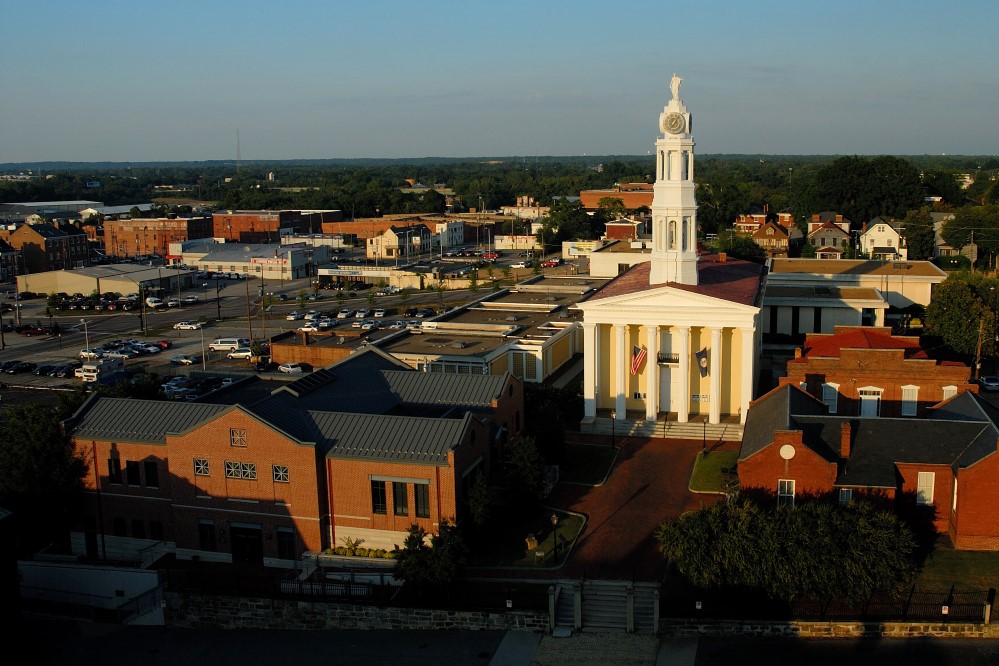 Petersburg, Virginia, was settled in the Seventeenth Century and incorporated in 1748. After the American Revolution, Petersburg became a hub for railroads and by 1860, it was the second largest city in Virginia. The city is located approximately 100 miles from Washington, DC, and 25 miles from Virginia's capital, Richmond. The city is connected by six major highways and a port on the Appomattox River.
Although tobacco was the main product derived from the region, Petersburg also housed the Appomattox Iron Works, a major cause for the Siege of Petersburg during the Civil War between 1864 and 1865. It was vitally important that the Union Army cut off one of the largest artillery supply chains in the south.
The charm and beauty of Old Towne Petersburg remains to this day and gives visitors the feeling of stepping back in time. Much of its architecture is nearly the same today as it was from the 1600s through the late 1800s. This has not gone unnoticed by Hollywood. The city has been used as a backdrop in multiple movies and television series, such as Harriet, Lincoln, Turn, Mercy Street, and recently, The Good Lord Bird, starring Ethan Hawke.
2016 Crisis
In 2016, the city of Petersburg experienced a major financial crisis. The city realized it only had $75,000 in funds and a million dollar payroll looming just two weeks away. Tax collections were below 60 percent, water utility rates were below competitive market rates compared to other Virginia municipalities, and the Treasurer's office, which is a constitutional office in the Commonwealth of Virginia, was under scrutiny by the FBI. The tax base was on a serious decline due to the loss of jobs. The city had a $6 million deficit and a Standard and Poor's bond rating of BBB-.
How Did This Happen?
In 1985, tobacco giant Brown and Williamson moved its corporate headquarters from Petersburg to Macon, Georgia, resulting in a loss of approximately 4,000 jobs. A major pharmaceutical chemical company, Boehringer Ingelheim, decided to shut down operations at its Petersburg plant in 2014, resulting in a yearly revenue loss of $3 million and a loss of nearly 500 jobs. The firm cited excessive capacity in the pharmaceutical market from foreign-produced materials. As a result, meals tax, sales tax, and property tax revenues plummeted, leaving many plots of land abandoned and deteriorating.
Stabilization
The city council realized it had to act quickly. In early 2016, council hired an outside consulting firm, PFM Consulting, which recommended draconian measures to stop the financial bleeding. The group recommended a 10-percent pay cut across the board for all city workers, including police, fire, and EMT. As one might expect, the results were disastrous. All departments began to lose employees to surrounding areas and the city received a great deal of criticism from a variety of citizens and business owners. Council hired the Robert Bobb Group from Washington, DC, to step in immediately. The first priority was funding the immediate upcoming payroll. The Commonwealth of Virginia knew from tax reporting that Petersburg had reached a crucial point in its financial well-being. Because Virginia's General Assembly does not permit its cities to file for bankruptcy, the secretary of finance worked with the Bobb Group to secure the needed funding. Working with the Virginia Resource Authority, the commonwealth's finance department, and the private management firm of Davenport and Associates, the city of Petersburg found enough cash to operate for another month. Within ten months, the city was upgraded to a bond rating of BBB+. The government employees, as well as police, fire, and EMT employees, had their salaries restored to 100 percent.
Tourism had been one of the major sources of income for the city, but in 2016, council decided to shut down its three city-owned museums. The city still had many historical locations that were privately owned. Seeing the need to reopen the museums, a group of citizens, business owners, and docents formed a temporary nonprofit to operate the museums on the city's behalf. With the help of this group, the chamber of commerce, and some businesses, Petersburg successfully applied for tourism grants through the Virginia Tourism Corporation (VTC), a public-private partnership, to bring visitors back to the museums, shops, and restaurants.
City council, led by Mayor Sam Parham, took advantage of 2019 state legislation allowing a city manager to take over the duties of tax collector. This change gave the city the power to require degrees and certifications not required from a constitutional office, such as the city treasurer. This decision was pivotal for the city from a financial perspective. City government no longer had to rely on estimates and budgets proffered by inexperienced individuals and could now rely on trained finance professionals.
Recovery
The initial stabilization begun during the first half of 2017 allowed for hiring a permanent city manager, Aretha Ferrell-Benavides, former city manager of Glenn Heights, Texas. She accepted the job of managing a city with approximately $75 million in annual revenues and expenses. Mayor Parham knew almost immediately that Ferrell-Benavides was the right person for the job. Benavides began reconnecting with former associates in Texas and Washington, DC, and brought in experienced leaders to fill the positions of deputy city manager for community affairs and deputy city manager for development. Another major shift in structure was combining management of both the fire and police departments with the creation of the managing director of public safety position. This change removed layers of unnecessary management and gave more responsibility to the deputies. The city manager now had more control and more information for monitoring daily, weekly, and monthly operations.
Results of restructuring can be measured by how the city collects taxes and manages its finances. Finance Director Patrice Elliott recently informed council of an $8 million positive fund balance for the fiscal year ending in June 2020. Elliott said, "The city is operating at a $4 million per year positive cash flow. This upturn prevented the need for a Revenue Anticipated Note (RAN), thus saving the city nearly a quarter million dollars in high interest charges." A RAN is equivalent to a payday loan with higher than normal interest rates.
When Budget Director Robert Floyd arrived in Petersburg in 2017, there was no centralized budget control system for the city. He stated, "I worked through each department and each position to find what needed to be included in the budget." As a result, positions that had been included in previous budgets but never filled were eliminated.
Davenport and Company, the city's financial advisor, praised the city for a turnaround "as great as any we have witnessed in 40 years."
Economic Development and Tourism
In March 2020, during the height of the Covid-19 pandemic, Benavides hired former city of Richmond economic development director Carthan Currin, and began to expand his economic development team to bring more business to the city. Benavides noted that hiring a director for this department was absolutely vital to the future success of the city. The position has not been unfilled since 2016. The economic development team has grown to four positions as of this writing. Currin, who had been the former director of the Virginia Tobacco Commission and Tobacco Foundation, is from Petersburg. Benavides added that, "Bringing knowledge-based businesses to Petersburg is paramount to its ongoing success both financially and socially. These new businesses attract skilled and educated workers to further contribute to the essence of what makes Petersburg Petersburg."
External Contributors
Manufacturing
There are many factors contributing to the positive operating balance. Recently, the city of Petersburg did something that many would have thought impossible just a few years ago. It welcomed a major manufacturer, AMPAC Fine Chemicals (AFC), to the city. City councilman Darrin Hill stated, "This is a huge economic benefit to the city, filling the former Boehringer Ingelheim campus with new business and especially one that has the opportunity to create and manufacture drugs that may one day save the world from future pandemics." Mayor Parham met with AFC back in 2016, when the city was under its most difficult financial stress. He said, "We owe a debt of gratitude to Rene Chapman of the Virginia Gateway Region for introducing my city and me to Doctors Malik and Gupton, who led this pharmaceutical project. I refer to Dr. Gupton as the godfather of the project." Patrick Park, AFC spokesperson, observes that "the COVID-19 crisis has clearly demonstrated that the U.S. is highly dependent on foreign countries for its drug supplies. The U.S. government is working to provide government-funded initiatives that will bring drug manufacturing back to the United States." Park notes that among the reasons his firm chose to invest in their Petersburg facility were its "qualified workforce and the willingness of the city of Petersburg to work with AFC."1
Municipal
SMART SCALE is a prioritization process focused on investing limited tax dollars into projects that best meet critical transportation needs for Virginians. Jennifer Mitchell, director of the Virginia Department of Rail and Public Transportation, seeks to provide safe, reliable transportation alternatives for travelers in the commonwealth and is partnering with localities and transit agencies to accomplish this goal. The project is a state-of-the-art park and ride facility that will provide safe, well-lit, and easily accessible parking to Petersburg residents, commuters, and visitors to this historic city." The facility will house over 200 parking spaces and is strategically positioned at the transit station, which will allow workers to travel to a variety of nearby areas, including Richmond.
As previously mentioned, Petersburg has many major roads running through it. Interstate 95 and 85, Routes 360 and 460, Route 1, Route 301, and Route 36. Neighboring towns Emporia, Waverly, Sussex, and Dinwiddie will benefit from the new commuter service. This project reconnects the city of Petersburg to all its surrounding neighbors. The funds from this project are derived from the Commonwealth's SMART SCALE Program. Because of this new facility's direct connection to public transit choices, it received the highest SMART SCALE scores for economic development and accessibility.
The city, along with the Virginia Department of Transportation (VDOT), has begun a new project of repairing a section of road under the I-95 overpass that has long separated two parts of Petersburg. The VDOT-funded project is expected to cost approximately $1.3 million and is to be completed within a year. The bridge, which was closed in 2006, will reconnect two disconnected areas of the city. This needed infrastructure feat would not have been possible without the city's positive fund balance.
Petersburg completed its police accreditation this past September; its first in the 210-year history of the bureau. The city manager, along with the deputy city manager of public safety, Kenneth Miller, envisioned this goal when they both started working in Petersburg on the same day back in 2017. This accomplishment opens the door for more grants and funding by state and federal agencies.
Tourism
Another aspect of economic development is planning for increased tourism after the Covid-19 crisis. Although no one could have predicted a global pandemic, the city manager and her team decided against announcing a budget amendment in Spring 2020. Benavides, in her preparation for the pandemic, stated, "Although we were ahead of projections for 2020, we decided to wait until the end of the fiscal year on June 30 to see where we would end up with both revenues and expenditures. The pandemic affected both sides of the equation. We did experience a brief reduction in revenue in March and April, but we also reduced our expenses."
The city moved ahead with expanding its tourism team within the economic development office and hired a former Petersburg employee who had been the tourism director over 20 years ago. The independent group currently operating the museums did not receive grant funding for marketing during the pandemic, but plans are being made for expanded tourism efforts in 2021.
One feature of the 2021 tourism plan is creating a customer service center in Old Towne Petersburg. It will be headed by the city's public information officer, Kemi Osoba, and will be devoted to making visitors to Petersburg feel the same warm welcome as if they were entering an upscale hotel. The center will be located at City Hall.
A major renovation project is underway of the Hotel Petersburg, which will be completed in late 2022. The city has operated without an upscale hotel for years. Tourism efforts have been aimed at visitors within a 100-mile radius of Petersburg. The hotel will alter tourism efforts from as far north as New York and as far south as Florida and will give the area a footprint for marketing similar to that of VTC.
Many have said that reconnecting Petersburg was an impossible task. To the city manager, it is an ongoing moral duty to bring an entire population back to the glory it once realized. "I'm proud of the work my team and I have done over the past three years. Connecting former colleagues, former and new residents, and new ideas with creative new approaches are leading to a grand diversification of Petersburg that it hasn't seen since the 1800s. My goal is to inform and educate the people of our country on what a charming and productive city we have," said Ferrell-Benavides. "I invite everyone to make plans to visit our museums, dine in our restaurants, shop at our antique stores, and experience Petersburg."

 CLAY HAMNER is economic development manager, Petersburg, Virginia (chamner@petersburg-va.org).
Endnote
1. Part of this investment is from the federal government's $350 million grant to produce pharmaceuticals inside the United States, as cited in Politico.
New, Reduced Membership Dues
A new, reduced dues rate is available for CAOs/ACAOs, along with additional discounts for those in smaller communities, has been implemented. Learn more and be sure to join or renew today!