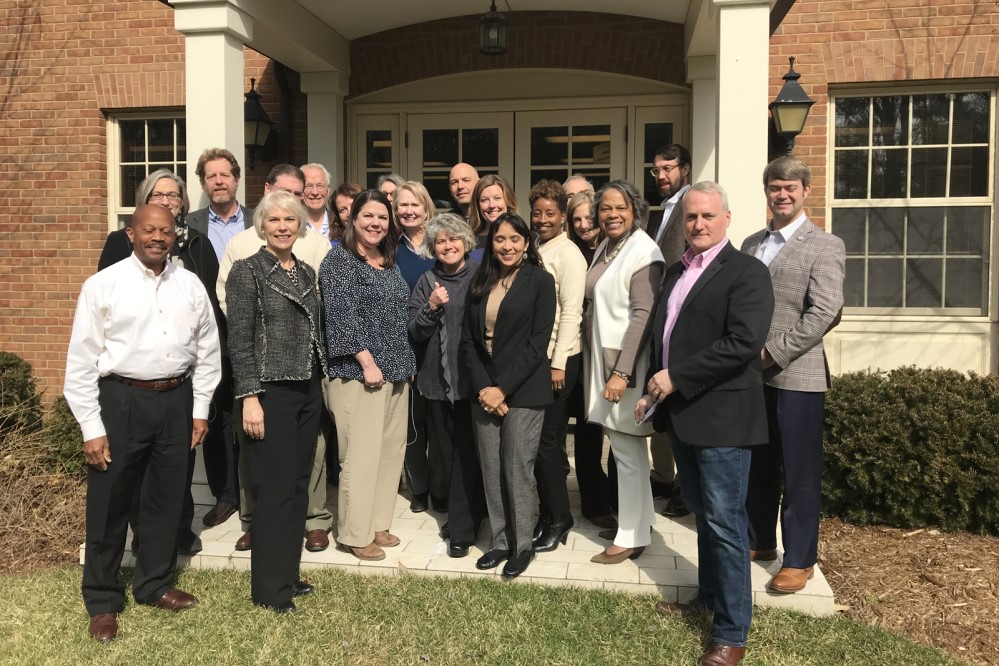 Join us in recognizing the participants and faculty of the inaugural Making Democracy Work Leadership Institute, an 18-month program in partnership with ICMA, the Kettering Foundation, and the National Civic League to create understanding and practice of civic engagement in small communities.
The Making Democracy Work Leadership Institute helps managers strengthen their ability to engage with a public that often feels sidelined and reluctant to get involved in solving wicked community problems.
Specifically, the institute help managers with the following:
• Aligning their professional routines with the way citizens in communities work so that citizens can produce the "things" government needs to be effective and citizens find government more responsive and worthy of their trust.
• Creating civic spaces where public officials and citizens can learn to work in more democratic and complementary ways to produce public goods.
• Encouraging a culture of deliberation and robust civic engagement. Key to the work of the Institute is shared learning and the development of innovative professional practices.
Seth Sumner, city manager of Athens, Tennessee, spoke about his experience with the program in a presentation with the American Academy of Arts and Sciences, which can be seen here.
Participants
Susan Arntz, ICMA-CM | City Manager | Mankato, Minnesota
Norton Bonaparte Jr., ICMA-CM | City Manager | Sanford, Florida
Tanisha Briley | City Manager | Gaithersburg, Maryland
Tom Carroll, ICMA-CM | Village Manager | Silverton, Ohio
Bryna Helfer | Assistant County Manager and Director, Communications and Public Engagement | Arlington County, Virginia
Alejandra Lopez | Interim Director, Economic Development Department | San Antonio, Texas
Kristina Nelson-Gross | City Attorney | Sequimwa, Washington
Reina Schwartz, ICMA-CM | City Manager | Clayton, California
Stacy Wall Schweikhart | Director of Strategy & Engagement | Miami Valley Regional Planning Commission
Noah Simon, ICMA-CM | Deputy Town Manager | Westlake, Texas
C. Seth Sumner, ICMA-CM | City Manager | Athens, Tennessee
Justin Weiland, ICMA-CM | City Administrator | Dell Rapids, South Dakota
Faculty
Martin Carcasson, PhD | Director, Center for Public Deliberation | Colorado State University
Cheryl Hilvert, ICMA-CM | ICMA Midwest Regional Director
Valerie Lemmie | Director, Exploratory Research | Kettering Foundation
Doug Linkhart | President | National Civic League
Felicia Logan | Director, Leadership Development | ICMA
Michael McGrath | Director, Research and Publications | National Civic League
Peggy Merriss, ICMA-CM | Acting City Administrator | Pine Lake, Georgia
Phil Stewart | Senior Associate | Kettering Foundation
Wendy Willis | Executive Director | Deliberative Democracy Consortium