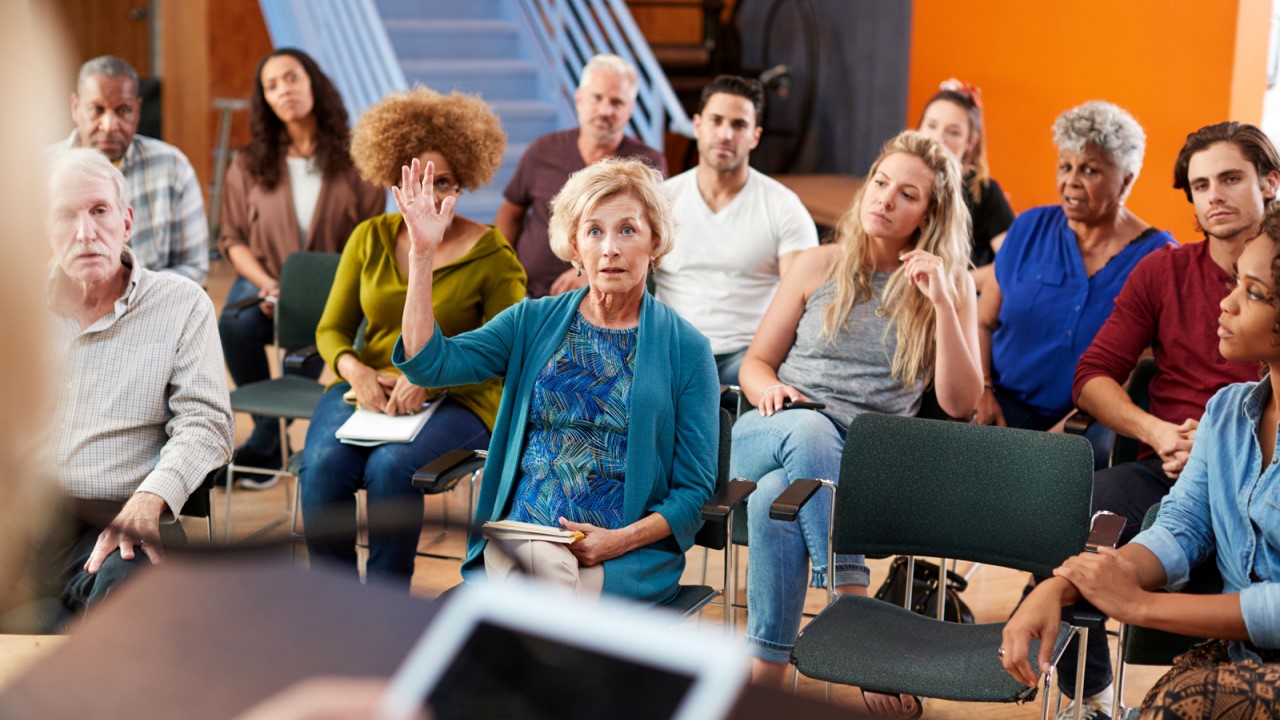 Community engagement is one of the most frequently cited priorities among municipal leaders, but how exactly does one go about defining engagement success? One place to start is by asking the people we want to engage, and a recent national survey sought to do just that.
To help local government leaders and their staff, PublicInput conducted a national survey of residents to better understand resident preferences for engaging. The focus of the survey sought to understand how residents preferred engaging in a way that shaped community decisions.
Many teams highlight defensible decision making as the single biggest outcome of successful engagement efforts. Defendable decisions are characterized by (1) deliberate engagement of the people affected by a decision and (2) clear evidence that we heard from a broad, representative set of voices.
Community engagement data provides local government leaders with the critical support needed for relevant and defensible recommendations and decision making.
Successful community engagement helps teams point to a clear message or insight from the community supporting a decision, project, or course of action.
Effective Community Engagement
Successful engagement approaches engage residents the way residents want to engage. To do this, local government organizations need to understand the fabric of their community and the preferences of the people they're looking to engage. Here is a snapshot of the five key insights we found: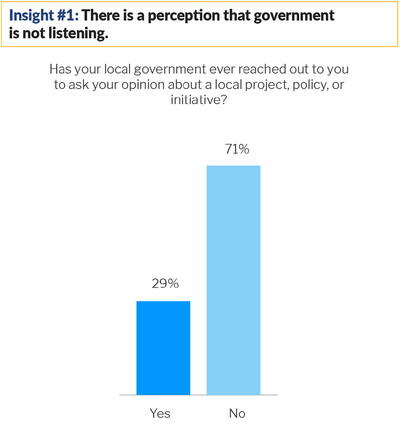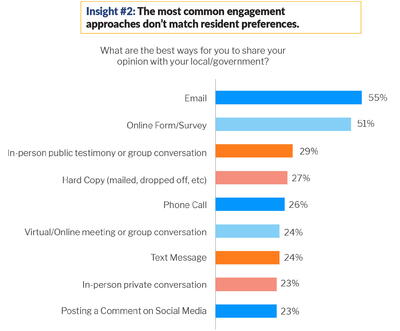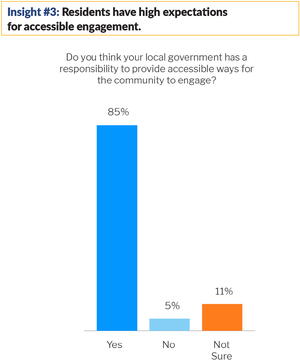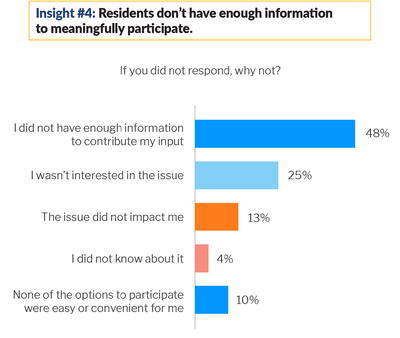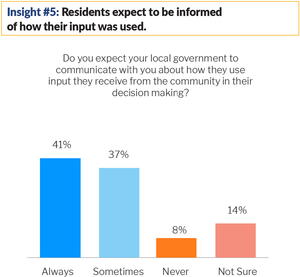 Five Ways Local Governments Are Equipping Staff
Whether it is embracing new technologies or meeting people where they are, the ultimate goal is to develop a community engagement strategy that meets the expressed needs of the people most impacted by decisions. Based on the data gathered, PublicInput offers five recommendations to support local governments in their efforts to achieve consistent, effective community engagement.
1. Address the perception that your local government is not listening through action.
Show residents that you are listening by providing a regular, consistent means of engaging. For local governments seeking to improve the effectiveness of their engagement process, understanding the interplay between why a person may or may not engage as well as how they engage has the power to dramatically impact engagement outcomes.
Diane Wilson, senior public involvement officer with the North Carolina Department of Transportation, explains, "The first question we ask on every survey is if you would like to be added to our email list." This contact information, along with cell phone and participation data, is gathered and stored in a CRM, which acts as a central public participation database. The CRM should be connected to email functionality to make follow-up, results sharing, and future requests for feedback easy. Read more about how the North Carolina Department of Transportation team increases their community engagement and accelerates projects through active listening.
2. Update your engagement approaches to match resident expectations.
Engagement approaches that include a mixed-mode approach with both online and offline tactics challenge the status quo and support resident expectations regardless of community size or composition.
Revere, Massachusetts, saw increases in community engagement inclusion during their "Redraw Revere" initiative by leveraging community engagement software to do more than set up a project site and online survey. Using community engagement technology, the team developed and executed strategic community engagement tactics to quickly and easily inform, listen, communicate, and analyze public perceptions all in one place. Read how Revere met resident expectations using more than just a survey to increase resident transparency and inclusion.
3. Exceed the high expectations residents have for accessible engagement.
Implementing truly accessible formats of engagement across online, phone, virtual, and in-person can seem like an insurmountable challenge due to the diversity of need.
Differences like disability, age, income, language, and transportation access are all important predictors of an individual's ability to participate and contribute to public engagement initiatives, particularly those that utilize only one type of tactic. Here are some ways local governments can address accessibility:
Multilingual closed captioning addresses both linguistic and physical disability barriers to participation during virtual meetings.
Equity mapping serves as a visual tactical planning guide to the community that helps governments "see" where additional support is needed (for example, distribution of ESL speakers in a geographic area).
Surveys provide a dynamic self-service option for residents to engage from anywhere regardless of their ability.
Meetings increase resident access by removing the need to attend public meetings in person.
4. Ensure residents have the information they need to provide informed input.
A willingness to listen is not the only ingredient needed to ensure that residents will engage. The importance of communication and strategic outreach planning that prioritizes the critical need for information sharing will set the context for residents, making it possible for them to effectively contribute.
Community engagement software offers online and virtual formats that seamlessly integrate questions with contextual information residents need to respond via a variety of formats including:
Interactive maps that serve as efficient tools for sharing information, aiding residents in finding projects or areas they care about, and one method to collect feedback and ideas.
Video content that allows governments to quickly and concisely capture resident interest and deliver the needed information.
Providing downloadable/web view documents gives interested residents a self-service option for consuming additional detail and resources they may need to contribute their input.
Project imagery and visualizations quickly capture attention and help residents "see" the elements of a project or initiative.
Secondly, and arguably the most important dimension of ensuring residents have the information they need is empowering local governments with the tools to identify community stakeholders. Using geographic information to target and monitor input areas is critical.

According to Kristin N. Williams, Ph.D. of Henrico County, Virginia, "Without map layers we didn't have a lot of context. With equity mapping, we were able to see the level of reach among minority populations." Watch the full Henrico County webinar discussion.
5. Close the loop with residents about how their input is used.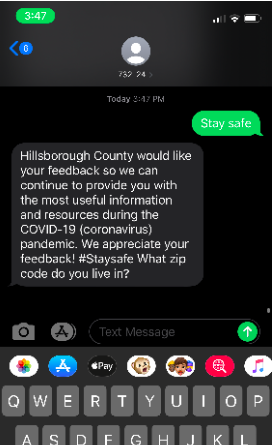 This process of two-way communication involves reaching out (public outreach), collecting comments and ideas (public input), and developing insights (analysis) based on what is received. To close this loop, engagement practitioners must share the information and at times request feedback from both decision-makers and community members.
Local governments interested in increasing transparency about how resident input is being used should consider implementing a process of open communication with participants.
Community engagement software that integrates email and SMS text as a solution makes closing the loop easy for local governments regardless of internal capacity. Tactics such as setting up automated messaging that provides public-facing information to participants immediately after they engage, or interactions that are more customized makes transparency easy.
Take a closer look at the results of the national survey here.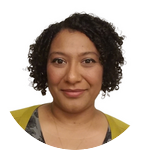 TRICIA THOMAS is content marketing manager at PublicInput.
New, Reduced Membership Dues
A new, reduced dues rate is available for CAOs/ACAOs, along with additional discounts for those in smaller communities, has been implemented. Learn more and be sure to join or renew today!