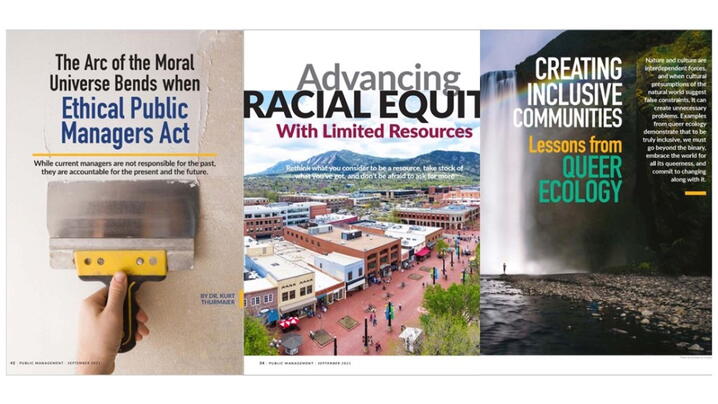 Peter T. Burchard
MPA adjunct instructor, Northern Illinois University
Former city manager, Naperville, Illinois
Former village manager, Hoffman Estates, Illinois
30 years of service to the profession
Dear PM:
Writing in the September issue of Public Management ("The Arc of the Moral Universe Bends when Ethical Public Managers Act,") Dr. Kurt Thurmaier stated that ICMA members, numbering close to 12,000, "have lost the confidence of the public" because we are not a diverse, inclusive, and equitable profession. The accusation is serious and begs for a response.
I've known and worked (e.g., adjunct faculty, on one of his selection committees, sat on the MPA Board of Advisors) with Dr. Thurmaier since 2009. Without offering any specific examples to justify his opinion, Thurmaier states that the most urgent problem facing the profession today is "the disturbing truth that the experiences of many people of color with their local governments have undermined their confidence in the professional administrators who run the place." Drawing from his article, I will provide a few examples of why Dr. Thurmaier's opinion is erroneous.
First, Dr. Thurmaier referenced a seminal work by Dr. Irene Rubin1 to justify his sweeping belief that ICMA and its members remain tainted by the work of Progressives (circa 1890 to 1920s) who sought to depoliticize local government but primarily for their own elitist benefit. Dr. Rubin's book focuses on historical budgetary trends in large cities including Boston, Chicago, New York, Baltimore, and San Francisco—all known as havens for political bias and non-equitable public service delivery. Thurmaier's use of Rubin's book is a misapplication of her research. Modern day local government professionals were not the subject of Rubin's book. City managers and their teams stand in contrast to Dr. Rubin's research, not in correlation as Dr. Thurmaier insists.
Second, in his effort to place local government professionals in a bad light, Thurmaier connects municipal managers to redlining—a policy created by academics and FDR's administration. Redlining, a highly racist government housing policy, was created by academics (e.g., Richard T. Ely) in collusion with officials in the federal government, banking, and real estate.2 In the same sense, Thurmaier blames ICMA members for ongoing problems of homelessness and kids drinking water served from lead pipes. Thurmaier's rickety argument, created to dispossess local government managers of ethical credibility, means that historical facts still wane at some schools of public administration.
Third, in critiquing the ICMA Code of Ethics, Dr. Thurmaier offers this assessment: "The ICMA Code of Ethics commandment to "refrain from all political activities which undermine public confidence in professional administrators" does not restrict the definition of "public" to white male professionals." Dr. Thurmaier goes on to suggest that the ICMA Code of Ethics is inferior to the American Society for Public Administration (ASPA) because ICMA's Code of Ethics "omits ASPA's commitment to social justice, equity, and inclusion." In this regard, and in this specific tenant, ASPA is a paper tiger. The author offers no evidence that ASPA's choice of words has bent the arc of the moral universe in a better direction than ICMA's commitments. The author's slap at "white male professionals," many of whom he employees as professors and adjunct instructors, is inconsistent with the expectations of the leader of a nationally recognized MPA program.
Fourth, Dr. Thurmaier states that the "profession needs to come to grips with its empirical history of very low levels of diversity and inclusion in the local government profession." In his rush to brand local government professionals as racists. Thurmaier fails to mention a core principle taught in his and other MPA programs regarding the "politics-administrative dichotomy" as presented by President Woodrow Wilson and others. Critically, the empirical history of low levels of diversity and inclusion in government were championed by President Wilson's goal of racially segregating the federal workforce. This culture of racism was embedded into federal policies before and after the Civil Rights Act of 1964 and previously by the stench of Plessy v. Ferguson. Wilson was an academic and a racist.
Thurmaier forgets an inescapable truth—managers don't hire managers. Thurmaier's opinion means he doesn't follow the fundamentals of the council-manager form of government.
In summary, I'm proud to say that the local government professionals and teams I've known for over 40 years are leaders in engaging citizens, champions of diverse hiring, and providers of equitable services. With rare exception, these professionals have dedicated their careers to the core principles of diversity, equity, and inclusion, long before it was fashionable for some professors to write about.
Local government professionals have made great strides in moving their organizations out from under the ugly and historical cloud of discriminatory practices engendered by many academics, the federal government, big-city politicians, and even religious institutions. Yes, the journey to improve continues but the commitment to these standards is the essence of ICMA and its members.
Professional managers are not reluctant to have difficult conversations about these matters. What they resist is having conversations that start with an assumption of their guilt.
Casey T. Gilbert, Ph.D.
Community Affairs Liaison
City Manager's Office
Melbourne, Florida
Dear PM:
As someone who is brand-new to municipal government, I was pleasantly surprised by the content of the September 2021 issue of Public Management magazine. From empathy to diversity, equity, and inclusion (DEI) to embracing queerness to increase inclusivity, this issue reflected from cover-to-cover the important conversations that need to be had and the values that we can and should be embracing to make our organizations and communities stronger. I wondered, stepping into this new realm, "Where will I fit? Is there a place for me? Will my ideas be too bold?"
After reading this issue I can confidently say that I've found my home in ICMA. I can already feel the camaraderie from a group of professionals across the country and across the globe that I have not yet met.
While I have studied local government and have worked closely with local government during my time as a BID and main street director, I can see that being intimately involved with local government on a day-to-day basis will allow me to grow professionally while also enabling me to contribute to the evolution of the profession.
Please keep leaning in to these difficult but important topics. It is essential for our profession and for our communities. Thank you.
Endnotes
1 Rubin Irene S. Class, Tax and Power: Municipal Budgeting in the United States. CQ Press, 1998.
2 Winling, L., & Michney, T. (2021). "The Roots of Redlining: Academic, Governmental, and Professional Networks in the Making of the New Deal Lending Regime," Journal of American History, 108(1), 42-69.
Register for the ICMA Annual Conference
Join us September 17-21 in Columbus/Franklin County, Ohio for the 2022 ICMA Annual Conference.
JOIN ICMA TODAY!
ICMA provides the tools, resources and connections to help you become part of the international network of 13,000+ local government management professionals.