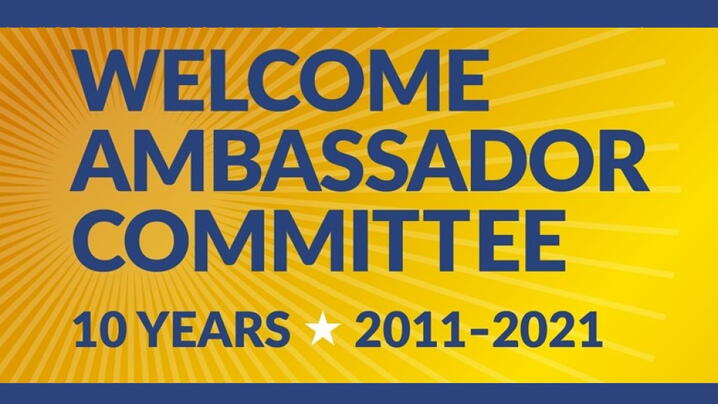 The ICMA Welcome Ambassadors celebrate their tenth anniversary this year! In recognition of this milestone, PM magazine is sharing the stories of current and former Welcome Ambassadors.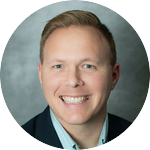 Andrew S. Haines, ICMA-CM, MPA | Town Manager | Smyrna, Delaware
As chairperson of the Welcome Ambassador Committee, and a member of the committee for the past three years, I've seen that making new connections with members is beneficial for everyone. ICMA members are the true asset of the association and building relationships with new members is the core value of the committee.
The 2018 ICMA Annual Conference in Baltimore was my first opportunity to serve on the committee, and I quickly discovered the many ways that we could help. Not comfortable with the new self-service check-in kiosks? We guided you through it. Lost or confused about where to go? We walked you to your destination. Nervous or overwhelmed? We greeted you with a smile and helped you feel at ease. Later that evening, the committee members served as professional greeters and helped break the ice at the reception for first-time conference attendees. (I think the committee members had more fun than the first-timers!)
It's not always easy to see exactly how Welcome Ambassadors have gotten through to new members, but you're happy to have given them at least one new peer resource (yourself) and properly introduced them to the ICMA community. But the membership engagement we achieved at the conferences in Baltimore and Nashville exceeded my expectations, and I'm very much looking forward to Portland, when we can do it all over again.
Joseph T. Carey, ICMA-CM | Assistant Village Manager | Carol Stream, Illinois
I became a member of the Welcome Ambassador Committee in 2014, and have enjoyed being able to meet new members from across the country. I've been extremely fortunate to have experienced ICMA in a variety of ways. Whether it was serving on a Conference Planning Committee (Milwaukee) or Governmental Affairs and Policy Committee, or being a member of Leadership ICMA, I'm a firm believer in the values that ICMA stands for and the principles of good government.
I consider it a privilege to offer a welcoming hand to individuals new to the profession and the ICMA community. My outreach to new members can sometimes be formulaic—in fact, I often call that out in my email! But there's a reason for that. My messages espouse that professional associations, whether it be ICMA or a state affiliate, are vital to our profession. Our professional values are what tie us together and it's those values that support, foster, and defend our role as civil servants and community leaders. It's also an invaluable network of colleagues.
During a recent interview for a state association board seat, I was asked why I was interested in pursuing the position. I shared what until recently I rarely spoke about: the time I nearly became a Member in Transition, and the appreciation I have for those professional colleagues who reached out when I needed them most. It's why I'm a member of the Welcome Ambassador Committee and why I believe so strongly in paying it forward—not just for our communities, but to each other.
Many years ago, I served Milwaukee County as a fiscal and management analyst. I was admittedly a small fish in a very large municipal pond, but I enjoyed the challenges that county government brought and the experience it provided. I should note that this was during the height of the Great Recession and so there was a constant endeavor to do more with less. Professional associations weren't a budgeted item, but I remained committed to paying for ICMA and Wisconsin's state association.
I'm thankful to have attended the 2009 ICMA Midwest Regional Conference in Chicago, where I met colleagues from across the region. I was excited to network and revisit Illinois. (The "cheddar curtain" is a regional colloquialism sorely underused). Two things stuck out from the conference: the professional contacts that I made and the pink wand that current ICMA Midwest Director Cheryl Hilvert provided to attendees to remind them not to take themselves too seriously.
Fast forward to Fall 2009 when roughly 180 people and I were targeted for layoffs. I recall sitting down at my computer one day and being asked to speak to my manager. They advised me that I would be laid off effective in two weeks and that if I wanted to go home and take the rest of the day off (paid) I could, or I could stick around for the staff meeting in which the layoffs were being announced. Heck of a choice! I opted to go home and spent several hours updating my resume and reaching out to ICMA, state associations, and the individuals I met during the ICMA Midwest Conference. However, the following day, the layoff notice was rescinded. Talk about whiplash!
This is why I am such a strong advocate for ICMA and value the work of the Welcome Ambassadors. I was just a fiscal and management analyst with hardly two years of post-grad work experience, but the response I received from colleagues was overwhelming. Individuals I had met from the Midwest Conference and peers from my state associations all responded to my outreach, offering both advice and job prospects. This experience shaped my understanding of what ICMA is all about. It's more than a professional association, it's a personal one. I joined this profession because I wanted to serve the public and make a meaningful impact in the community I serve. My involvement with ICMA has furthered my commitment not just to my community, but to my colleagues.