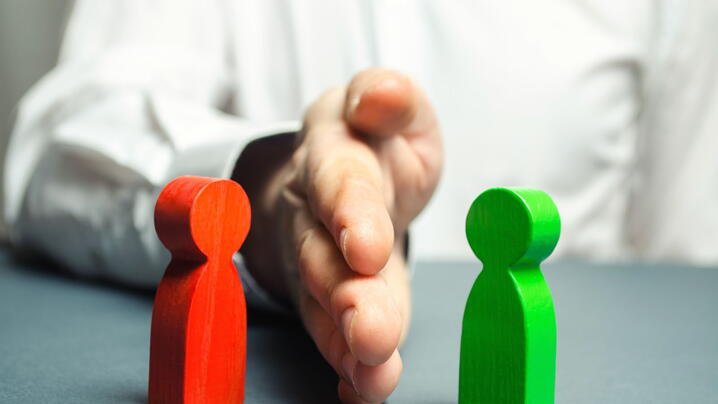 BY MARTHA PEREGO, ICMA-CM
Of all the ethical conflicts you will encounter in your professional career, a conflict of interest is the most likely. Why? Because a conflict of interest, in its simplest form and by its very definition, occurs when your personal interests or loyalties compete with your professional obligations.
Managing the Unexpected
In its most benign form, the conflict of interest appears as the unforeseen situation that delivers you to the intersection of your personal life and work. Think about it. Unless you live the monastic life or build a truly impenetrable firewall between your life and work (both of which are a huge challenge for anyone working in local government), the probability that it will happen to you is high. Perhaps you have found yourself in one of these situations:
• Custody and likely adoption of children in your immediate family is happening. You need legal assistance and the expert in town happens to be your county commissioner.
• Your spouse is a partner in an LLC interior design firm that will be relocating its business. A storefront in your business district looks very attractive.
• The church, where you attend services and serve on the board, is planning a capital campaign to expand their facilities.
• Your youthful but aging parents love your city and want to move there. They will need your financial assistance to buy a new place.
• You relocated your family to take a new position. Now your artist spouse must explore career opportunities. One option is direct sales at outdoor festivals and markets, including those in the town you now manage.
• Newly married, your son and daughter-in-law are keen on buying an old historic building in your town to renovate as a private residence.
• The new CPA in your household lands a job with an international accounting firm that also serves as your organization's auditor.
• Your family is outgrowing your home. The number-one realtor in town works for the firm owned by one of your city council members.
Outrageous Intentional Acts
At the opposite end of the spectrum, in its most serious form, conflicts of interest arise because someone intentionally decides to leverage their position or office for personal gain, a.k.a. self-dealing. What examples come to mind?
Google "Healthy Holly" to learn more about the ethical conflicts involving the former mayor of Baltimore. She received substantial compensation for selling her book to entities with which she had a direct official relationship.
Slightly less obvious but still ethically questionable is the elected official who bought acres of undeveloped land in the county based on intel gleaned from staff discussions about future economic development plan. It's speculation, of course, but designed for personal financial gain.
Elected officials don't own this domain. There are unfortunate examples where appointed officials and staff have engaged in self-dealing.
One city manager joined with others, including the mayor, in the private purchase of vacant land located within their resort destination city. The land was subsequently rezoned by the city, substantially increasing the value of the manager's partnership interest.
The director of a housing authority secured a housing loan from the authority based on financial records and loan documents compiled by a subordinate employee. The lack of a third-party neutral review created the appearance of a conflict of interest at a minimum.
A manager secured a personal loan from the owner of a business that was awarded numerous projects in two different organizations that the member managed. The manager oversaw the projects and recommended the firm for future county business. The loan was not properly disclosed to the governing body. The manager also engaged in outside employment with the firm, which was also not disclosed. While more transparency was needed, disclosure could not cure this conflict.
An IT director, operating within the limits of the purchasing policies, directed staff to enter into a contract to hire their brother-in-law's firm for a project and was less than forthcoming about the relationship.
When this conduct gets exposed, it undermines the public's trust and confidence that these individuals, elected or appointed, were acting in the public's interest.
Managing the Middle Ground
In between the unexpected conflict and the intentional self-dealing lies the opportunity to explore new terrain that may present some conflicts. One scenario common to the profession is using the talent and expertise gained in your career to consult. Consulting in your encore career presents minimal issues if you respect the relationship with your former colleagues. Not so though when you engage in a consulting venture while still working for a local government. Given that the local government position is your primary employment, this terrain needs more exploration and consideration before moving forward.
More Exploration and Guidance
Tenet 12 of the ICMA Code of Ethics reminds us that, "Public office is a public trust. A member shall not leverage his or her position for personal gain or benefit." The guidelines that accompany the tenet provide practical advice on managing investments, personal relationships, outside employment, and other potential conflicts of interest.
Setting aside the outrageous acts of self-dealing, if a private connection or interest leads to the perception that your official judgment was not objective, it has the same outcome: bad faith and no trust. Facts matter, but appearances often overwhelm the facts when it comes to public perception. This is a complex issue. Stay tuned as we explore these conflicts of interest in future editions of "Ethics Matter!"

 MARTHA PEREGO, ICMA-CM, is director of member services and ethics director, ICMA, Washington, D.C. (mperego@icma.org).
New, Reduced Membership Dues
Beginning October 1, a new, reduced dues rate is available for CAOs/ACAOs, along with additional discounts for those in smaller communities, has been implemented. Learn more and be sure to join or renew today!