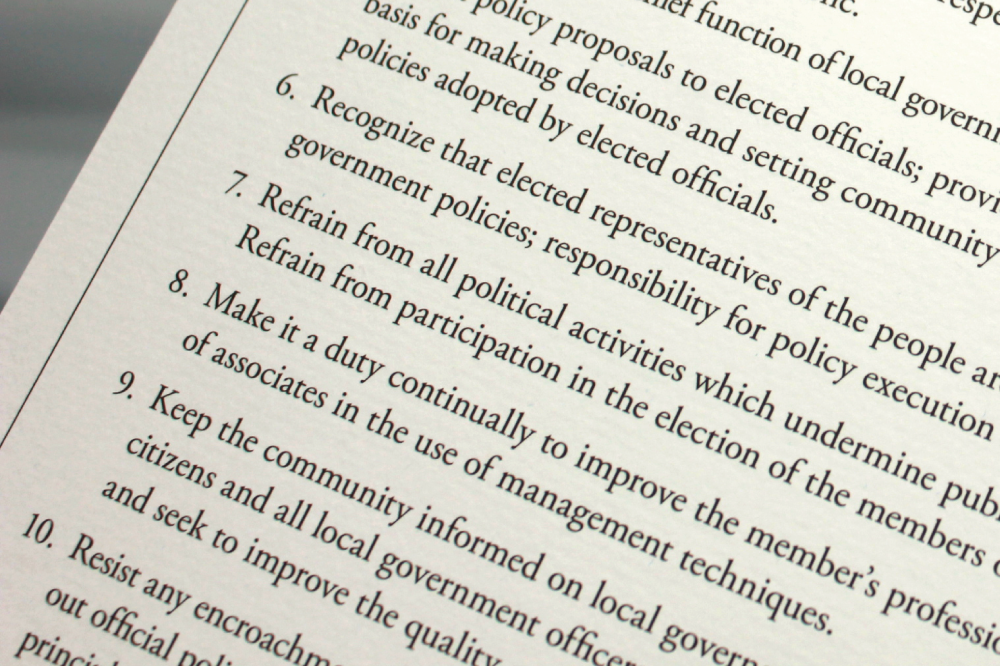 Ethics are the core of building and maintaining public trust in the local government management profession and with the communities in which members serve. The ICMA Code of Ethics was adopted in 1924 and guidelines to it were added in 1972 to assist members in meeting their ethical obligations.
In 2013, the ICMA Executive Board began a structured effort with the Committee on Professional Conduct (CPC) to review each tenet with the membership. To date, Tenets 3, 4, 7, and 12 have been reviewed with amendments to the tenets and/or guidelines approved. Amendments to the tenets require membership approval while changes to the guidelines require executive board approval.  
Tenets 1 and 2 Review Process
The language of Tenets 1 and 2 of the ICMA Code of Ethics has not been substantively revised since their addition to the code in 1969. The ICMA CPC initiated a formal review of the tenets in late 2017, then offered all members the opportunity to provide feedback on proposed revisions in a survey that went out in January 2019.  An overwhelming majority of the members surveyed recommended that the language of the tenets be updated and provided substantive feedback for the CPC. Using that feedback, the CPC proposed streamlining and simplifying the language.  
The ICMA Executive Board approved placing the CPC's proposed new language for Tenets 1 and 2 on the ballot for member consideration.  The next step in the review process is to seek the approval of ICMA Corporate members.
The member ballot is now open and has been sent to members eligible to vote in ICMA elections. Please take the time to cast your vote on the proposed changes to Tenets 1 and 2.
Members with questions can contact Martha Perego, director of Member Services and Ethics at 202-962-3668, MPerego@ICMA.org; or Jessica Cowles, ethics advisor, at 202-962-3513, JCowles@ICMA.org.