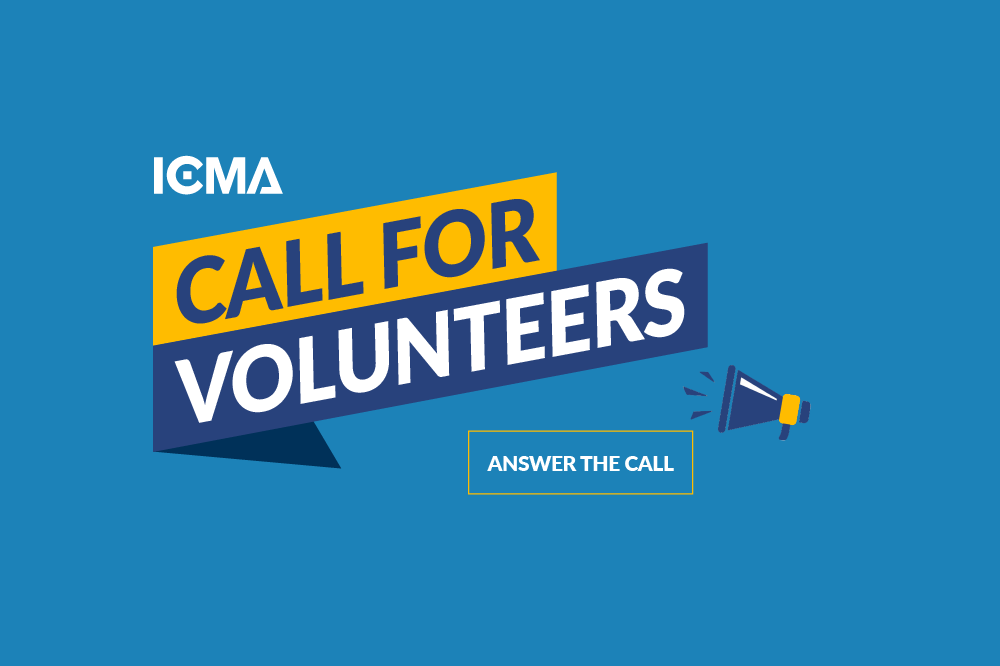 Why Volunteer?
The call provides members with an opportunity to make a valuable contribution to the profession. We encourage all those who can participate this year to do so. If you are unable to, think about volunteering next year.
Meetings of the groups will be virtual in 2022-23. Kickoff meetings are most likely to begin by early October 2022.
View 2022 Committee Opportunities
What Makes a Good Volunteer?
Anyone can be a volunteer—from senior executives to mid-career professionals to students—but good volunteers exemplify key characteristics that make them truly impactful.
Are you:
A subject matter expert?
Enthusiastic, energetic, and eager to learn?
Willing to share what you know?
Ready to lend your time and fresh perspectives to help enhance ICMA?
Faithful to your commitment to serve?
Passionate about the profession?
What Are the Benefits of Volunteering?
There are many opportunities to volunteer for a variety of activities. As you decide where you want to share your most precious commodity—time—consider the following benefits.
As a volunteer, you can:
Gain a feeling of satisfaction and sense of accomplishment.
Demonstrate your commitment to ICMA's mission.
Share your expertise with fellow members of the ICMA community.
Develop and strengthen your relationships within your professional community.
Increase your knowledge and hone your skills through participation in a broad range of ICMA activities.
Implement a skill set not applied in your current job position.
Give back to a profession that has served you well.
Learn more about the 2022 volunteer initiatives and start looking for the right opportunity to make a difference today!
1) Log into your ICMA Profile (Log in is required.)
2) Navigate to "My Volunteer Opportunities" via the Committee Tab.
3) Select one or more volunteer opportunities.
4) Submit your selection(s) by April 15.
After you have submitted your committee selections, they should be viewable under the "My Volunteer Opportunities" link. Contact membership@icma.org if you are unable able to view your submitted selections or have questions.
New, Reduced Membership Dues
A new, reduced dues rate is available for CAOs/ACAOs, along with additional discounts for those in smaller communities, has been implemented. Learn more and be sure to join or renew today!