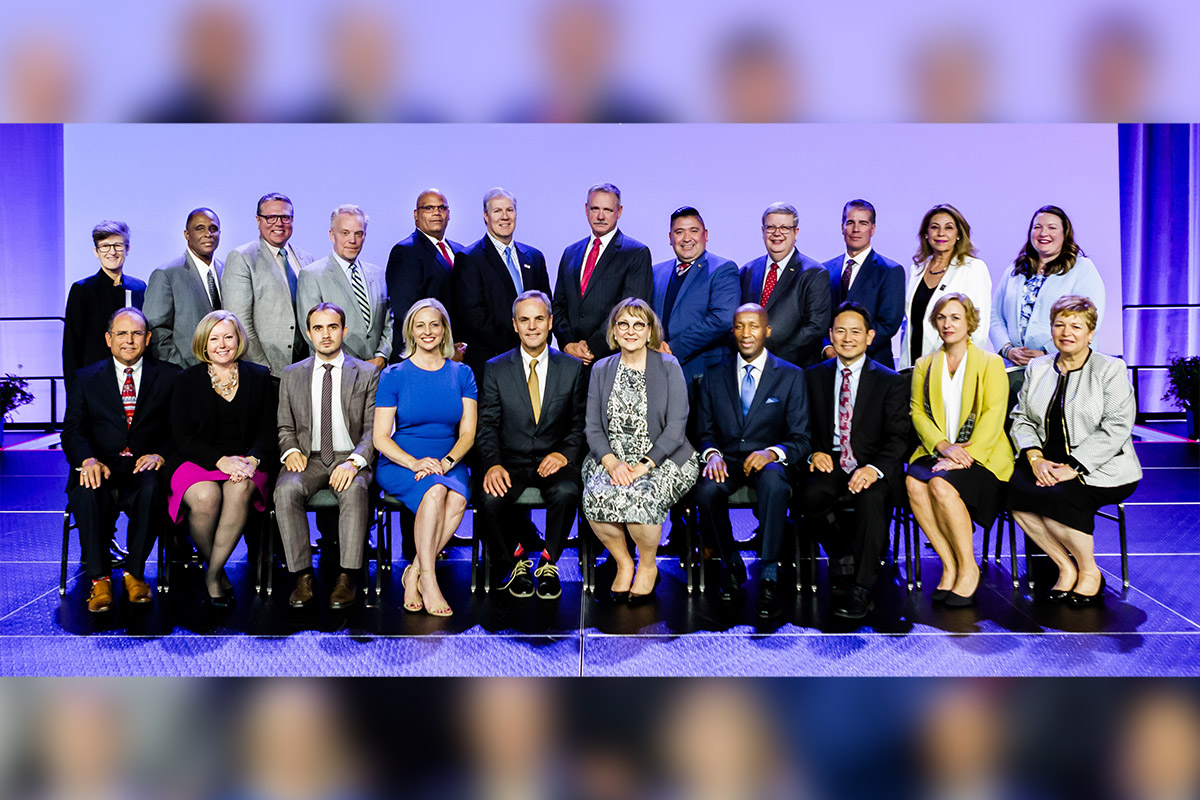 The ICMA Executive Board met in Washington, D.C., December 12-14, 2019, and took the following actions:
Approved the reappointment of Peggy Merriss, interim city manager of Sandy Springs, Georgia, to serve as chair of the ICMA-RC Board of Directors for a second two-year term beginning January 1, 2020; approved the reappointment of Robert G. Jones, chairman, Old National Bancorp to a second four-year term as an industry representative on the ICMA-RC Board of Directors beginning January 1, 2020; and approved the reappointment of Deanna Santana, city manager of Santa Clara, California, to a second four-year term as a public sector representative on the ICMA-RC Board of Directors beginning January 1, 2020.
Approved recognition for the town of Canandaigua, New York, the city of Dayton, Texas, the town of Lake Hamilton, Florida, and the Islamorada Village of Islands, Florida, under the council-manager criteria.
Received a presentation from Jones Lang Lasalle (JLL), the real estate advisory firm engaged by ICMA for the identification, analysis, and implementation of an optimal real estate strategy for its Washington, D.C., headquarters. Along with ICMA-RC and Metropolitan Washington Council of Governments, ICMA is a one-third shareholder of the Center for Public Administration and Service (CPAS), the entity that owns the building located at 777 North Capitol Street.

JLL's analysis has shown that the CPAS shareholder agreement is a major constraint to ICMA's ability to effect a real estate change that would allow ICMA to obtain an office space that meets its goals to create a truly transformative work environment employing best practices for the modern workplace. To date, the agreement had made sense, since the partners jointly fully occupied the building; however, with the changing needs of each partner, this is no longer the case, and partners must bear the financial cost of any vacancies and lack of rental income for unleased space. Each partner has conducted its own independent analysis, and all have come to the conclusion that selling the building would be most beneficial to all parties.

JLL has now been jointly engaged by the three CPAS shareholders to represent them in efforts to market the building for sale. The potential sale of the building is not expected to impact ICMA membership dues.
Accepted the FY2019 audited financial statements and report. ICMA's auditors, Gelman, Rosenberg & Freedman, delivered an unqualified opinion on the financial statements (the best rating) and reported the twenty-second consecutive year of no material weaknesses.  
Approved a recommendation to eliminate the requirement for a separate board approval for the next year's conference registration fees and the conference budget. Following this action, the conference budget and the registration fees will now be approved as part of the ICMA-wide annual budget at the June board meeting. This will allow staff greater flexibility to try different and creative approaches with respect to marketing the next year's event.
Received a presentation on ICMA's upcoming local government innovation products. CivicBID, which will be provided as a free member benefit to ICMA members and their communities, will provide a solution to local governments for RFP generation, including planning, submissions, and tracking. Beta testing of the product is scheduled to take place in January 2020.
Approved an updated ICMA Model Employment Agreement based on recommendations from a member Task Force. The changes include:


Insurance Benefits – provided for additional life insurance coverage while on duty; added language that the employer is to provide any COBRA payment if there is a medical insurance waiting period; and current language of dependent coverage paid by employer moved to optional language due to differences in state law.
Leave – added parental leave language as an option pursuant to state law and local policy.
Home Sale and Purchase Expenses – reframed the language as an option consistent with the automobile allowance.
Resignation - changed the notice period from a minimum of 30 days to 45 days.
Termination – added that refusal to comply with a directive that violates the Code of Ethics is not cause for termination.
Severance – changed severance payment from 12 months, Recommended that it be from 6 to 12 months.

In addition to the changes proposed by the member task force, the board also recommended retaining a 30-day notice period and including a note that the resignation period should be consistent with any applicable state and/or local law for the purpose of obtaining pension benefits, and recommended making it explicit that the employee would not be required to use vacation leave when participating in professional development activities.