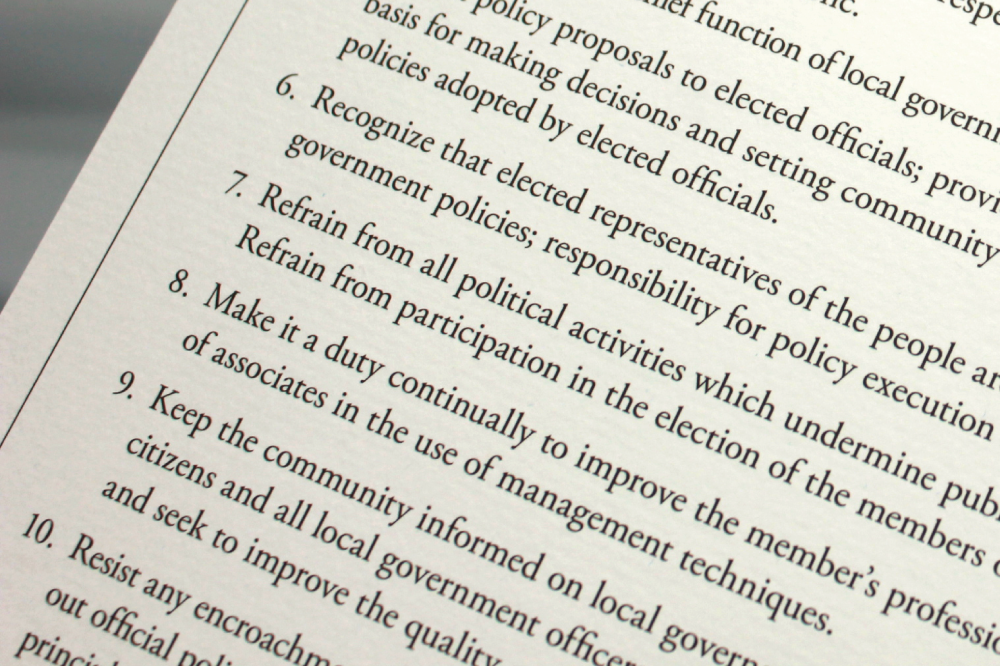 Ethics are the core of building and maintaining public trust in the local government management profession and with the communities that members serve.  ICMA's Code of Ethics was adopted in 1924 and guidelines were added in 1972 to help members meet their ethical obligations.
Ongoing Tenet Review
In 2013, the ICMA Executive Board began a structured effort with the Committee on Professional Conduct (CPC) to review each tenet with the membership. To date, Tenets 3, 4, 7, and 12 have been revised. New proposed language for Tenets 1 and 2 will be presented to the membership for consideration in September. Amendments to the tenets require membership approval, while changes to the guidelines require board approval.   
While this effort is ongoing, the CPC continues its work to review ethics complaints. That process often provides the CPC with the opportunity to identify issues where members can benefit from additional advice or new guidance. 
New Guideline on Conduct Unbecoming
A recent series of ethics cases involving harassment by ICMA members, as well as the prevalence of harassment and inappropriate conduct occurring generally in society, were the catalysts for addressing this issue within ICMA's Code of Ethics.  While unprofessional personal or work conduct is addressed in Tenet 3 with its focus on integrity and respect, the CPC considered whether a more direct statement to members on conduct unbecoming was required. They concluded that the profession needed more guidance on the issue.
On June 8, the ICMA Executive Board adopted the following guideline under Tenet 3 on Conduct Unbecoming. 
Tenet 3.  Demonstrate by word and action the highest standards of ethical conduct and integrity in all public, professional, and personal relationships in order that the member may merit the trust and respect of the elected and appointed officials, employees, and the public.
Conduct Unbecoming. Members should treat people fairly, with dignity and respect, and should not engage in or condone bullying behavior, harassment, sexual harassment or discrimination on the basis of race, religion, national origin, age, disability, gender, gender identity, or sexual orientation.
The ICMA Code of Ethics includes the new Tenet 3 guideline on Conduct Unbecoming.