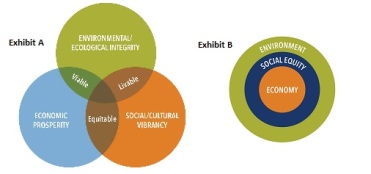 While the link between environmental actions and responsible economic development has generally been clear, the social component has been discussed less frequently. For local governments looking to make their communities more livable and viable now and for generations to come, active promotion of social equity is critical yet often missing from a comprehensive approach to community sustainability.
Examples of local governments that have been working on programs to promote social equity exist across the nation. According to ICMA's 2010 Sustainability Survey (a national survey completed by 2,176 local governments with populations over 2,500), approximately 38% of those surveyed considered "social justice" to be a priority and 48% supported affordable housing as a policy priority. Local governments were found to be engaged in activities that promoted social equity, as well. Twenty-seven percent provide access to information technology for persons without connection, 26% provide after-school programs for children, and 21% administer transportation programs targeted specifically to assist low-income residents. One the other hand, only 10% provide housing to homeless persons, and 8% offer energy reduction programs targeted specifically to assist low-income persons. A closer look at 200 local governments with high levels of social equity activity (through a re-survey in 2012), revealed pronounced differences in the range of social equity-related activities they engaged in compared to a control group of governments that are active in other aspects of sustainability but not in social equity.
The 2012 survey was conducted under a three-year HUD Sustainable Communities Research  grant focused on what local governments are doing to advance social equity and how this fits into overall efforts to increase sustainability. This research, which also included analysis of nine case studies of communities with leading equity programs, offered ideas for several strategic activities that have been effective for local governments advancing social equity within their communities:
  Adopt and resource a plan for social equity that includes clearly articulated goals. Local governments with high levels of social equity activity are more likely to have an adopted plan that includes clearly articulated social equity goals, necessary resources committed to that plan, and staff assigned to administer it. Fort Collins, Colorado, is perhaps the most purposefully organized to address social equity issues with a department director dedicated to social sustainability, as well as a social sustainability specialist who works on affordable housing and other projects related to social equity. Even if a comprehensive plan for sustainability is not adopted, local governments should comprehensively assess all of their activities related to sustainability to identify impacts and linkages.
Promote inclusive citizen engagement. Engaging all members of the community in planning can improve the quality of public projects, improve relationships between the public and city government, and increase the overall quality of life for community residents. In 2012, Arlington, Virginia, introduced Participation, Leadership and Civic Engagement (PLACE), with the goal of expanding the scope and quality of citizen engagement. The goals are to expand participation in important county decision-making processes, train interested members of the public and the staff in citizen participation, and improve the quality of the involvement of citizens in county government, while setting realistic expectations for broader participation in decision making.
Establish formal and informal networks of service providers and stakeholders. These complex and cross-sectoral networks increase community resilience and ensure that necessary resources and expertise are present to address social equity issues. Understanding the landscape of expertise of the various stakeholders in social services in Lewiston, Maine, required resources dedicated to outreach; however, building a network of partnerships to provide specialized services to secondary immigrants was highly successful and led to increased ability to tackle other issues faced by the community.
For additional strategies for increasing social equity within communities, download the final report, Local Governments, Social Equity, and Sustainable Communities: Advancing Social Equity to Achieve Sustainability from the Knowledge Network. The full report includes all findings and nine case studies of local governments with effective social equity programs.
This report is a follow-up to the 2011 Report Breaking New Ground: Promoting Environmental and Energy Programs in Local Government, which analyzes results from the 2010 ICMA Sustainability Survey. This report was written and published by ICMA's Center for Sustainable Communities (CSC) and Arizona State University. CSC provides technical assistance; applied and survey research; training; and communication services that create more sustainable, resilient, and livable communities.  Visit icma.org/csc for more information.
Interested in taking your sustainability program to the next level? Attend the "Equity Investments: Serving the Underserved" Workshop in Charlotte prior to ICMA's 100th Anniversary Annual Conference on Saturday, September 13 @ 8am-noon. Learn more about how you can address equity issues in your community during this intense, interactive workshop presented by experts in aging, race, and local foods. Click here to find out more and register.
New, Reduced Membership Dues
A new, reduced dues rate is available for CAOs/ACAOs, along with additional discounts for those in smaller communities, has been implemented. Learn more and be sure to join or renew today!