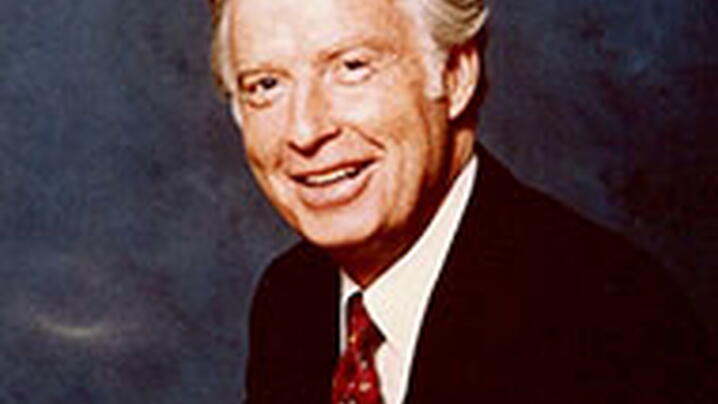 Mark Keane will be remembered as a transformational leader. His success in founding ICMA-RC provided the first portable retirement for public employees. This gave many of us a chance to commit to a career in public service and move from city to city to expand our career choices.
Always a gentleman and a great representative for city and county managers around the world, we will always be indebted to Mark Keane.
— Bob O'Neill, ICMA Executive Director
Manager. Leader. Visionary. Innovator. Counselor. Husband. Father. Colleague. None of these titles individually—or even collectively—can reflect the totality of Mark Keane as a man and a professional community manager. He will live forever among the giants of ICMA.
— Bill Hansell, ICMA Executive Director Emeritus
The local government management profession lost a leader and friend on April 12, 2013, when ICMA Executive Director Emeritus Mark E. Keane passed away, surrounded by family at his home in Sedona, Arizona, at the age of 93.
Born and raised in Chicago, Illinois, Keane graduated from Purdue University in 1941 with a bachelor of science degree in engineering. He served his country in World War II in both Northern Africa and Italy, and from 1950 to 1966, served as city manager of Shorewood, Wisconsin; Oak Park, Illinois; and Tucson, Arizona.
Keane was appointed ICMA Executive Director July 1, 1967, at the same time that the association's headquarters was moving from Chicago, Illinois, to Washington D.C. While at ICMA, Keane founded the ICMA Retirement Corporation (ICMA-RC) to meet the pension needs of state and local government employees; participated in dozens of White House meetings leading to the adoption of revenue-sharing policy to address urban problems; served on the President's Committee on the Employment of the Handicapped; and increased participation of minorities and women in local government through scholarships and internship programs.
In 1983, Keane left ICMA and went on to teach at George Washington University, where he was co-creator of a master's degree program in association management. He was a recipient of an ICMA Distinguished Service Award in 1992.
Keane met the former Carolyn Mims while the two were serving in a federal government internship program in Washington in 1941. When Keane was inducted into the Army in 1942, the two married in Camp Shelby, Mississippi. Mark and Carolyn had eight children. Carolyn died of cancer in 1977. Keane was also predeceased by sons Paul and Mark, Jr. In 1981, Keane married fellow public management professional Judith Mohr. The two moved to Sedona, Arizona, where Keane became an active community member, volunteering at his church, the library, and a state park, and remained engaged in local government affairs. Mark and Judith maintained an active family and community life, and took memorable trips to Korea, China, Turkey, and Europe.
Keane cared deeply about his family. He delighted in children, laughed easily, and loved deeply. He was a true patriot, and was committed to excellence and integrity.
Keane is survived by his beloved wife, Judith; their children, Dan, Dennis, Brian, Peter, Mary, Barry, Nancy, Mark, and Monty; and by 19 grandchildren and nine great-grandchildren.
Read Bill Hansell's tribute to Mark Keane.
Register for the ICMA Annual Conference
Join us September 17-21 in Columbus/Franklin County, Ohio for the 2022 ICMA Annual Conference.
JOIN ICMA TODAY!
ICMA provides the tools, resources and connections to help you become part of the international network of 13,000+ local government management professionals.