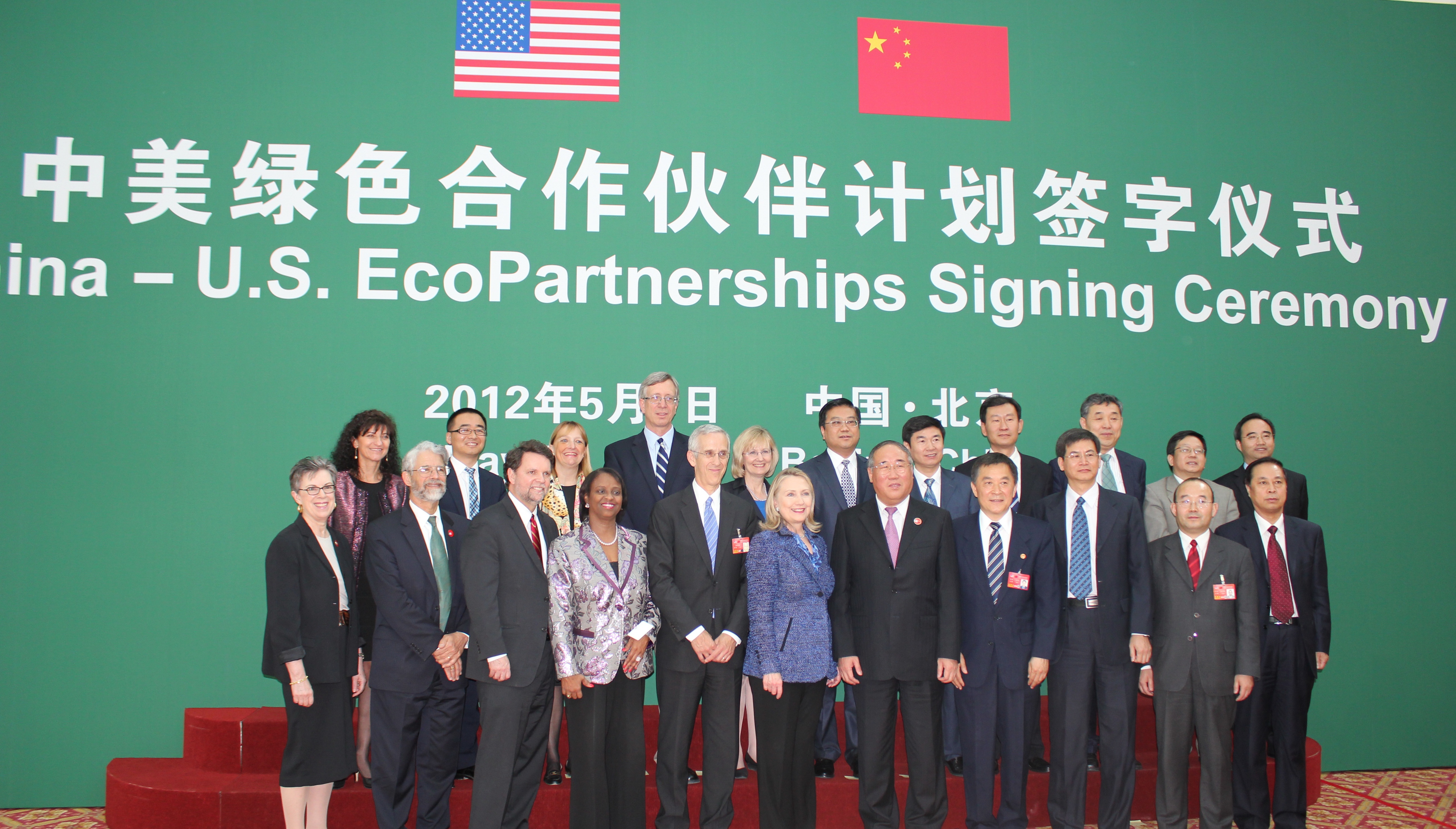 The ICMA China Center, established by ICMA and the China University of Political Science and Law (CUPL) in 2011, has been accepted by the EcoPartnerships program of the U.S. Department of State. During a week in which U.S.-Chinese relations were particularly complex because of questions about the future of activist Chen Guangcheng, U.S. Secretary of State Hillary Rodham Clinton took time from her schedule to participate in a signing ceremony in Beijing on May 3. 
Addressing the participants, she had this to say about the EcoPartnerships: "Our cooperation is really paying dividends for the people of both our countries and the world. This illustrates once again that the United States and China can and will work together in new ways and through many channels to address our common challenges on energy and the environment, two issues that transcend politics that we live with every single day in our homes, our businesses, and our communities." 
The EcoPartnerships program contributes to the goals of a Ten Year Framework for Cooperation on Energy and Environment signed in 2008 by the United States and China. Its purpose is to develop new models of mutually beneficial voluntary arrangements between state, local, and private-sector organizations to promote energy security, economic growth, and environmental sustainability in both countries. 
The program encourages partners to share best practices and foster innovation in seeking solutions to the energy and environmental challenges that both countries face. Since its inception, only 18 partnerships have been accepted for this prestigious, competitive program. Information about the other partnerships accepted in this round appears on the Department of State website. 
ICMA and CUPL jointly established the ICMA China Center to promote good governance and environmental sustainability at the local and state levels through training, research, and other activities. The Center, approved by the Chinese Ministry of Education, is housed in Beijing at CUPL's School of Public Administration. Among its objectives are promoting the exchange of best practices between U.S. and Chinese cities and fostering local innovations that protect the environment and establish sustainable economic development practices. 
In applying for acceptance into the EcoPartnerships program, the two organizations formally agreed to develop collaborative projects that support the program's aims. Already, ICMA and CUPL are cooperating in several relevant activities: (1) training for city officials in the area of sustainable development and city management; (2) energy saving, emission reduction, and low-carbon cities development programs; and (3) solid waste/landfill management and Chinese city environmental governance. 
In addition to these activities, the ICMA China Center plans to create specific technical exchange opportunities for U.S. and Chinese local governments for the purpose of developing innovative clean air and clean energy solutions and to organize a job-shadow program that will invite Chinese local government officials to participate in the day-to-day development and implementation of clean energy, clean air, and sustainable development activities in U.S. cities.
ICMA's activities in China date to 2008, when ICMA signed an MOU with China Star International School, a China-based educational institution, to promote ICMA training and professional development in China. In 2009, ICMA signed another MOU with the city of Changsha, Hunan Province, pledging mutual cooperation to build the city's capacity in municipal management through the exchange of information, management practices, and technical expertise. In 2010, ICMA provided leadership development training to Chinese students in the United States and hosted a group of Chinese officials tasked with public sector reform in cities and districts in Jiangsu Province. 
During this time, ICMA also implemented a program supported by the U.S. Environmental Protection Agency, Landfill Gas: Creating Green Energy in China, providing technical assistance in the recovery of methane gas from landfills. 
The China University of Political Science and Law (CUPL) is a multi-disciplinary research university under China's Ministry of Education. It has 19 schools and departments and 10 research institutes focused not only on law but also on such other disciplines as political science, management, economics, philosophy, and literature. Founded in 1952, CUPL has more than 14,000 current students and more than 200,000 graduates. The university has established international relationships with more than 100 universities in 33 countries or regions.
For additional information about ICMA's international activities, visit the International portion of the ICMA website or the International Development topic in the Knowledge Network.