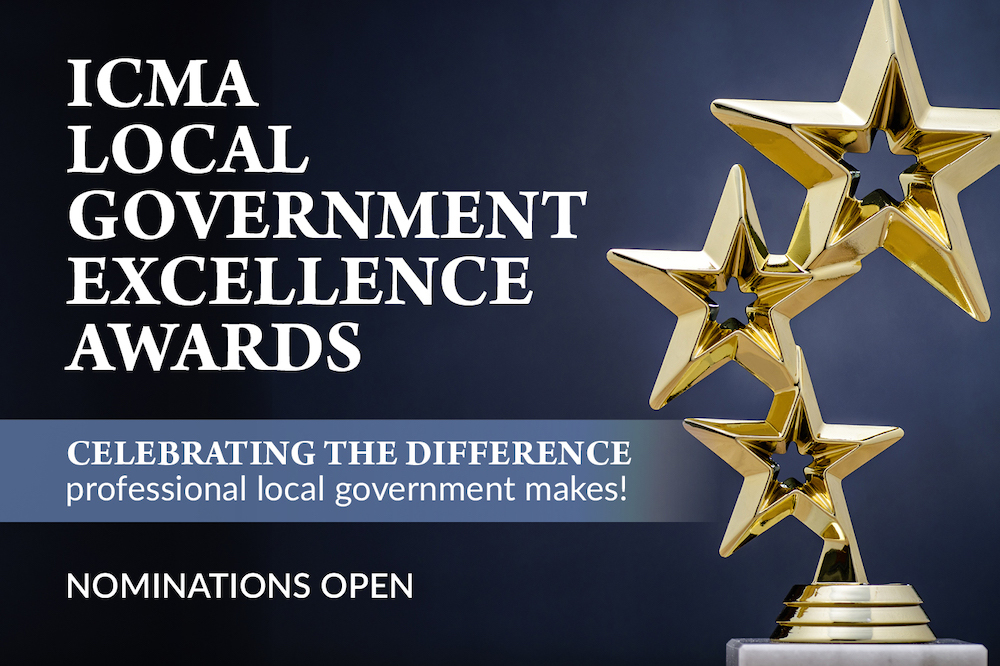 ICMA highlights outstanding contributions to the local government management profession through its annual Local Government Excellence Awards Program. This program provides an excellent opportunity for local government professionals and local governments to receive public recognition.
Professional awards are presented to individuals for:
Career excellence
Development of new talent
Excellence in leadership as an assistant (regardless of title)
Early career leadership
Academic contributions to the profession.
Outstanding local government programs are recognized in these areas:
Community Equity and Inclusion
Community Health and Safety
Community Partnerships
Community Sustainability
Strategic Leadership and Governance.
Nominations are accepted from U.S. and international jurisdictions.
Program nominations are divided by jurisdiction size. Nominations are encouraged from communities of 10,000 or fewer. Students are encouraged to nominate a professor for the Academic Award.
Submit your nomination online!
Take a moment to consider which of your colleagues has made a significant difference in their community or to the profession; or if your community has implemented an innovative or successful program you would like to nominate. Visit the website for details and instructions. Then submit your nomination(s) online by March 6, 2020.
Award recipient recognition
Award recipients will be recognized during ICMA's Annual Conference in Toronto, Canada, September 23-26, 2020, and highlighted throughout the year, including in a special awards fall issue of ICMA's PM magazine. Check out the 2019 recipients!