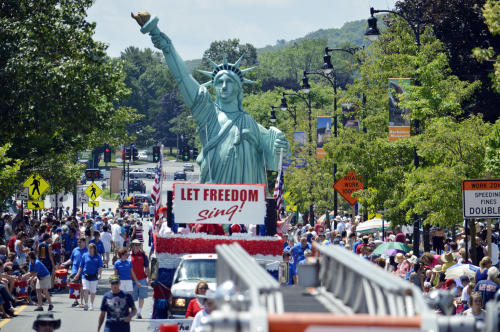 A four-year-old was riding on a float with his mom and two other children when he became restless. The child was allowed to get off the float and walk in the parade when something tragic happened: No one knows how or why, but the child climbed under the float and was run over by one of its wheels. Despite the presence of police officers nearby, efforts to revive the child failed and he died.
"It was a very tragic incident and impacted our officers. The accident caused us to activate a crisis counseling program for our staff," said Chief James Carmody, director of fire and police services in Wyoming, Michigan.
Parades are a common event in most cities across the United States and, unfortunately, have been marred by tragedies like that experienced in Wyoming.
Following a November 15, 2012, highway-railroad grade crossing accident in Midland, Texas, the National Transportation Safety Board (NTSB) issued a report with recommendations for communities that are hosting parades or other special events. ICMA, National Association of Counties (NACo), and  National League of Cities (NLC) studied these recommendations and developed a parade safety guide for municipal governments: Top 12 Things to Include in Parade Safety Plans. This guide features the NTSB recommendations that are pertinent to ICMA, NACo, and NLC members.
Local governments are encouraged to require (as part of the parade and special event approval process) that organizations create a written safety plan, which, at a minimum, addresses the following elements:
Risk mitigation and contingency planning, with provisions for communication among event participants and other stakeholders
Safety briefings for event participants and other stakeholders
Driver and vehicle screening
Safe float operation
Notification of railroads or other entities with control over possible hazards.
The accident in Midland occurred when a freight train collided with a parade float, resulting in 4 fatalities and 12 injuries. Additional information and the report can be found on the NTSB website under report number NTSP/HAR 13/02.
The NTSB determined that the probable cause of this collision was the failure of the city of Midland and the parade organizer, "Show of Support, Military Hunt, Inc.", to identify and mitigate the risks associated with routing a parade through a highway–railroad grade crossing. Contributing to the collision was the lack of traffic signal cues to indicate to law enforcement that an approaching train had preempted the normal highway traffic signal sequence at the intersection. Further contributing to the collision was an expectancy of safety on the part of the float driver, created by the presence of law enforcement personnel as escorts and traffic control, leading the float driver to believe that he could turn his attention to his side-view mirrors to monitor the well-being of the parade float occupants as he negotiated a dip in the roadway on approach to the grade crossing. (http://www.ntsb.gov/doclib/reports/2013/har1302.pdf)
ICMA's Center for Public Safety Management (CPSM) has developed a model parade ordinance for communities. CPSM is also available to help facilitate creation of community strategic and safety plans that address the concerns raised in the NTSB report.
CPSM reviewed two cities' parade policies and found they both address major concerns that communities should take into consideration when allowing a permit for parades:
"We encourage cities to work with their emergency services staff to determine if there are other pertinent regulations necessary to ensure the safety of parade viewers as well as participants. As shown by the incidents in Wyoming and Texas, the happiness associated with parade events can quickly be transformed into tragedy," said Thomas Wieczorek, director of the Center for Public Safety Management.
New, Reduced Membership Dues
A new, reduced dues rate is available for CAOs/ACAOs, along with additional discounts for those in smaller communities, has been implemented. Learn more and be sure to join or renew today!