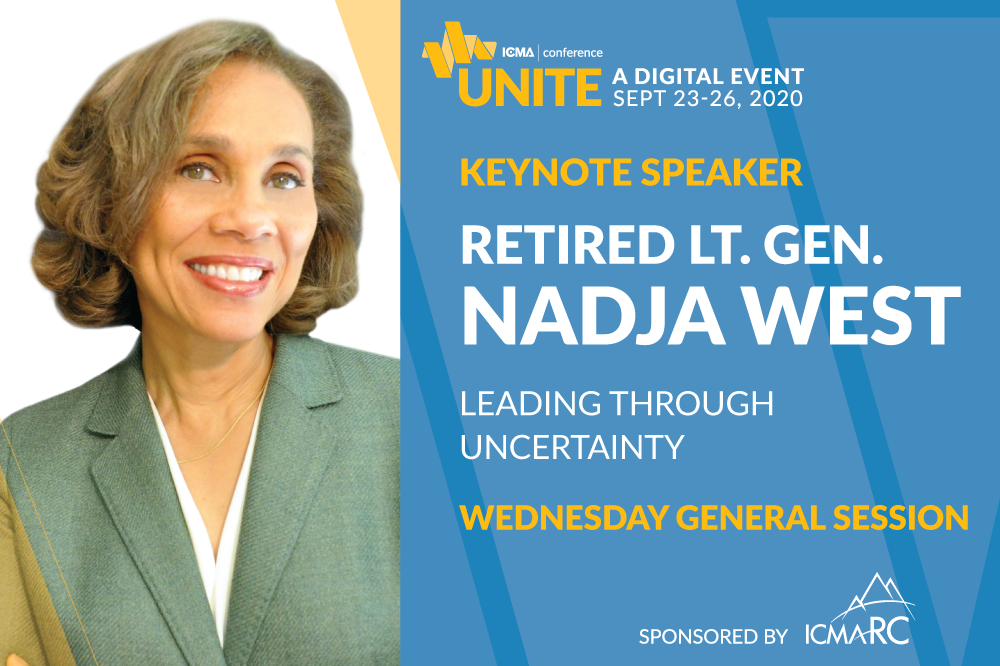 Retired U.S. Army Lieutenant General, 44th U.S. Army Surgeon General, and former Commanding General of the U.S. Army Medical Command, Nadja West, presented on Leading Through Uncertainty during her Wednesday keynote session, sponsored by ICMA-RC, at ICMA's digital event, UNITE.
"I believe these are more uncertain times than ever," West began.
A global pandemic. Economic insecurity. A turbulent political landscape. Institutional racism. Environmental concerns. West acknowledged there is no shortage of large-scale, destabilizing challenges that create nearly incalculable uncertainty.
Good leadership is needed to overcome this.
"City and county managers and staff managers must be at the forefront of it."
West defined leadership as the Army does, "The activity of influencing people by providing purpose, direction, and motivation to accomplish the mission and improve the organization." She said leaders can influence by words or by deeds, and that influencing others can be deliberate or inadvertent, for good or ill.
West continued with key points on what a leader should do, know, and be.
Do
What are you for as an organization? Providing purpose, direction, and motivation is what a leader must do. This requires an understanding of the organization and the task at hand.
West connected this to city and county managers, saying
"Creating and sustaining thriving communities around the world is critical. Particularly during uncertain times. Purposes can become blurred and focus of those you lead and influence may become scattered."
She gave a personal example of leading through uncertainty, concluding with the takeaway, "Setting the tone as the leader provided the motivation and direction to stay on track despite the turbulence. It was important that every individual understood how their job contributed to our mission. It was up to me as their leader to make sure they saw themselves as important to achieving it, no matter the external factors or the distractions at the time."
Know
A leader must first be competent in their craft. West said they must know their organization. "Challenges, opportunities, history, vision, environment, priorities, and resources. Who they support and who supports them. Situational awareness of priorities. Leaders must know their people. Not just as names on a roster, but who they really are."
Be
West said a leader must have the character, values, and attributes to effectively and ethically influence others for the good. Again connecting with the audience, she stressed how vital this is for "those responsible for recommending, enacting regulations and legislation that impact lives at scale like you do."
Loyalty, duty, respect, selfless service, honor, integrity, personal courage. Leaders should reflect and discuss with their team what living those values really mean, not just paying them lip-service.
The most important attribute as a leader? Empathy says West.
"Making the effort to understand those you lead is vital to the success of your team. It gives your people a sense of belonging and of value."
Practical Example
Moving from the abstract to a real-world example, West walked through a situation during the Ebola epidemic of 2014. She took initiative to advise preparations were needed early, despite the issue still being seen as a "potential" threat in an area of West Africa "where the U.S. had no military forces, no national security interest, and no request for support."
West said the principles of leading in crises were on display throughout military leadership, all the way up to the Chairman of the Joint Chiefs of Staff. They trusted her as the medical expert, they had the humility to realize they did not have all the answers. Inclusiveness allowed various perspectives on varying courses of action. Optimistic a solution could be found. Empathy to understand there were many points of views and genuine concerns – that sometimes conflicted – to consider.
As the situation became more dire and the call for assistance came, the preparation paid off as the team focused on their strengths and were able to coordinate the flow of supplies, quickly set up facilities on-site, and coordinate training for thousands of volunteers, saving countless lives.
Takeaways
West asked the audience of local government professionals to think about their version of this scenario. "You have complex competing issues in your local governments, in your cities and counties across the nation, across the globe every single day." she said. "COVID is the obvious one, but what else? What is your version of the multidisciplinary team that must be put together to co-create? What is the climate you foster to get the best out of your people, be the best leader, and take care of your team?"
West closed with, "Reflect on how to fine tune or revamp what you must do, know, and be as a leader to accomplish your mission and to improve your organization, the lives of your people, your community, and ultimately for our nation."
Want More?
Registration for UNITE: A Digital Event is still open! All sessions will be available on-demand through December 31, 2020. Register today!