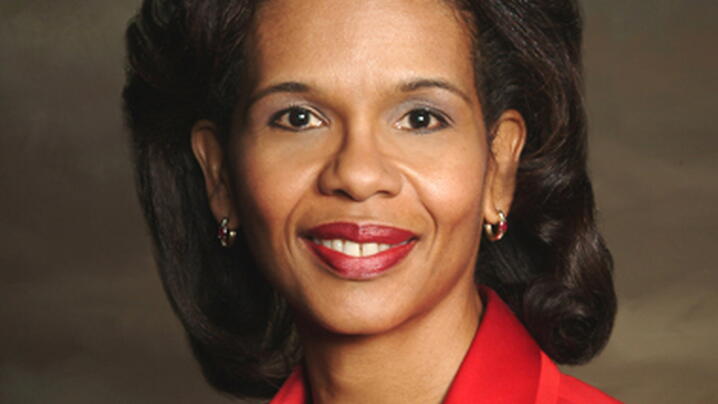 Dr. Sheryl D. Bailey is the deputy county administrator for Management Services in Chesterfield County, Virginia, where she oversees the departments of Real Estate Assessments, License Inspector, General Services, Accounting, Purchasing, Internal Audit, Information Systems Technology, Registrar, and Risk Management. She also serves as liaison to the county's elected constitutional officers (Treasurer, Commissioner of the Revenue, Sheriff, Commonwealth Attorney, and Clerk of the Circuit Court) and the administrative operations of the courts. Chesterfield is one of the larger full-service counties in the Commonwealth of Virginia, with a population of around 320,000 and a geographic area of 446 square miles. It is a high-growth community in proximity to the cities of Richmond and Petersburg (Chesterfield itself includes no incorporated cities or towns). Dr. Bailey characterizes the county as a "dynamic blend" with revitalization initiatives and a significant amount of rural area remaining.
With a leadership style that she describes as collegial and collaborative, Bailey manages a team responsible for managing the county's financial excellence, integrity, and compliance. "Chesterfield County prides itself on being a good steward of the public trust, with the lowest per capita service cost for full-service counties with populations over 100,000 in Virginia. It is one of only a few counties in the United States to have achieved triple AAA bond ratings in recognition of its financial management practices. The county also received the Government Finance Officers Association Certificate of Achievement for Excellence in Financial Reporting for the 32nd consecutive year, in an environment of steadily increasing standards and regulations," she notes.
The county's commitment to efficiency and effectiveness also is reflected in efforts to improve its internal and external facing technology tools. Bailey notes, "We're working on technology modernization initiatives to augment efficiency and productivity, including replacement of the county's taxation and billing system, migration of mainframe legacy applications, and enhancements to the enterprise resource planning system. Externally, our goal is open and responsive government and we've won several national digital government awards."
Bailey also highlights the county's commitment to responsible environmental management, recognized through several ISO14001 certifications and Virginia Association of Counties GoGreen awards.
Challenges to Local Government
Bailey believes, "One of our biggest challenges and opportunities in local government is balancing our available resources with the requirements that we must address. This was true even before the downturn in 2008 and certainly is not changing." In the recent local election, there was overwhelming support for community investments but not for the revenue to fund these investments. "County residents passed two bond referenda for infrastructure improvement projects to rebuild aging local schools and to modernize public safety systems that will soon become obsolete.  However, voters rejected a 2-cent meal tax to fund these improvements in a 7-year timeframe, so we are working through options that fit within the county's existing debt capacity."
"We also have an opportunity to get government right," she comments. "At the local level we have the opportunity to build trusting relationships and partnerships with our communities that deliver the results our residents want.  Our residents interact with their local government more than they do with state or federal government, and on surveys, 94 percent of them say we are doing a good or excellent job of delivering services and programs." 
Path to the Profession
Bailey studied economics, math, and statistics in college, and took as many public administration and business management elective courses as she could. "My interest in service was there… It was more directed toward higher education in college, but it's always been there." Thinking back even further, she learned about public service at the dinner table and her parents' focus on building things. "My mother was the vice president for administration at Norfolk State University, and was on the executive team that built the university from a commuter school to a full-fledged university. Through her work I saw her passion for education and changing lives." Her father had served in the military and then as a quality assurance manager at Norfolk Naval Air Station, where he helped to rebuild fighter jets that accompany aircraft carriers.  In her adult years her understanding and appreciation of her parents' influence has only deepened.
After a brief stint in academia, "the family business," Bailey went into consulting. There she quickly realized that she wanted to stay and be part of the long-term solution, not just consult and move on. She looked at various positions and found local government as her calling. She wanted to do something that had consequence and local government allowed her to do "real things for real people in real time."
Advice to the Next Generation
Bailey finds it satisfying to deliver results and outcomes every day in a line of work that keeps her challenged. "There is a huge variety in local government – this is a great career to build and develop your skills very quickly. My portfolio in Chesterfield County is more on the business side of the house but there's also a regional airport, a consolidated fleet for the schools and county, and convenience centers for citizen solid waste and recycling."
She also finds her career intellectually stimulating. "Local government makes it happen. We have the opportunity to develop best practices. Creativity/innovation/effectiveness forces you to grow. You have to grow to meet the needs of the mission and your community. If you like learning and growing, local government is the place to do it."
Involvement with ICMA
Bailey's first exposure to ICMA was through Jim Oliver in Norfolk, Va. "I knew ICMA was important." When she moved to Bob O'Neill's office in Hampton, Va., she became even more aware. She was formally introduced to ICMA in the 1990s through her involvement in the ICMA Resource Cities program linking Hampton with Pietermaritzburg-Msunduzi, South Africa. She returned from her travels to the emerging local democracy with a renewed passion for public service and a deeper appreciation for local government in the United States. "I am eternally grateful for that opportunity – I saw first-hand how other countries clamor for what we have. Here we have fully functioning, responsive local government units (cities and counties) as opposed to outposts of the national government. Just imagine if our cities and counties were all outposts of Washington, D.C." ICMA's international work helps others develop that important foundational understanding. "Because local governments have a direct relationship with their constituents and must be responsive to their needs, this is an important component of democracy."
As a member, she finds continued value in her affiliation with ICMA. "In the field," Bailey says, "we're not abstract. We're out here working hard to make things work. ICMA is forward looking, an enduring resource for local government management, providing us with white papers, publications, webinars, etc., that address our current needs." She appreciates the member network that provides a "cross-pollination" of ideas and shared solutions to common issues. "ICMA provides a repository of people and resources, colleagues, and experts who help us interpret the 'what' and the 'how'." Having worked on the recently-concluded Task Force on Financing ICMA, she observes, "We shouldn't take ICMA for granted."
Professional Background
Sheryl Bailey has more than 20 years of experience in government administration and finance as a senior executive at the state and local levels. Before joining Chesterfield County, she served as the executive director of Virginia Resources Authority and before that as deputy secretary of Administration of the Commonwealth of Virginia. Her dedication to advancing communities was reflected in her previous affiliations with the cities of Hampton and Norfolk, Va. She recently completed terms of service on the Task Force on Financing ICMA as well as the Municipal Securities Rulemaking Board's Board of Directors. Bailey is an active member of the Virginia Local Government Management Association and the Government Finance Officers Association. A native of Norfolk, she received her undergraduate training at Norfolk State University and achieved her master and doctorate degrees in economics at Harvard University. Bailey is also a graduate of the Virginia Executive Institute, the Senior Executive Institute of the University of Virginia's Weldon Cooper Center for Public Service, Leadership Metro Richmond and CIVIC Leadership. She is known for her work in strategic and financial management, having served as a consultant to organizations worldwide and a faculty member for several universities.