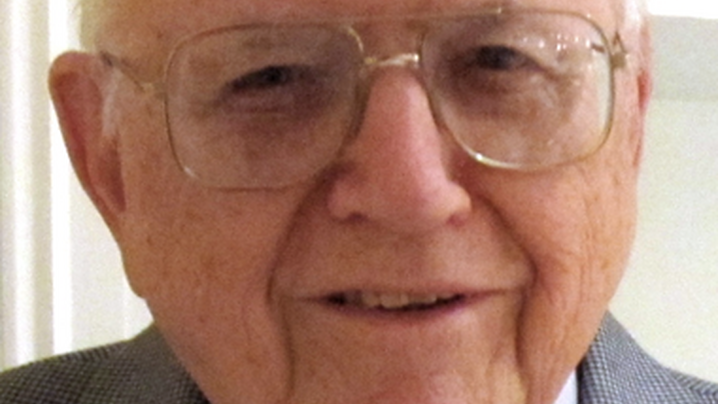 Robert "Bob" Morris has had an extensive and unique involvement with ICMA. He joined in 1947 and holds one of the longest memberships on file. He became familiar with ICMA while in an MBA program at the University of Minnesota.  "I heard about ICMA from my professors in school, and I knew ICMA had a lot of good technical publications."
His first professional experience was as a research assistant with the Municipal Reference Bureau at the University of Minnesota in 1946, but it was his internship with Albert Lea, a community in Southern Minnesota, that solidified his passion for local government. "I enjoyed the variety of work, I worked with a lot of interesting people on different projects, and it just seemed like a really worthwhile field."  In fact, his interest in local government started early on, "I grew up in a town in Minnesota that was so poorly managed, I thought to myself, there has to be a better way to do things."
When asked what he found most rewarding during his long and successful career, he spoke passionately about two topics, mentoring and diversification in local government:
Mentoring: "One of the things that I was interested in was training young people. We had two work career programs. I really believe students need an opportunity to work in local government while they are still in college." He was heavily involved with the 'Administrative Assistant Program' where he was responsible for training 21 assistants who subsequently became managers in 68 local governments in 22 states. His former assistants served in cities as diverse as Oak Park, Illinois; Chapel Hill, North Carolina; Del Ray Beach, Florida; Des Moines, Iowa; Palmdale, California; Petoskey, Michigan; Reno, Nevada; St Louis Park, Minnesota; and Wichita, Kansas. He also played a vital role in the Work-Study Program, which involved more than 100 students working part-time while attending college.
Diversification: "I was always interested in encouraging minorities to be involved in local government. I thought that this was an important role for managers. We established relationships with schools that had fairly large bodies of minority populations. I was involved in selecting a staff that was one-fifth minority, and in 1960 we hired the first African-American public safety officer between Evanston and North Chicago." 
Awards and Accolades
His dedication and commitment garnered numerous honors, including being named the first recipient of the L. P. Cookingham Career Development Award from ICMA for his work in training young people for urban management careers. ICMA also presented him with the Distinguished Service Award, the highest honor bestowed by ICMA, in recognition of his "outstanding contribution to the professional management of local government."
Additionally, Morris was the first Lifetime Achievement Award winner from the Illinois City/County Management Association (ILCMA) for "his significant contributions beyond his own community for service to his profession." Later renamed the Robert B. Morris Lifetime Achievement Award, this award is given annually to outstanding ILCMA retired members.
In 1987, Morris received an honorary doctorate from Northern Illinois University. He was appointed by two Illinois governors to the Illinois Local Governmental Law Enforcement Officers Training Board where he served for eight years, two years as chairman.
He was vice president of ICMA and president of the Chicago chapter of the Metropolitan Chicago City Managers' Association, Illinois City/County Management Association (ILCMA), and Chicago chapter of the American Society for Public Administration.
ICMA Annual Conference
ICMA recently held a milestone 100th Anniversary Conference. Though Morris wasn't in attendance this time, he has attended an overwhelming 54 ICMA Annual Conferences! "My first conference was in 1948 in Mackinac Island, Michigan." he recalls. "At that time, the conference was a lot smaller, only 200 or so people attended. Things were more personal. You got an opportunity to get to know people. I remember one of the main issues at that conference was whether the manager should take a more active role in developing policy and be more visible. Back then managers tended not to form policy or be out front, they carried out policy dictated by council, and of course later on managers did become more involved in helping to develop policy."
State of the Profession
When asked about the profession today, he remarked, "The job of a city manager today is much more demanding, and I think it is a more difficult job, because the problems are greater, and more people are involved, some in negative ways. There is a more fish bowl feel today, the press is omnipresent, and it is just much more difficult today than it was years ago."  
Professional Background
He started his career as a field representative for the League of Minnesota Municipalities in 1946, before transitioning to Albert Lea, Minnesota, in 1947. 
His career took a different turn when he joined the ICMA staff in 1948. Morris recalls "The headquarters was located in Chicago, and at that time the ICMA staff consisted of 12 employees headed by Executive Director Clarence Ridley and Assistant Director Orin Nolting."
It wasn't long, however, before he felt the urge to return to local government and served as assistant village manager, and then village manager of Glencoe, IL, 1949-82. 
Additionally, Morris was an evaluator for the National Association of Schools of Public Affairs and Administration in accrediting six Midwest universities: University of Kansas, University of Missouri-Kansas City, University of Arkansas-Little Rock, Southern Illinois University-Edwardsville, Sangamon State University, and Memphis State University.
For two years he served as Great Lakes group cluster leader for the Presidential Management Intern Program, a select group of nine post-graduate interns in the federal government service. 
For nine years (1982-91) he was Midwest manager and director of training and development for  ICMA-RC.  Then he served for 15 years as an ICMA Range Rider, advising and counseling city managers and assistants in northern Illinois.
Morris also taught for 30 years as an adjunct professor in the graduate public administration programs at Roosevelt University, Chicago, and Northern Illinois University. He taught more than 700 graduate students, most of whom were studying part time for master's degrees in public administration while working full-time as local, state, and federal government employees in the Chicago area.