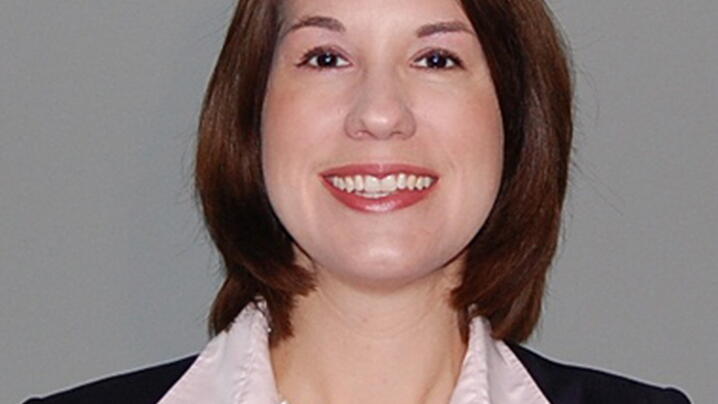 Lauren Palmer is the new city administrator of Parkville, Missouri. Parkville is a fourth-class city located in the southern portion of Platte County along the Missouri River, just 15 minutes from downtown Kansas City. With a population of 5,554 (2010 Census), Parkville is home to Park University, Parkville Commons, English Landing Park, the National Golf Club, Riss Lake, and the historic downtown Main Street area. Known for its quaint, charming character that is unique among Kansas City suburbs, the city has 40 permanent employees plus some contracted and seasonal employees and interns. The city offers a full range of municipal services including street maintenance, public parks, sewer utility, community development, police, and municipal court.
When asked to describe a few notable projects she's worked on, Palmer offered "It's so hard to pick one or two! The first four months have been an absolute whirlwind of activity."
She commented on the groundbreaking in September for Platte Landing Park, a new 144-acre riverfront park just west of Main Street in downtown Parkville. "The project is truly a collaborative effort that is supported and funded by all levels of government (city, county, state, federal). When I started with the city in June, the project was in jeopardy of failure due to a variety of issues and missed deadlines. Fortunately, we were able to pull together with Platte County to identify quick solutions and rescue the partnership. The park promises to be a regional attraction and, therefore, an economic engine for downtown."
Additionally, earlier this year the city took over sewer billing from the local water company.  Palmer remarked "we implemented new payment options, including automatic bank withdrawals and processes for handling late payments. The city previously did not have any enforcement mechanism for delinquencies, which resulted in over $50,000 in unpaid sewer bills in seven months. The new procedures will help protect the financial stability of the sewer utility and control future rate increases."
Parkville, MO
In Palmer's experience, innovation in government finance and service delivery is one of the biggest issues or challenges for local government. "Growth (in population and consumption) is not a sustainable economic model."
 Regarding her experience with ICMA, Palmer commented "Engagement in ICMA has been essential to my career development. The professional development and networking opportunities are exceptional. Understanding and adhering to the ICMA Code of Ethics has kept me from stepping in political quicksand on more than one occasion."
Her first purchase in the city of Parkville was a sign that now hangs in her office. It says "work hard and be nice." Offering words of wisdom to colleagues entering the profession, she says "do that and success will follow. It helps to find good mentors. Ideally find a boss who will allow you to take calculated risks. That is how you learn and communities improve." 
Before joining the city of Parkville in June 2013, Lauren Palmer served for over five years as assistant city manager of Manhattan, Kansas, and before that for nearly four years in various roles with the city of Des Moines, Iowa. She received her bachelor's degree from the University of Missouri in 2002 and her MPA from Indiana University in 2004. Palmer is an ICMA Credentialed Manager candidate. She served on the ICMA Awards Evaluation Panel from 2007 until 2010, including service as vice-chair from 2009 to 2010, and is a member of the ICMA Emerging Leaders Development Program Class of 2007.