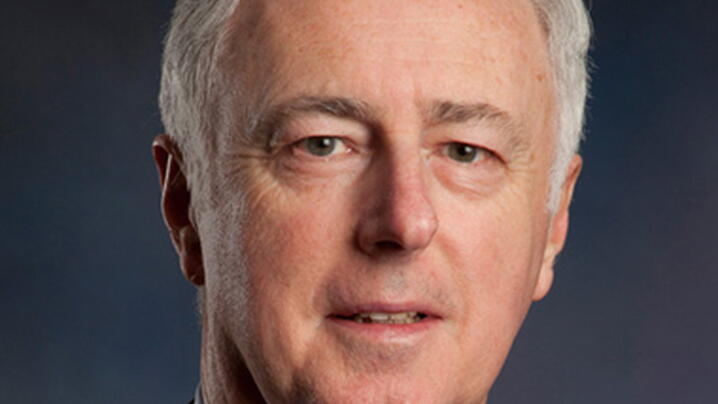 Bill A. Monahan is the city manager for Milwaukie, Oregon, a suburb of Portland with a population exceeding 20,000. Striving to become a culturally and economically diverse city by 2015, Milwaukie is committed to capitalizing on its role as a transportation hub in Oregon. A primarily residential area, Milwaukie's economy is based on manufacturing, national and international trade, and service industries. Known as the "Dogwood City of the West," this small yet thriving city aims to remain an ideal place for its residents to live and work.
Monahan and his staff of 138 employees are preparing the community for the Portland Milwaukie Light Rail line opening in September 2015. The city invested $5 million in funding toward the project and will receive, in return, much more in terms of public improvements, including intersection improvements, pedestrian bridge and paths, and a station in the downtown area that is expected to stimulate economic vitality in an area that needs attention. The additional investment of staff and resources for related projects, such as the creation of a quiet zone along the rail, has drained the city of many resources that otherwise could have been devoted to other community needs. Monahan states that, "Overall, once the light rail system is operational and transit-oriented development follows, the project should be a success."
Important Issues Facing Local Government
Monahan believes that local government should continue to have access to prepared and committed local government leaders, both appointed and elected. He comments, "I am confident that the profession prepares a sufficient number of qualified professionals to fill the available positions of appointed leadership. We need to make sure that an adequate number of positions are available so those who are academically prepared are given opportunity to hone their skills in job situations. Our new graduates need to be given professional chances and challenges. Those who have been in the field for many years should look for ways to open up the profession to the next generation and mentor them."
Expressing concern about the quality of elected officials, Monahan recognizes that while managers, the National League of Cities (NLC), and state associations often provide ample opportunity for newly elected officials to be oriented, many are either not taking advantage of the opportunities or ignoring the training and advice they receive. He claims, "This is even more troubling when we see that elected officials often come into office without a foundation in local government or without a commitment to long-term service. A one- or two-term elected official who is on a quest to tear down something or prevent spending to achieve change can be very harmful to a community's achievement of its vision."
According to Monahan, "One solution might be the creation of a comprehensive online study course for newly elected or appointed council or commission members. Upon successful completion of the course, a person could earn a certificate stating that they completed the program."
Importance of International Engagement
Monahan is an ardent believer in the "I" in ICMA. "It is humbling to realize that local government officials in other countries are working hard for their citizens without resources and technologies that we take for granted. Working side-by-side with international partners to address some of their needs can be the most gratifying work that we do. My involvement in international work has been extremely fulfilling. Since 2002, I have had the good fortune of lending some of my time and energy to international work in a variety of settings. Initially, I was apprehensive, as I was not sure what I had to offer and how my experiences in planning, management, and law could assist an international partner. I found that the sharing of knowledge and interaction with international partners brought out personal traits (flexibility, empathy, and patience) that I failed to recognize that I had."
When he was city manager in Tigard, Oregon, ICMA linked Tigard with Samarinda and Balikpapan, Indonesia, through the Resources Cities Program. Tigard, a city known for its strong management and budgeting skills, was selected to assist Samarinda with financial management. As a result of this successful partnership, Samarinda's finance staff received training in double-entry accounting and implemented its 2003 budget with this system. In addition, Samarinda established an electronic payment system for its city employees. USAID awarded ICMA an extension for the project, and Tigard continued to help Samarinda with water management through 2005.
This international work allowed Monahan's staff to learn in a way that had been unavailable in their normal jobs. He comments, "Confidence was built, partnerships with community members and organizations established, and eyes were opened to how fortunate we are to have the resources that we have. The team-building experiences went far beyond the international setting, allowing Tigard to enjoy a more committed and energized work force."
The four-year partnership exposed Monahan to international travel and he continued to serve as a consultant for ICMA from 2005 to 2007 in Indonesia, Sri Lanka, South Africa, Jordan, and Russia. Monahan remarks, "The variety of tasks that I performed has further inspired my personal lifetime learning efforts, reading, and plans. Most recently, my participation in the ICMA International Committee has expanded my horizons even further." During the summer of 2013, the ICMA China Center allowed Monahan to travel to China with fellow ICMA member Clay Pearson, where he taught an 18-hour summer session course on the History of U.S. Urbanization at the China University of Political Science and Law in Beijing. Following the completion of the teaching assignment, he traveled to Qingdao and Yangzhou, China, where he presented training to local government officials titled "Trends in United States Urbanization – Portland, Oregon Region," focused on the Portland region's urban growth boundary experience.
Reflecting on his international experience, Monahan adds, "As I inch closer to finishing my career as a full-time government employee, I am looking ahead to a time that I can devote my attention to more focused pursuits.  Rather than return to the practice of law, I am interested in teaching or training utilizing the practical knowledge I gained during my career.  My experience teaching in Beijing demonstrated to me that with the right amount of preparation I do have the ability to convey materials in a classroom setting.  I gained great satisfaction from the experience and look forward to developing more course content on other topics.  I am also focused on how I might further assist the ICMA China Center in its activities.  The ICMA International Regional Summit, held from May 12 – 15, 2014, in Yangzhou, China, should be a great opportunity for me and any other ICMA members interested in the history as well as the changes that are underway in China."
Advice for the Next Generation
Monahan advises younger professionals to "be open to all opportunities that allow you to further your knowledge and experience. ICMA offers many ways for members to obtain resources, learning, and mentoring. Participate in activities that allow you to become exposed to many different experiences, as well as other professions and professionals. My career has been interesting to me because it has been varied and stimulating. I credit that to the fact that I have not chosen to remain in one place or one career. Taking risks and taking on new responsibilities beyond your comfort zone can be very rewarding."
Monahan also suggests that the next generation participate in groups like Emerging Local Government Leaders (ELGL), a group originating in Oregon that has spread to include members throughout the United States. ELGL provides opportunities for young professionals to share issues and concerns while obtaining information, resources, and support to bolster them on their professional paths.
Professional Background
A dedicated ICMA member for 26 years, Monahan was appointed as Milwaukie city manager in October 2010. Prior to managing Milwaukie, he specialized in local government law as well as land use and served in various local government positions. He represented local governments and private development clients before the Oregon Land Use Board of Appeals and Court of Appeals. He has participated in local government public hearings in a variety of capacities including land use planner, city attorney, applicant's attorney, and city manager.
Before serving as the city manager for Tigard, Oregon, from 1994 to 2005, Monahan was also Tigard's community development director, from 1982 to 1989. Previously, he held local government positions in Massachusetts, serving as the city planner for Brockton, as chief rehabilitation officer for the Brockton Redevelopment Authority, and in Kentucky as local office planner and as a Community Development Block Grant (CDBG) representative for the Louisville Area Office of Housing and Urban Development (HUD).