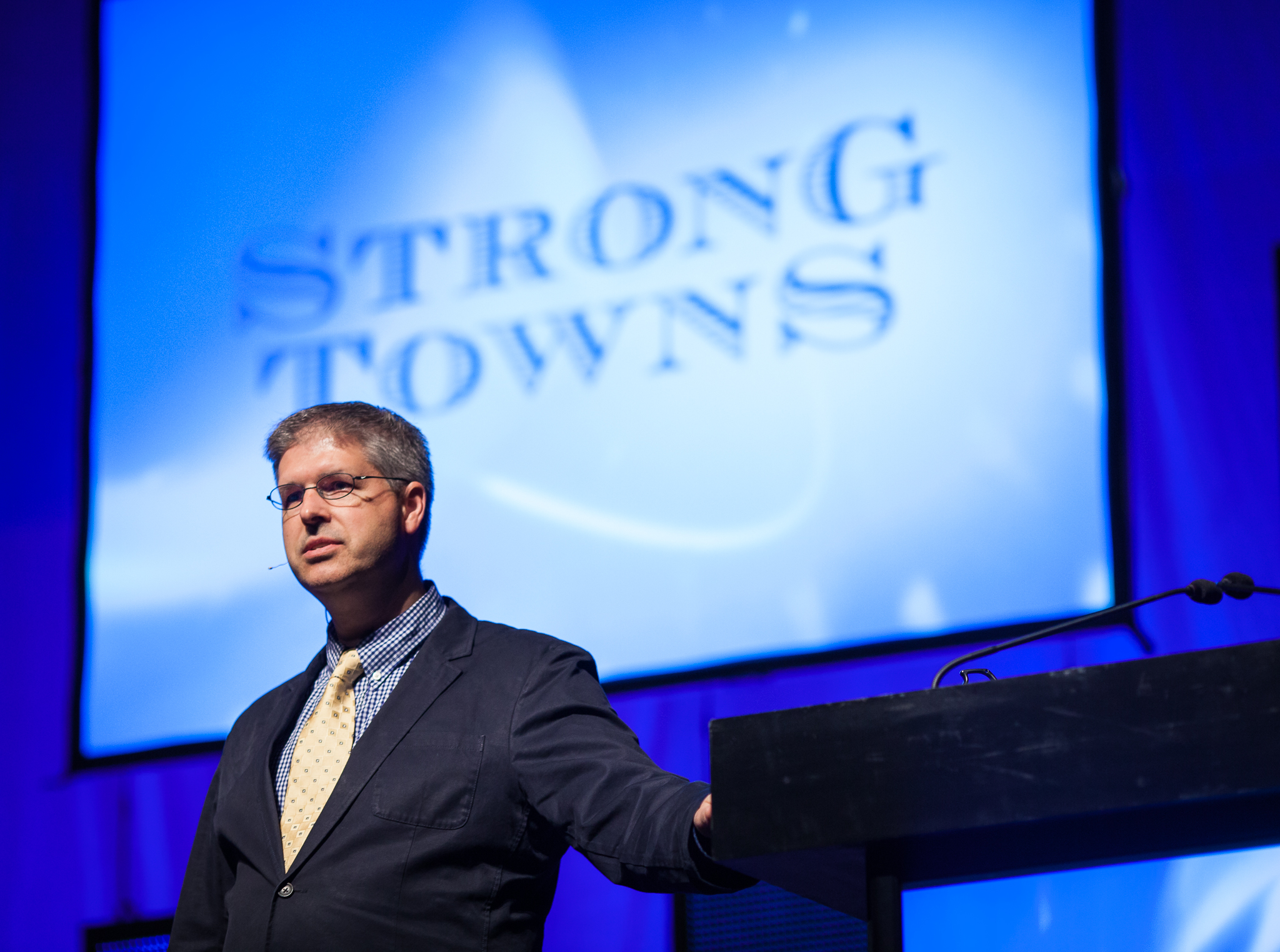 Watch Chuck Marohn's presentation through the 2018 ICMA Annual Conference Archives.
Chuck Marohn, founder and president of Strong Towns, challenged ICMA members to get out of their cars and walk. "Experience the city at two miles per hour instead of 45." Marohn notes that in doing this you'll be overwhelmed with the massive gaps throughout cities. These gaps present major challenges for communities as they are resource intensive for local governments, yet provide a minimal tax base. Marohn spoke about this as being the "build it and they will come" philosophy of economic development. By continually building outward, we are moving wealth to the edges, which creates an unsustainable model for the growth of services that local governments will have to provide.
Historically, cities were built incrementally out and incrementally up. Wealth was built by making modest investments over time that were left for future generations. This development path created resilient economic ecosystems that could sustain property values and withstand the rise and fall of individual businesses. In a way, this future-proofed cities, "You don't have to know the future when you build in a way that is financially productive and adaptable," says Marohn.
Even as many cities are perceived to be growing wealthier, the expense of providing services for continued outward growth is not a sustainable path. Within a generation of this type of development, cities will be forced to decide between substantial tax increases or the complete shuttering of services. Marohn emphasized that to ensure community resilience, the models for zoning, development, and growth will have to fundamentally change, which can be a startling realization for local government leaders.  
Marohn also spoke about the power of small, neighborhood-level improvements: changes that require minimal investment but can create substantial returns. He encouraged the audience to ask themselves what was the smallest thing they could do in their community to alleviate struggle, and start there. He noted that in many ways, governments have become expert at the "big things," when the real need is at the neighborhood level. By shifting focus, we can start to revitalize communities that are at the heart of economic ecosystems, the very places that are foundational to community resilience.
Want more?
You can access this presentation and other ICMA 2018 Annual Conference sessions through the ICMA Virtual Annual Conference. Available both live and on demand, it's a great way to participate in educational sessions presented by knowledgeable speakers, and earn credits toward your ICMA-CM or AICP-CM without the cost of travel.