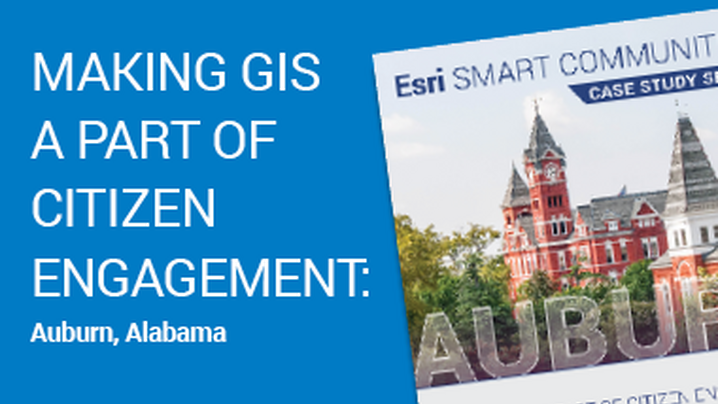 "Government can sometimes be complicated and difficult for citizens to engage with, but there are ways we can make it easier for people."— Charles M. Duggan Jr., city manager, Auburn, Alabama
Auburn, Alabama, is a city of growth and expansion. From 2010 to 2015, population in Auburn has grown approximately 16 percent and this leads to citizen concerns about how this growth will impact traffic, school zones, taxes, etc. Auburn's IT Department found the best way to address citizens' concerns was to present them with data in an easy-to-digest and understand form. The best tool to accomplish this is GIS technology. 
The latest case study from the Esri Smart Communities Case Study Series highlights three ways Auburn and its citizens have benefited from their GIS initiative.
1. Staff Time. Auburn IT staff, utilizing the GIS technology, was able to create an easy-to-use interactive map for staff and citizens. Without this interactive map, citizens would have to call city hall for information on traffic pattern changes, school and voting districts, permits issued, etc.
2. Staffing Size. Currently, approximately just 50 percent of Auburn's annual budget is spent on personal costs; similar communities spend up to 70 percent. This allows staff to work more efficiently and to focus on providing high-quality services to its residents.
3. Citizens' Savings. With the increased ability to collect and analyze data, the city has found ways to help citizens save money. For example, the Auburn Fire Department worked with Auburn's IT staff to better map its fire response times, lowering their response rating from 3 to 2. Residents were able to take this information to their insurance agencies to get better pricing on their homeowners' insurance. 
Click to Download the Esri Smart Communities Case Study: Making GIS a Part of Citizen Engagement, Auburn, Alabama
Register for the ICMA Annual Conference
Join us September 17-21 in Columbus/Franklin County, Ohio for the 2022 ICMA Annual Conference.
JOIN ICMA TODAY!
ICMA provides the tools, resources and connections to help you become part of the international network of 13,000+ local government management professionals.