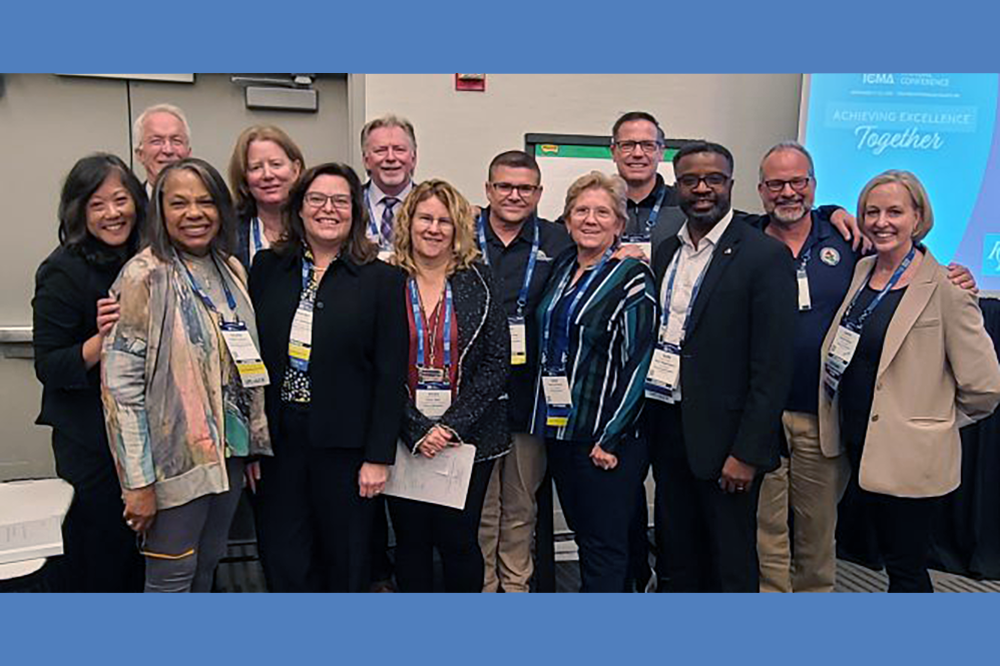 "Equity is a journey of the self. You've got to feel it in your heart." With these words, Biddeford, Maine, City Manager Jim Bennett helped close the 18-month journey of the Racial Equity Leadership Institute hosted this past year by ICMA, The Kettering Foundation, and National Civic League.
The institute, which was comprised of 22 city and county managers and administrators who were selected from a large pool of applicants in late 2021, met monthly to hear from speakers, exchange ideas, and develop capstone projects to improve racial equity in their communities.
"The institute provided an opportunity to focus on polarity management," said Mark Washington, city manager for Grand Rapids. As managers, "we're doing little things that spread like a pebble tossed into a pond," said Waunakee, Wisconsin, Village Administrator Todd Schmidt. Noting that his city just won a statewide award for its equity work, Schmidt added, "The institute gave me the bravery to toss a pebble."
Through the institute, which is in its first year, participants said they felt informed, supported, and empowered. "Some of the meetings felt like therapy sessions," said Schmidt. The meetings, which were conducted as participatory learning exchanges, he said, "made me realize that as a city manager, I actually can be the one to change this."
The work of the institute was highlighted in three sessions of the annual ICMA conference in Columbus, Ohio, last month, providing an opportunity for host organizations and participants to share their learnings with conference attendees. The next group of institute nominees will start meeting later this month in a series of learning exchanges that will last through next year.
ICMA Chief of Staff Ray Baray said that the institute was an "18-month journey into the world of racial equity." Co-host Valerie Lemmie, director of Exploratory Research for The Kettering Foundation, acknowledged what many participants and conference attendees know, that enhancing equity is not easy. "It's hard to do institutional change," said Lemmie, "there's no one pushing you, standing behind you or supporting you. It's easier to do nothing."
For Todd Schmidt, the institute provided a way to help "fill in the gaps in my knowledge about race. We need to eliminate these gaps so we can become more complete, so we can make our communities more complete." Vicki Rios, assistant city manager of Glendale, Arizona, said, "we all have unconscious biases," and stressed that equity must also address people with disabilities and other individuals who sometimes suffer from inequity. When asked what he learned from the institute, Mark Washington said "I've learned so many things, it's hard to list just one thing."
During the 18-month institute, each participant was asked to undertake a capstone project to help address racial equity in their community. For Jim Bennett, however, the capstone was a personal one, assisting his personal transformation from a "good guy" who did "cool things to help people" to a person who better understands the nature of racism and equity. "As I wrote in my institute journal, I realized I was denying that racism existed. And I asked myself, 'What am I doing to really make a difference?' Racism and discrimination are the smoothest operator anyone will encounter. You have to learn to tolerate your racial bias so you can work on it."
Mona Miyasato, county executive officer for Santa Barbara County, California, described her work to pull together leaders in her region to collaborate on equity: "You have to move beyond partisan and polarized words and create safe spaces to have conversations," she said. "People worry about where to start. You just have to begin and give yourself permission to fail."
Miyasato and David Cline, city administrator for Tukwila, Washington, agreed that equity needs to be the job of every department, and not just an equity officer. Cline also said that "(all of us can) create an equity committee from your employees who already care; you don't need an equity officer to begin this work." While much of the day's conversation was about equity officers, it was generally agreed that city managers and elected officials all need to take part. "You have to drive the message through the whole organization," said Rios.
Several managers spoke of the need to be patient and persistent. "You have to look beyond the emotion of the moment," said Washington. "This work requires you to do slow work," added Bennett. Miyasato quoted Martin Luther King Jr., who said that "the arc of the moral universe is long, but it bends toward justice," noting that we sometimes forget that MLK added a second part saying that this change only happens with the constant push from all of us. This is especially true for city managers, she said.
There was also agreement that government staff should reflect the diversity of the community and fully accept the need for equity. Mike Sable, assistant city manager for Bloomington, Minnesota, said that the first step should be to hire a diverse staff, then to be "more invested in the action of it than the idea of it." Pam Davis, assistant city manager of Boulder, Colorado, said, "We need to get to a place where equity talk is just as natural as talking about finance or other matters."
Equally as important is the need to reach out and involve the full community. "The first step in equity is to create a sense of belonging," said Kettering's Valerie Lemmie. "You can't just be in city hall where there's comfort. You have to go out in the community where sometimes it's uncomfortable." With this and the earlier statements, the better sequence for DEI might be diversity, inclusion, and equity, though the acronym is less attractive.
Nonetheless, engagement of the full community in equity work is critical. Jim Bennett probably summed up the city-community relationship best: "If people love your city and are loved back, they'll want good things to happen. If you change from a vending machine relationship to a loving relationship, your community will thrive."
(First published in the National Civic Review Newsletter, September 28, 2022)
New, Reduced Membership Dues
A new, reduced dues rate is available for CAOs/ACAOs, along with additional discounts for those in smaller communities, has been implemented. Learn more and be sure to join or renew today!