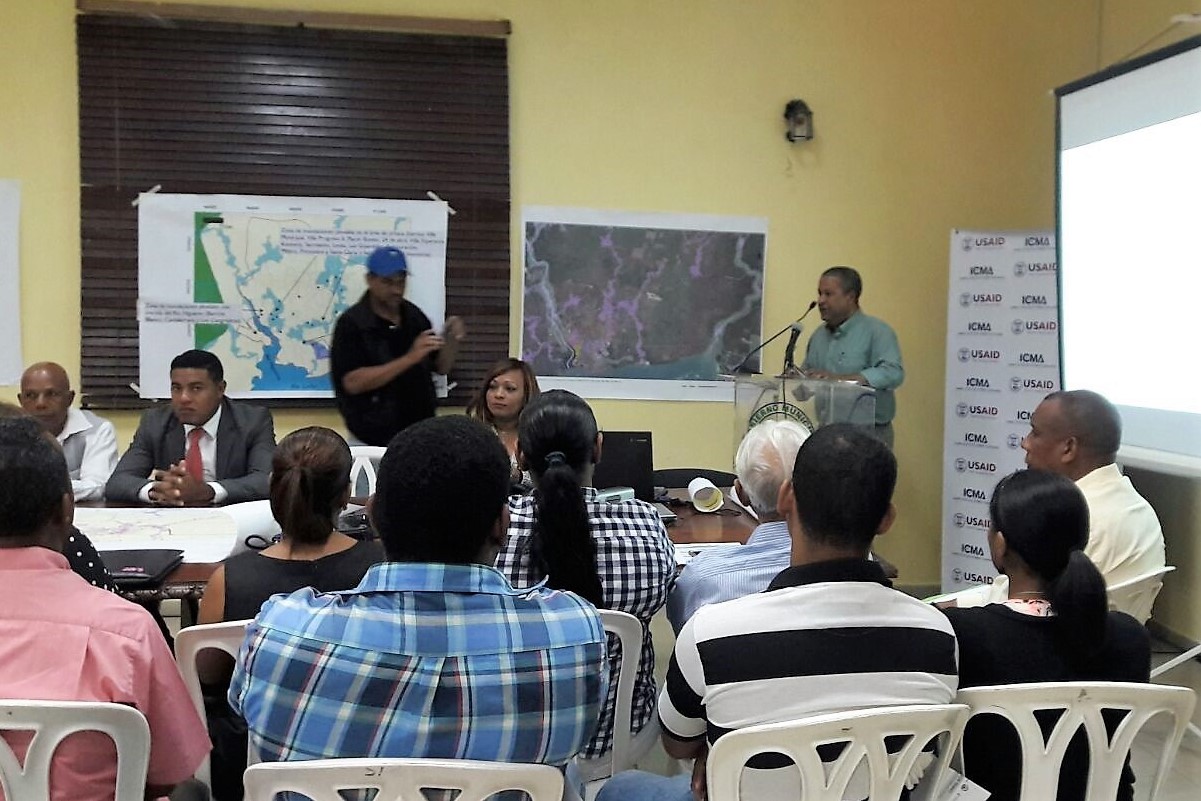 Four U.S. cities managed by ICMA members played a key role in advancing the ability of municipalities in the Dominican Republic (DR) to resist the impacts of climate change.
The Planning for Climate Adaptation program was a significant effort to increase the resilience of DR communities by improving participatory land use planning. The U.S. Agency for International Development (USAID) awarded the three-year program to ICMA in 2015.
The Dominican Republic is among the countries most vulnerable to climate change, largely because of its location in the hurricane belt. Storms during the hurricane season cause flooding, soil erosion, and landslides. Coastal cities—and the country's tourism industry—face threats from a rise in sea level and the continued loss of coral reefs, mangroves, and wetlands that protect the beaches from storm surges.
City-to-City Partnerships
One of ICMA's strategies in carrying out the project was to facilitate CityLinks™ partnerships in which U.S. resource city staff and their Dominican counterparts worked together to clarify local priorities and share ideas and approaches during a series of two-way exchange visits. The partnerships were:
Dubuque, Iowa (Michael Van Milligen, city manager), and Santiago: Mid-sized land-locked cities with historical river flooding issues
Austin, Texas (Spencer Cronk, city manager), and the National District: Jurisdictions with similar-sized populations and significant watershed-related challenges
Fort Lauderdale, Florida (Lee Feldman, city manager, who participated personally), and San Pedro de Macoris: Low-lying coastal cities vulnerable to sea-level rise and storm surges
Miami Beach, Florida (Jimmy Morales, city manager), and Las Terrenas: Another pair of low-lying coastal cities.
During the first exchange, U.S. city staff visited their Dominican counterpart to learn more about each city´s challenges and capacities and to identify an agenda of priority issues that could be addressed through collaboration.
For the second exchange, a delegation from each DR city visited the U.S. partner city to experience firsthand that city's resilience efforts and solutions. At this point, the partners finalized two or three priority issues, and future visits were dedicated to providing technical assistance. Priorities included climate change adaptation and land use planning, citizen participation, green infrastructure, sustainable mobility planning, floodwater management, and coastal zone management.
Successful Outcomes
The CityLinks partnerships received positive feedback from program participants in both countries for fostering learning and creating strategic alliances between the cities. In the words of Mónika Sánchez from the National District government, the CityLinks relationship with Austin offered them "insights and advice… opportunities for the exchange of ideas on different issues and different solutions to explore."
When asked why Fort Lauderdale participated, Feldman said, "Because we learn as much from our technical exchange partners as they do from us… These partnerships are vital to expand our knowledge base by exploring useful solutions to strengthen our resiliency and ensure the long-term sustainability of our cities. It is not business as usual. We have to look for innovative solutions."
The project team also included the Technological Institute of Santo Domingo, a leader in training and research on municipal planning and climate change; the Dominican Federation of Municipalities (FEDOMU), which represents municipalities in the country and provides technical assistance, training and support to them, including in planning; and ICF International, a firm known for its expertise in climate change.
Project Results
The project achieved the following results, summarized in this infographic:
By the end of the program, the four jurisdictions had climate-adapted land use plans and climate adaptation plans, and three had drafted land use planning ordinances. Three of these were the first municipal land use plans in the DR and the first to be developed with citizen participation and to integrate climate adaptation.
Program staff and partners helped design new tools to guide other municipalities in drafting their own climate-resilient, participatory land use plans.
Improvements in capacity were recorded in all four municipalities using a municipal capacity evaluation instrument. These improvements were observed in governance, professional capacity, access and use of data, and capacity for participatory planning.
ICMA trained a total of 750 people from national and local government, FEDOMU, civil society, the private sector, and academia in land use planning, climate change adaptation, participatory municipal management, gender and climate change, inclusion of vulnerable groups, and other topics through certificate courses and training workshops facilitated with program support.
New, Reduced Membership Dues
A new, reduced dues rate is available for CAOs/ACAOs, along with additional discounts for those in smaller communities, has been implemented. Learn more and be sure to join or renew today!