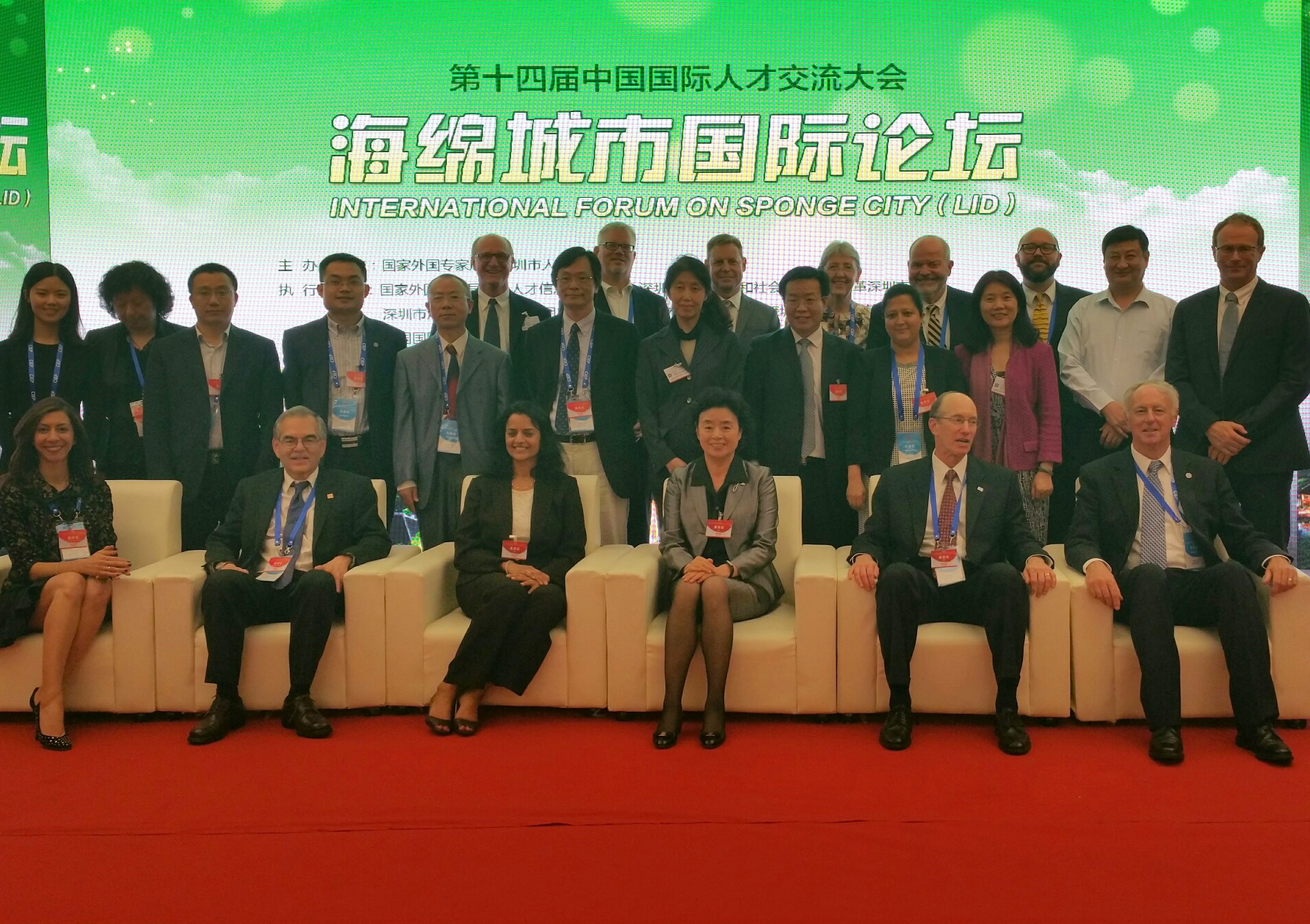 ICMA's relationships in China were recognized in April with the presentation of a "Best Organization Award," prominent speaking opportunities for ICMA representatives, and two new agreements for training and professional development partnerships. These were highlights of ICMA's participation in three events in China that showcased ICMA's training and technical assistance capabilities, particularly in brownfields redevelopment and water management.
Participation in these events by ICMA staff, members, and delegates was made possible by the hard work of ICMA China Center and its executive director, Lily Luo. The Center was established in 2011 by ICMA and the China University of Political Science and Law (CUPL).
Since then, the Center has organized international regional summits and study tours, guest lecture opportunities, and EcoPartnerships between U.S. and Chinese cities.
At two of the events, ICMA participants were hosted by the Chinese State Administration of Foreign Expert Affairs (SAFEA). ICMA is an official SAFEA training partner that is approved to provide training and technical assistance for Chinese local government officials in China and the United States.
International Expert Organizations Project Fair
The Department of Economic and Technological Experts at SAFEA invited ICMA to participate in the International Expert Organizations Project Fair in Guiyang City, Guizhou Province, April 12-14. Representatives from more than 40 organizations worldwide participated at the event, which serves as a platform for governmental and nongovernmental institutions that require foreign technical assistance to identify international organizations that would be able to provide it.
Shraddha Kharel-Pandey, director of Asia Programs, represented ICMA, and she identified several potential pro bono opportunities for ICMA members.
Conference on International Exchange of Professionals
SAFEA reported attendance of 5,500 at the 14th Conference on International Exchange of Professionals in Shenzhen City, Guangdong Province. In the short time since ICMA signed the agreement with SAFEA in 2014, ICMA has gained recognition and respect in the Chinese market as an organization that promotes practical training and sharing of ideas through peer-to-peer exchanges with ICMA members who share their knowledge and expertise in China. The hard work has paid off. At the conference, SAFEA recognized ICMA with a "Best Organization Award."
ICMA also co-hosted and participated in a Sponge City Forum with approximately 300 attendees. This forum addressed issues related to integrated water management. China has coined the term "Sponge Cities" to refer to cities that use green infrastructure and "absorb" solutions and are looking for ideas from professionals and talents worldwide.
ICMA's chief operating officer, Uma Ramesh, spoke at the Sponge City Forum opening session, providing information on the mission and capabilities of ICMA and its work in China through the ICMA China Center. A booth at the exhibit hall showcased the ICMA China Center's capabilities. ICMA staff, members, affiliates, and other delegates participated as keynoters, presenters, panelists, and facilitators in several other sessions.
First Sino-America Land Engineering Cooperation Conference
The First Sino-America Land Engineering Cooperation Conference in X'ian City, Shaanxi Province, provided the venue for a brownfields conference organized by ICMA and the Shaanxi Provincial Land Engineering Construction Group, a quasi-governmental organization in charge of land reform in the province. The group sponsored the ICMA delegation's visit to X'ian. The conference addressed issues related to contaminated land, cleanup, and land reform and attracted approximately 200 attendees.
Again, Uma Ramesh addressed the attendees, focusing particularly on ICMA's management of the National Brownfields Conference in the United States. Her remarks and presentations made by ICMA members and delegates generated interest in learning from success stories in the United States and the experience with large-scale urbanization in China. Attendees later participated in a site visit to an Environmental Treatment Demonstration Project in gold mining areas in Tongguan.
New Agreements for Cooperation and Exchange
Finally, the trip provided an opportunity to execute two new agreements. Uma Ramesh signed an Overseas Training Cooperation Framework Agreement between ICMA and the Department of Overseas Training of SAFEA. This agreement establishes an overseas training cooperation between the two parties and puts ICMA on a list of selected training providers to host groups of Chinese officials for study tours or training in the United States.
On behalf of ICMA, David Grossman, director of Global Programs, signed a supplemental agreement with CUPL to promote the professional development of Chinese students through an internship program in which CUPL students would intern in U.S. local governments for three to six months upon completion of the Local Government 101 series. 
In addition to Uma Ramesh, David Grossman, and Shraddha Kharel-Pandey, the ICMA delegation included Clay Pearson, city manager, Pearland, Texas; Bill Monahan, city manager, Milwaukie, Oregon; Simon Farbrother, former ICMA President, Edmonton, Alberta, Canada; Dave O'Leary, city administrator, Shelton, Washington; David Rouse, director of research, American Planning Association; Kyla Jacobsen, water director, Elgin, Illinois; Lyle Wray, executive director, Capitol Region Council of Governments, Hartford, Connecticut; Michael Leech, assistant director of public works, Pearland, Texas; Newsha Ajami, director of urban water policy, Stanford University; Rong-Jin Leu, project manager, Parsons Corporation, an ICMA Strategic Partner; and Gary Moore, senior environmental technologist and city council member, Pearland, Texas.