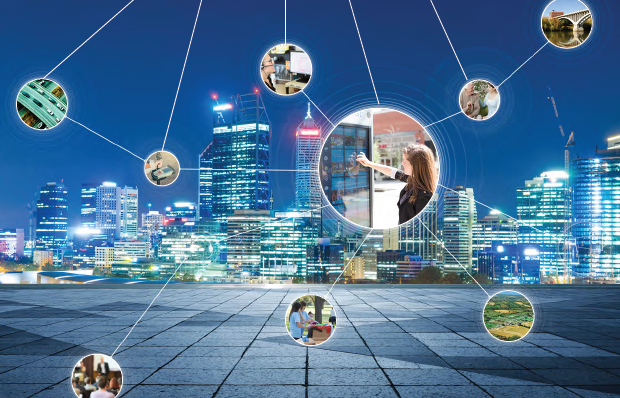 ICMA and Siemens have released the report, Smart Communities: Rethinking Infrastructure, that highlights smart cities technologies that communities are deploying across the energy and water sectors. It also examines challenges— some unique to these sectors and some that apply more broadly across smart cities applications. This report draws on interviews with cities and counties that are deploying these technologies; and four case studies—Boulder, Colorado; Cambridge, Massachusetts; Sacramento, California; and Arlington, Texas—illustrate specific examples of smart cities applications in the energy and water sectors.
The report is organized into sections, and includes recent research and trends from a 2016 survey conducted by ICMA in partnership with the Smart Cities Council. Here's a breakdown of the report sections:
Defining the Smart City
The Smart Cities Council defines the functions of a smart city as collecting, communicating, and "crunching": collecting information through the Internet of Things (IoT) on current conditions and operations within the community; communicating that data over wired and wireless networks; and "crunching" or analyzing the data to improve efficiency and inform decision making.
This section briefly explains how big data analytics can help cities better understand the services they provide and how those services are being used.
Why This Matters for Your Community
The use of smart cities technologies in the water and energy sectors has many benefits that are not unique to these sectors or to the specific technologies that are deployed to support their operations.
This section covers priorities identified as important or very important in the ICMA/Smart Cities Council survey, as well as benefits related to deploying smart cities technologies in the energy and water sectors that are more specific to these sectors.
Improving Resource Efficiencies between Sectors
A nexus exists between the energy and water sectors. This section briefly describes how the use of technologies that improve the efficiency of operations in one can have significant impacts on the other.
Benefits and Barriers to Smart Cities Technology Deployment
As with benefits, many of the barriers or challenges that communities face related to the deployment of smart cities technologies in the energy and water sectors are not unique to these sectors.
This section highlights the significant barriers cited in the ICMA/Smart Cities Council survey.
Smart Cities for Energy
Communities are implementing technologies that improve energy efficiency, increase the use of renewable sources, and improve system reliability.
This section reviews many of these technologies, like smart and connected buildings and energy-efficient intelligent streetlights, that focus on city operations. Others, such as smart grid and microgrid technology, focus on reducing the vulnerability and improving the resiliency of the electric grid.
Smart Cities for Water
On the water supply side, smart cities technologies play an important role in reducing non-revenue water (NRW).
This section identifies technologies that help track and monitor water usage more accurately, detect leaks, and allow for real-time data monitoring that can help reduce losses throughout the system. Reducing NRW using smart cities technologies can also prevent the need for rate increases.
What We're Learning
The energy, water, and wastewater sectors are sectors where communities are actively deploying smart cities technologies, including smart building technologies, energy-efficient intelligent streetlights, AMRs, and SCADA systems. They also represent areas of high potential for continued deployment of these technologies.
This section offers some insights and lessons learned from the ICMA/Smart Cities Council survey and the follow-up interviews highlighted in the Community Profiles section of the report.
New, Reduced Membership Dues
A new, reduced dues rate is available for CAOs/ACAOs, along with additional discounts for those in smaller communities, has been implemented. Learn more and be sure to join or renew today!