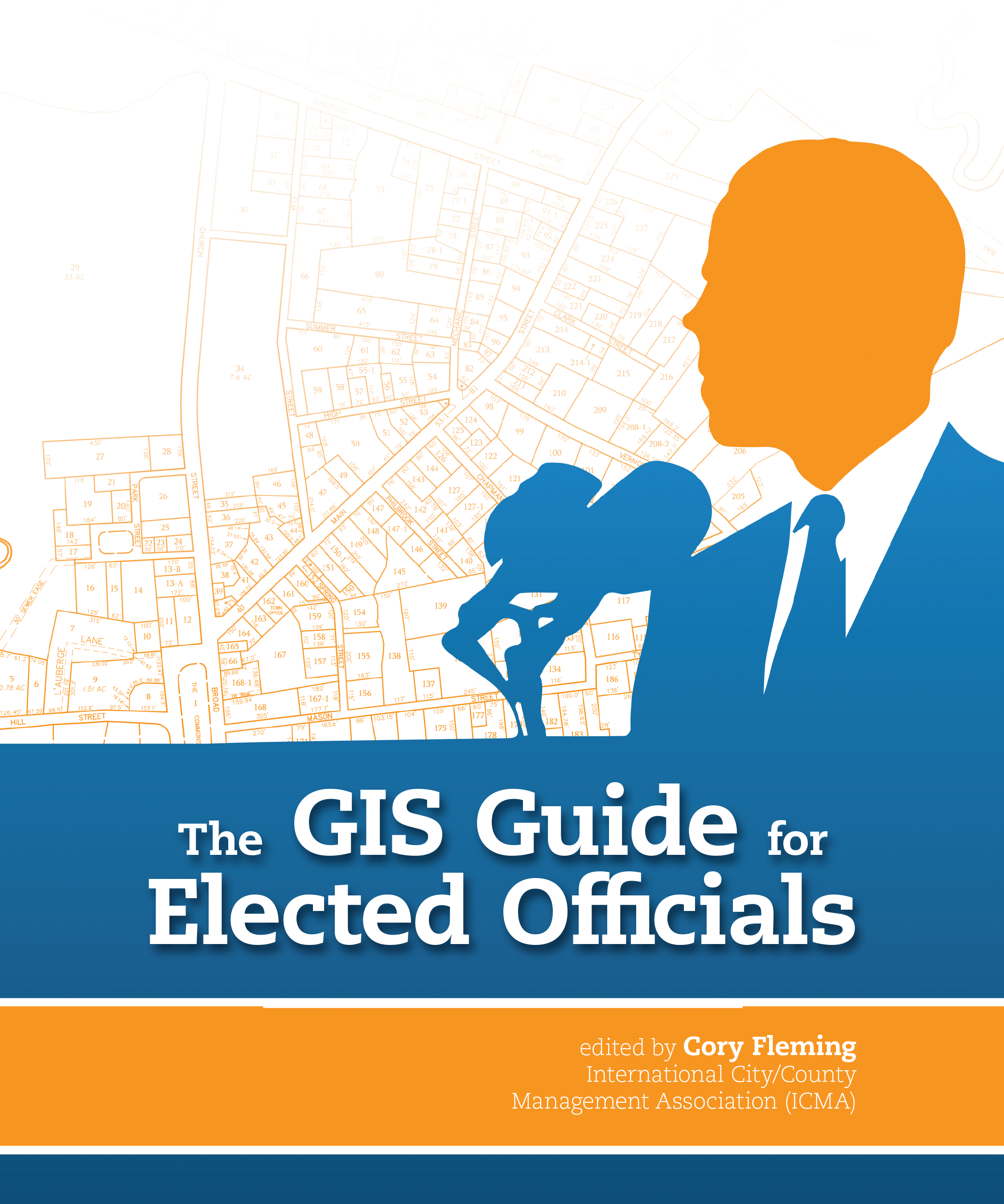 WASHINGTON, D.C.— Introducing tech talk into policy debates seems like an odd mix at first.  But as advances in technology and data analysis have evolved at lighting speed over the past decade, more government executives have come to realize that they need to have a better understanding of how technology can aid them in doing their jobs and making better decisions.
In response to this need, ICMA, the International City/County Management Association, and Esri, the premier developer of geographic information system (GIS) technology, partnered to produce The GIS Guide for Elected Officials.  Released by Esri Press, the new guide gives government executives a broader knowledge of how GIS technology can be used for a wide range of government purposes,
The new book features dozens of case studies and interviews with government officials from across North America, and covers new applications and services developed using GIS technology.  Designed for peer-to-peer information sharing, the book serves as a handy reference guide for government executives looking for solutions to policy and day-to-day management challenges.
The GIS Guide for Elected Officials is available in print (ISBN: 9781589482722, 212 pages, US$19.99) at online retailers worldwide, at esri.com/esripress, or by calling 1-800-447-9778. Outside the United States, visit esri.com/esripressorders for complete ordering options, or visit esri.com/distributors to contact your local Esri distributor. Interested retailers can contact Esri Press book distributor Ingram Publisher Services.

About ICMA
ICMA, the International City/County Management Association, advances professional local government worldwide. The organization's mission is to create excellence in local governance by developing and fostering professional management to build sustainable communities that improve people's lives. ICMA provides member support; publications, data, and information; peer and results-oriented assistance; and training and professional development to more than 9,000 city, town, and county leaders and other individuals and organizations throughout the world. The management decisions made by ICMA's members affect millions of individuals living in thousands of communities, from small villages and towns to large metropolitan areas.
Esri's geographic information system (GIS) technology gives you the power to think and plan geographically. Used today in more than 350,000 organizations worldwide, GIS helps governments, universities, and businesses save money, lives, and our environment.
GIS helps you understand and question data in ways that reveal relationships, patterns, and trends. So whether you are transporting ethanol or studying landslides, you can use GIS to solve problems and make better decisions, because a GIS enables you to look at your valuable data in a way that is quickly understood and easily shared.
Esri supports the implementation of GIS technology on the desktop, servers, online services, and mobile devices.
New, Reduced Membership Dues
A new, reduced dues rate is available for CAOs/ACAOs, along with additional discounts for those in smaller communities, has been implemented. Learn more and be sure to join or renew today!