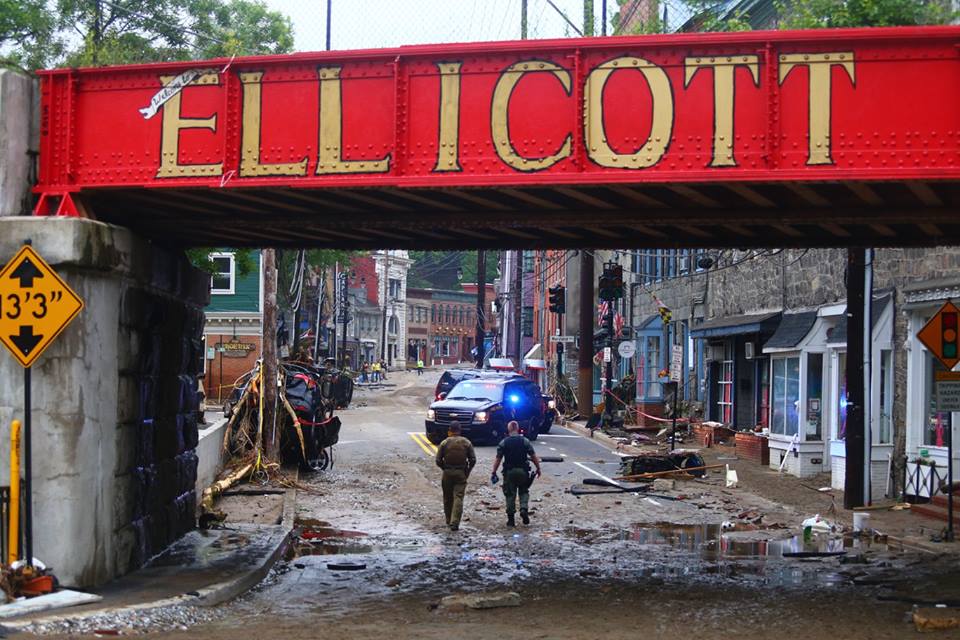 We are excited to announce that registration is now open for the Ellicott City field demonstration! Staff and officials in Ellicott City and Howard County were able to determine that the community will have the time and resources needed to successfully host a field demonstration.
It was originally planned that the field demonstration would feature Ellicott City and its story of recovery from a one in a thousand-year rainstorm that occurred in 2016. 
The storm dropped 6 inches of water in a two-hour period. The rain gathered in the upstream watershed and brought a 6-foot wall of water rushing through the steep city streets and alleyways. Hundreds of cars were swept away, nearly 200 residents were displaced, dozens of buildings were damaged, and two people died. Working in collaboration with the Howard County Economic Development Authority, a year after the flood, 98 of the 104 flooded businesses had reopened their doors – a 94 percent reopening rate.
Over this past Memorial Day weekend, however, Ellicott City experienced its second one in a thousand-year storm creating a flash flood that did even more damage than the 2016 flash flood.
Below is drone footage from the destruction of the flood in May 2018 from Howard County Government:
If you are interested in attending the field demonstration in Ellicott City, you must first be registered for the 2018 ICMA Annual Conference. Then, you can simply log into your account, click "My Events" from your My ICMA profile, click on the 2018 Annual Conference event, and click the orange "Add Session" button under your sessions listing. If you have any questions, please contact customer support at customerservices@icma.org