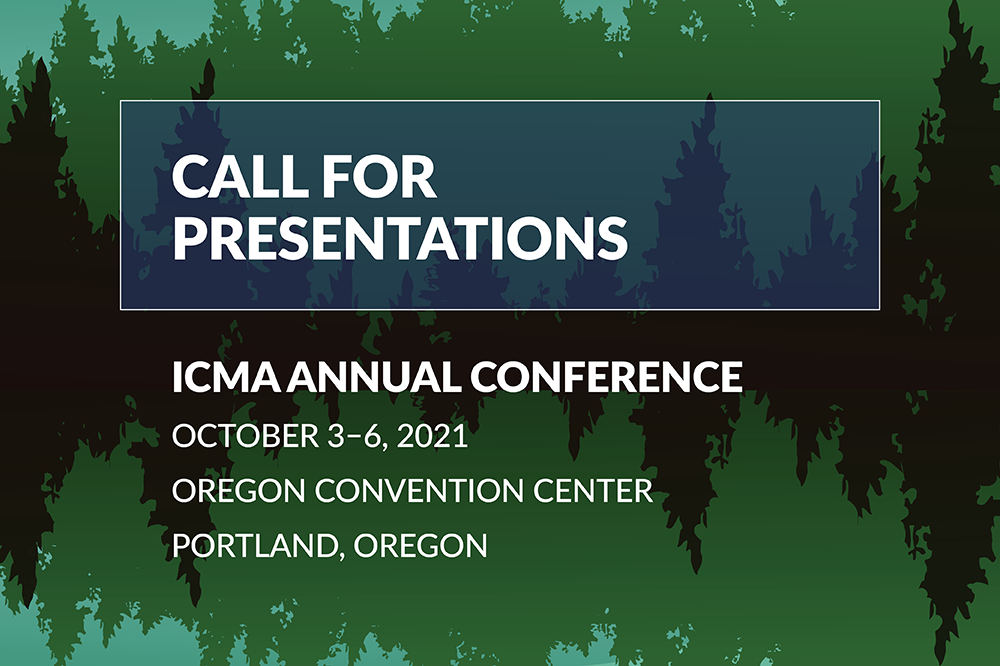 The easy-to-follow submission process allows the local government community to participate in setting the program agenda for the 2021 ICMA Annual Conference, both in-person October 3-6 in Portland, Oregon, and virtually.
How the Call for Presentations Works
The 2021 ICMA Annual Conference Planning Committee has identified topics for sessions listed under "Presentation Topics" below. Currently, ICMA is planning for an in-person event in Portland with a virtual component.
Don't see a topic that would be of interest to attendees? When logged into the submission site, just select "Other" and submit your session and topic.
When you submit your presentation, consider the presentation format and the information/content the attendee will receive through the specified time.
Call for Presentations Step-by-Step Process
Step 1: Create a New Account: Then, click "Join Now" below to begin. You must create a new account. The submission site does not use the same log-in information as the ICMA website.
Step 2: Create an Account Profile: You will create an account profile that collects your contact information. Required fields are marked with an asterisk (*). There is an option to add assistant information. Assistants will be copied on all emails that are generated from the submission site if you include their information.
Step 3: Click Begin a New Session: In this section, you will be asked for the session title. There is a minimum of 10 characters required for this field with a maximum of 350 characters or 25 words. Be sure session titles are grammatically correct and ready for print. Do not use all capital nor all lower-case lettering.
Next, choose your Session Type (Presentation Format) – session type is not guaranteed and is subject to change. A list of session type descriptions is available on this page. Click "Submit."
Step 4: Task List: In this section you will be assigned several tasks:
Task 1. Speaker Information: Add new speakers/submitters. This requires contact information, including title and email at a minimum. Organization, a brief bio, and a headshot may be added by you, the session submitter, by clicking "Edit Speaker Name's Profile." If you do not have this information, you may click the "Invite Speaker Name" button to send an email asking the speaker to log-in and enter the information. If you are both submitting the session and speaking during the session, be sure to check the speaker role when you open your profile to edit.

Press "Save Speakers" to continue to the next task if all of the speaker information is complete.
If the speaker information is incomplete, you will need to click on "tasks" on the blue menu bar to return to the task page.
Task 2. Session Details: Choose the session topic and target audience(s). Next, a session description is required. There is a 300-word maximum for the session description. Be sure the description is grammatically correct, contains no spelling errors and is ready for print. This is not a place to enter notes to the review panel, this is the place to enter the description for the session as it should read on the conference website and/or printed program booklet.
Press "Continue" to continue to the next task.
Task 3. Learning Objectives: Three learning objectives are required. Use action words to begin this learning objective, such as list, describe, define, demonstrate, conduct, etc. An example of a learning objective would be "the participant will be able to identify the steps needed to do XYZ." Press "Continue" to move on to the next task.
Task 4. Presentation Location Preference: The state of the world in October is an unknown. If we can convene in-person in Portland, Oregon, we are planning for a hybrid event, in which members not comfortable or able to travel will have the opportunity to participate virtually. Select from the drop-down menu if you want to present virtually, in-person or have no preference.
Press "Continue" to continue.
Step 5: Submission Completion: Finally, click the "Save Submission" button and then "Submit." It is important that you click both buttons. An email will be auto-generated to all submitters/speakers on the session form. (Note: If the speaker information is incomplete, you will not be able to submit the session. Follow up with any speakers for whom you do not have the required information and remind them to log into the system using the email you sent in Task 1 above to complete their profile.)
Step 6: Submit Feedback: If you have feedback on the submission process, it can be shared here.
Presentation Topics
Here are the topics the Conference Planning Committee selected as priority topic areas for 2021 ICMA Annual Conference education sessions.
Career support (including early career professionals and maintaining personal/mental health).
Civic Health and Cohesion (including overcoming political division, developing civic leadership, and the urban/rural divide).
Community Economic Transformation and Resiliency (including community partnerships and economic resiliency).
Community Engagement (including communications with the community).
Disruptive Policy Topics (including cannabis regulation).
Emergency Management.
Ethics.
Finance and Budgeting (including local government self-sustainability).
Future of Service Delivery (including virtualization of services, partnerships).
Future of the Profession (including lessons from the past).
Leadership (including conflict management).
Policing and Public Safety.
Racial Equity and Social Justice (including systemic racism).
Small Communities.
Sustainability (including climate change and recycling).
Technology/Smart Cities.
Workforce Management (including remote work, supporting staff, and staff mental health).
ICMA is always in search of new and innovative ideas for speaking engagements and presentations. All ideas are encouraged!
Presentation Formats
30-, 60-, 90-Minute Presentation*: This traditional session features a speaker(s) or panel and includes time for audience questions and answers.
30-, 60-, 90-Minute Roundtable*: These sessions begin a lot like a traditional presentation, with a speaker (or multiple speakers) presenting an idea to a group of people. After a short time, the focus shifts from the presenter to the audience. For the remainder of the session, the presenter becomes a facilitator, inviting comments, insights, and questions from those around the room. Roundtable sessions allow attendees to drive their own learning and share experiences with others, which also assists with networking. Alternately, the full session can be a facilitated conversation, with no formal presentation at the start.
*Session lengths and formats may change to accommodate a digital and in-person experience.
Tips for Call for Presentations Success
Follow the instructions and read the Call for Presentations FAQ section for important information about the ICMA Annual Conference and tips for creating a great submission.
Create a future-focused, original presentation that covers the latest best practices, ideas, and innovations in the local government management profession.
Depth and specificity: the more specific your submission description is, the better. Drill down to what really matters to the local government management professional.
Your title should reflect your description: think simple, accurate, and succinct.
Diversity matters: session selection will reflect diversity in gender, race, and location of speakers, as well as diversity in thought and opinion. Keep this in mind if you are proposing a panel.
No product information allowed: your presentation must be noncommercial. At no time is it permissible for presenters to use their time slot to advertise or promote a product, service, or company. Companies wishing to submit a session that is commercial in nature should contact Megan Sherman (msherman@icma.org) for information on our Solutions Track sessions.
When all of the submissions are being reviewed, if a presentation has product information, advertises, or promotes a product, service, or company, it will be considered for a Solutions Track session.
Frequently Asked Questions
What Is the ICMA Annual Conference?

The International City/County Management Association (ICMA) Annual Conference is the largest gathering of local government professionals in the world and offers an abundance of educational, information-sharing, and networking tools to help local government management professionals manage their communities in today's complex environment.

Where and When Is the 2021 ICMA Annual Conference?

The 2021 ICMA Annual Conference begins on Sunday, October 3, 2021, and ends on Wednesday, October 6, 2021. Preconference begins Saturday, October 2, 2021. This year's annual conference is scheduled to be held at the Oregon Convention Center in Portland, Oregon. The conference will include a virtual component for those attendees unable or unwilling to travel. The possibility exists that the full conference will switch to a virtual event.

Who Attends the ICMA Annual Conference?

Local government management professionals of all career stages and backgrounds come to the ICMA Annual Conference each year. Audience types consist of Encore, Executive, Assistant/Deputy, Department Head/Director, Staff/Analyst/Assistant, Student/Interns, Small Community, and Senior/Credentialed Managers.

What Are the Eligibility Requirements for Submissions?

All submissions must be in English and include the following:

Session title
Session type (i.e., 60-minute presentation)
Session topic (i.e, leadership)
Target audience(s)
Three learning objectives
Session submitter/speaker name(s), organization name, title, complete address, phone, and email information
Brief presenter biography and headshot
Description of session (no more than 300 words)
Preference to present in-person, virtually or either

Session information will be published on the ICMA conference website, in the conference app, and other channels, when available. All presentations must be noncommercial. At no time is it permissible for presenters to use their time slot to advertise or promote a product, service, or company.

ICMA reserves the right to cancel a session and/or change a speaker, if necessary.

Do Speakers Need to Register for the ICMA Annual Conference?

All speakers must register for the 2021 ICMA Annual Conference and pay the appropriate registration fee. As a paid registrant, the speaker may attend and participate in all non-ticketed sessions and events held in conjunction with the conference.

What Should Session Descriptions Include?

Session descriptions should include tool(s) attendees can take back to their communities. Ideas should be educational, non-commercial and provide value to a wide-ranging group of ICMA conference attendees.

Will I Be Notified if My Submission Is Accepted?

All submissions will be reviewed by the conference planning committee as well as by subject matter experts on the ICMA staff. Submitters will be notified by email whether or not their proposal is selected for inclusion in the conference program.

What Happens if My Idea/Submission Is Selected?

All selected submitters will be contacted with further information including notification of all deadlines. Note it is crucial to the success of the conference that all selected speakers, moderators, etc. adhere to all ICMA deadlines.

Does Submitting an Idea or Proposal Guarantee My Acceptance?

Idea or speaker submittal does not guarantee selection.

Who Can Submit a Session?

Anyone! While nonmembers are encouraged to join ICMA to enjoy the benefits of membership, submissions are accepted by members and nonmembers alike.

Can I Download the Annual Conference Presentations?

Yes, registrants of the ICMA Annual Conference will have access to download session handouts and PowerPoint presentations from various sessions through the conference app/platform and online during and after the conference event.

For Sessions That Are Recorded, How May They Be Used Post-Conference?

Sessions that are a part of the virtual conference will be recorded. Recordings belong to ICMA and may be used in the future by ICMA for other educational/professional development opportunities for the local government community.
Questions About the 2021 ICMA Annual Conference Call for Presentations?
Email Felicia Littky, manager of conference education programming, at conferenceteam@icma.org.