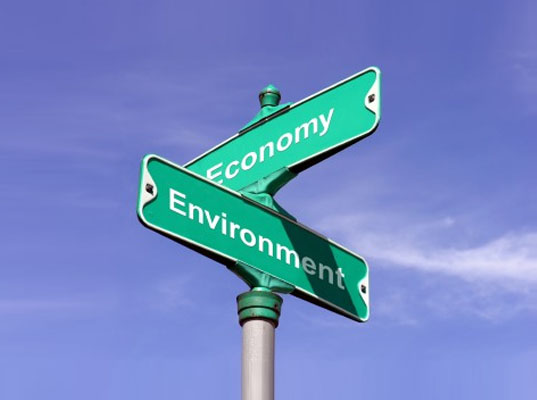 Green economy: does it include you? For many local governments, the answer is yes. Investments in green economic growth have paid off for many cities, counties, and towns across the country.
The green economy presents significant growth opportunities for local governments. While all industries have been hit by the recession, investments in green technology, including federal and state funding, have fared better than conventional sectors. And between 1998 and 2007, green jobs grew at a faster rate than overall job growth.
A green economy represents the confluence of economic development, workforce development, and environmental stewardship. Green economic practices are unique in that they encourage city and county development and workforce departments to account for the environmental impacts of the their decision-making, while environmental departments are encouraged to account for the way their policies affect economic growth and job creation. A green economy is mutually beneficial to both economic prosperity and environmentalism.
Here are five strategies that local governments of any size can implement for growing a green economy:
Green Economic Development
Traditional economic development focuses on increasing production of goods and services. Production and exportation are vital for generating local income. Consequently, building export bases dominates much of traditional economic development strategies. In a green economy, traditional economic development strategies are adapted to build business that improves environmental outcomes. 
Resource Efficiency and Green Purchasing
In addition to green economic development strategies that increase production and supply, there are additional, often more effective, methods for building green local economies. Resource efficiency and green purchasing are two broad strategies for addressing the consumption-side of the green economy—harnessing community buying power and demand for energy, water, and green products.
Simply by more efficiently utilizing resources, local governments can:
Reduce the cost of running local government 
Reduce the cost of doing business for existing green businesses 
Lower barriers of entry for new green businesses 
Reduce utility costs for homeowners, improving community quality of life, and attracting a stronger workforce 
Reduce the negative impacts on the environment caused by resource use. 
Local Production and Utilization
Producing and consuming locally builds community wealth, increases regional self-reliance and economic security, and eliminates the environmental impacts associated with transporting goods over long distances. Due to the multiplier effect, the positive impacts of local expenditures ripple throughout entire local economies. The local economic chain works something like this:
Manufacturers create jobs by producing goods in a community. 
On-site jobs and income are created by distributing and installing the goods. 
Additional jobs and economic activity are created by supplying goods and services to people in the primary green activity.
More specifically, local manufacturing can produce high-quality jobs and export products. Locally-sourced food can provide better quality food at a lower cost to communities. Locally-sourced renewable energy can reduce the cost of living for local residents, the cost of doing business for businesses, and create security in the energy supply.
Waste Stream Management
By reducing the costs and negative externalities associated with waste disposal, local governments are creating jobs and reducing the costs of doing business. Many local governments have adopted aggressive solid waste management programs. Hawaii County, for example, has declared its intention to develop a zero waste future. Achieving this goal will require innovative technologies to reduce the waste stream, increase recycling rates, and transform waste to energy without relying on incineration.
Green Infrastructure
Land use decisions significantly impact resource use, environmental quality, and economic activity. As a result, planning and zoning authority provides local governments with powerful tools for influencing the green economy. By encouraging smart, coherent land use decisions, local governments can increase the quality of life of local residents and improve the local business environment.
This article was excerpted from a recent issue brief, Growing a Green Local Economy: County Strategies for Economic, Workforce, and Environmental Innovation, written and published by the National Association of Counties (NACo).
New, Reduced Membership Dues
A new, reduced dues rate is available for CAOs/ACAOs, along with additional discounts for those in smaller communities, has been implemented. Learn more and be sure to join or renew today!