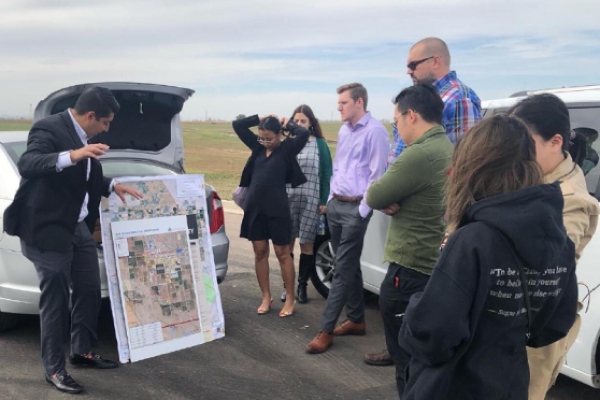 At the end of every school year, it has become an annual tradition for ICMA to show its support for ICMA student members with the Best Chapter Event Contest. The Best Chapter Event Contest typically awards ICMA Student Chapters with travel funds to attend the ICMA Annual Conference, but this year, the winning chapters will receive funds to support chapter activities and programming. Chapters present their most successful event of the year to ICMA, highlighting topic, involvement, and impact. This year's winners are the University of Delaware, Arizona State University, University of Southern California, and Texas A&M University. 
The University of Delaware's "City of Milford Career Trek & Networking Event" earned them a second-year win! In January, a 'career trek' and networking event was held in the city of Milford, a historic shipbuilding community located on the Mispillion River in the heart of Delaware's Kent and Sussex counties. Organizers of the event include University of Delaware Student Chapter co-presidents Danielle Littmann (UD MPA '20) and Jason Wardrup (UD MPA '20); chapter advisor Marcia Scott; and Christine Hoh (UD MPA '19), an ICMA Local Government Management Fellow with the cities of Lewes and Milford. Their submission describes the event as being "designed to connect students interested in careers in local government with municipal managers, local government staff members, nonprofit professionals, and community volunteers." Held at the Arena's Restaurant, adjacent to Milford's scenic Mispillion Riverwalk and historic downtown, the local government leaders in attendance made presentations to educate attendees on municipal environmental and economic sustainability efforts in Delaware. 
The Arizona State University's "Realities vs. Expectations: Arizona State University-University of Arizona Joint Gathering" was the first-ever statewide gathering of ICMA chapters in Arizona. President of Arizona State University Thomas Prior explains that the event allowed students to learn "directly from government professionals about their experiences working in local government and what to expect once entering the field." At this event, students in both chapters networked with local government professionals, learned about resume building, took a tour of Casa Grande, and listened to early career professionals from across the state talk about their experience. Their submission notes that "members from ASU-ICMA and UA-ICMA were able to attend the event free of cost thanks to financial support from the statewide Arizona City/County Management Association and in-kind support from the host city, Casa Grande." 
The University of Southern California's "Breaking into Local Government Panel" event brought together USC students, alumni, and friends in local government from around Los Angeles County to learn about careers in local government. Their submission notes that the chapter partnered with the USC Price Office of Career Services to sponsor the event, "which allowed them to work together to reach out to alumni who could present students with information on the wide range of possible career paths in local government, as well as about the different stages of careers in local government." 
The Texas A&M University's "Rural and Fantastic Governance: An Afternoon in Todd Mission, Texas" event took chapter members out in the field to learn about rural governance in Texas and Todd Mission's unique relationship to the Texas Renaissance Festival. City manager of Todd Mission, Neal Wendele, a former Bush School and Texas A&M graduate, "gave the student chapter a tour of city hall and the volunteer fire station, held a conversation with the students about his journey from graduate student to city manager, and answered questions students had about local government job searches," according to their submission. Students benefitted from getting a unique perspective on the challenges of rural management. Chapter members said they were "incredibly grateful to Neal and our other wonderful city managers, mentors, and leaders in this profession that invest time into helping build the next generation of public servants. We found it incredibly fascinating to observe the day-to-day operation in a small town and see the charm and importance of rural America in our society." 
Read more about all the winning submissions.
Want to learn more about the events and activities of all the ICMA Student Chapters this year? Check out the collection of 2019-2020 Annual Reports!