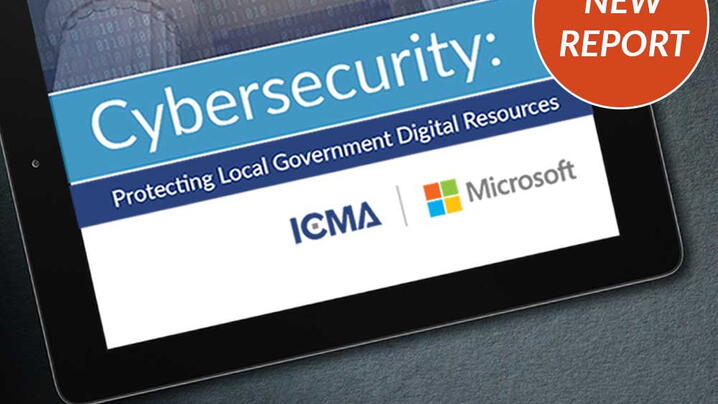 Cyber attacks are on the rise. More data is being stolen. Ransomware incidents are occurring frequently. And a significant number of viruses are infecting our computers. 
While cybersecurity is addressing the need for computer security, most local governments still don't have a solid understanding of what policies and procedures they should follow to protect their computer systems from future attacks. That's why ICMA has partnered with Microsoft to develop a new report on cybersecurity to ensure that local leaders are aware of what it takes to protect their computer systems and what current and future leading practices might look like.  
The most important cybersecurity problem that organizations confront is the constant threat of cyber attack. In 2016, ICMA/University of Maryland, Baltimore County conducted the first-ever nationwide survey of U.S. local governments on cybersecurity practices and experiences. The survey found:
A sizeable percentage of local governments (44 percent) reported that they are under attack hourly or daily (26 percent and 18 percent, respectively).
Fewer governments reported breaches (24.2 percent), and fewer still reported them occurring hourly or daily (2.8 percent and 2.2 percent, respectively).
The most troubling results are found in the high percentage of respondents who did not know how often they are attacked (27.6 percent) and experience incidents (29.7 percent) and breaches (41 percent).
A sizeable proportion of local governments also did not know if the frequencies of attacks, incidents, and breaches have changed over the past year (25.8 percent, 27.7 percent, and 35.5 percent, respectively).
One in five governments does not know if breaches to their systems occurred because of phishing or spear phishing attacks (20.5 percent). 
A majority of local governments (58.2 percent) said that they are not able to determine the types of attackers targeting their systems.
Finally, most local governments do not catalog or count attacks (53.6 percent), and about four in 10 do not catalog or count incidents and breaches (41.9 percent and 39.9 percent, respectively). 
Cybersecurity: Protecting Local Government Digital Resources breaks down the latest research and leading practices in cybersecurity.
New, Reduced Membership Dues
Beginning October 1, 2022: For memberships expiring on December 31 and for new members, a new, reduced dues rate is available. Learn more and be sure to join or renew today!