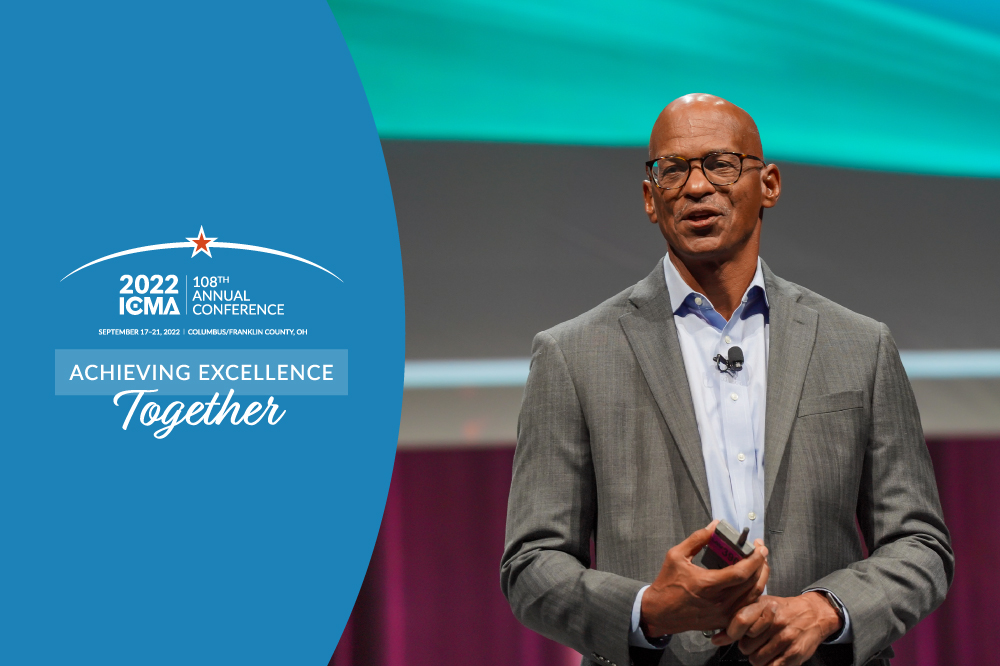 Tuesday's general session at the 2022 ICMA Annual Conference featured a compelling keynote from Lee Jourdan, Chevron's former chief diversity and inclusion officer who shared his expertise about the constraints on diversity in organizations today, along with concrete solutions that move business forward to see workplace diversity and inclusion for what it truly is: Competitive Advantage.
Articulate the Why
Jourdan wasted no time in diving into the core of diversity, equity, and inclusion (DEI) work and stressing the importance of articulating the "why" behind this essential work. Whether it be compliance, altruism, or value creation, understanding exactly what lights the fire for DEI in the organization is the necessary first step in moving the work forward.
Compliance: Organizations that get involved in DEI for compliance reasons are only responding to an external pressure to act, and while this can move the needle, it is not sustainable.
Altruism: Compassion for the well-being of others should be the only reason an organization needs to prioritize DEI, as it creates the type of organization that everyone wants to be a part of.
Value Creation: A lot of studies tie prioritized DEI work to better profit margins. While this can create a "chicken vs. egg" debate of which came first, there is still a clear correlation between the two, which likely comes from what kinds of people the organization is able to attract when DEI is a priority. No group of people has a monopoly on talent, no group is inferior or superior, and an organization that attracts, retains, promotes, and develops from all groups has a better chance of success and ultimate value creation.
The bottom line behind the why is that the best organizations will advance DEI work because it is both the right thing to do and the smart thing to do.
Assess the Journey of the Individual
Since organizations are a sum of each individual, knowing where people stand is integral to understanding how to tactfully move DEI forward by meeting people where they are. There are four main schools of thought when it comes to the individual take on this work:
Traditionalist: Believes the workplace is a meritocracy and is influenced by objective data discussing the business case for inclusion, framed in the context of fairness.
Observer: Notices movement that is not only merit based and is influenced by data that shows patterns of how different groups progress in the workplace and conversations that highlight the personal impacts of exclusion and trying to assimilate.
Connector: Sees that there may be patterns of opportunity that are not fair and is influenced by research on unconscious bias and how to mitigate bias in the workplace.
Advocate: Is motivated to change the system to ensure equitable outcomes and is influenced by role models and change agents that show how courage and vulnerability are key to becoming more vocal and active in supporting marginalized groups.
Assess the Journey of the Organization
For each category, the DEI organizational journey is broken into five levels that indicate progress, from inactive to best practices. Understanding where the organization lies is paramount to moving through these levels.
Level 1: Inactive: No DEI work has begun, and is not a part of organizational goals.
Level 2: Reactive: An exclusively compliance-based mindset where actions are only taken in order to comply with applicable laws and social pressures.
Level 3: Proactive: A clear awareness of the value of DEI work, resulting in the implementation of DEI systemically. This is both required and expected of organizations.
Level 4: Progressive: Implementing DEI systemically and showing improved results and outcomes beyond what is required and expected.
Level 5: Best Practices: An exemplary demonstration of current global best practices in DEI.
Promote Inclusive Leadership: What's Your FLAVOR?
Once the "why" has been determined, and both self and organizational journey assessments have been completed, it is time to take actionable steps to become a more inclusive leader through:
Feedback: Give the same quality and quantity of feedback to everyone in your organization.
Listening: Truly listen to everyone.
Authenticity: Find simple ways to humanize yourself.
Vulnerability: Vulnerability opens the door to more authentic conversations and deeper understanding.
Opportunity: Give fair opportunities to everyone.
Relationship: Build relationships in a balanced way so you can uncork value that may be untapped.
Understand Your Metrics: APPLE
The only way to determine if DEI work is "working" is to take a hard look at the metrics, particularly:
Attrition: Has someone's success been either voluntary or involuntary stifled due to bias?
Performance: How are performance rankings shaking out?
Promotions: What is the rate of promotion?
Leader Pipeline: What is the future leader pipeline looking like and how is it being filled?
Employment: What does your application demographics look like, what percentage of those groups secured interviews, what percentage got offers, and what percentage actually entered the organization?
Cracking the Code
This work is not easy and it must be intentional, but it is well worth it to foster a more thriving organization that ensures more fair and positive outcomes for all. By articulating the why, assessing the journey of the individual, assessing the journey of the organization, promoting inclusive leadership, and understanding your metrics, you can "crack the code" on creating a more diverse and inclusive culture.
---
Save the Date!
The 2023 ICMA Annual Conference will be held September 30-October 4, 2023 at the Austin Convention Center in Austin/Travis County, Texas.
New, Reduced Membership Dues
A new, reduced dues rate is available for CAOs/ACAOs, along with additional discounts for those in smaller communities, has been implemented. Learn more and be sure to join or renew today!