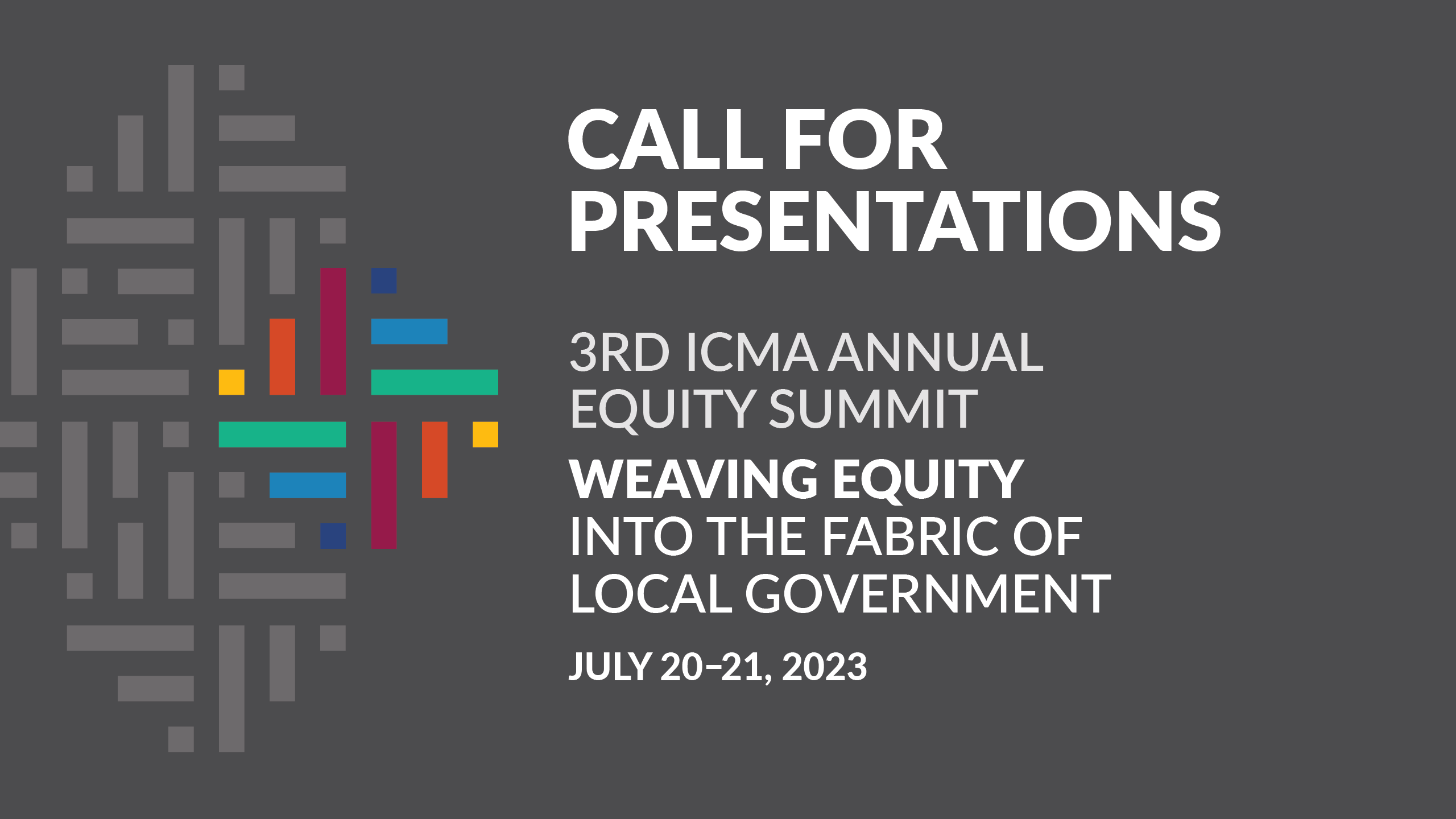 The Equity Summit, July 20-21, is a virtual event for diversity, equity, and inclusion officers (and those doing the work without the title), as well as local government professionals interested in ideas and institutions to deepen strategies, shape actions, and create solutions.
Throughout two days and two tracks, the event will create and foster relationships with like-minded professionals, as well as cover best practices, ideas, and innovations in the DEIB space and local government management profession.
ICMA invites you to share ideas for session presentations for these tracks:
Equity Leader: Diversity, Equity, and Inclusion Officers (and those doing the work without the title).
Local Government Leader: Chief Administrative Officers, Assistants/Deputies, Department Heads.
Selected in concert with the ICMA Equity Officer Cohort, ICMA seeks sessions with engaging speakers and presentations, focused on topics such as, but not limited to, these examples:
Policy Analysis and Strategy.
Nuts and Bolts.
The Future of Local Government DEIB Work.
Outcomes.
Presentation formats:
Sessions are generally 60 minutes in length and may be an educational session, panel and discussion, or virtual workshop. Details are included on the presentation submission form. Submissions will be accepted through April 28. You may download the submission form for reference; however, submissions will only be accepted through the online presentation form
Submit your session ideas by April 28. (A downloadable copy of the submission form is available online; however, all submissions must be submitted through the online portal.)
Submit Your Ideas for Sessions for the 2023 ICMA Equity Summit
New, Reduced Membership Dues
A new, reduced dues rate is available for CAOs/ACAOs, along with additional discounts for those in smaller communities, has been implemented. Learn more and be sure to join or renew today!